69

The link between psychiatric drugs and veteran suicides is an issue that CCHR has been exposing for years. Now, finally, federal legislation has been introduced that specifically addresses the connection between psychiatric drugs and the role they play in the increased number of veteran suicides.
Florida Congressman, David Jolly (R-FL 13), determined to understand the reasons behind the staggering number of veterans taking their own lives, has submitted legislation calling for a review of veteran suicide deaths over the last five years, studying the psychotropic drugs prescribed to veterans at the time of their death.
Congressman Jolly believes "It is critical that we understand whether there is any impact of certain psychiatric drugs prescribed for issues like P.T.S.D., depression or traumatic brain injuries, on the decision of a veteran to take their own life." CCHR couldn't agree more and is calling on all Members of Congress to support this important, perhaps life-saving, legislation.
Click here to read the full article.
State Investigations Expand Into Psychiatric Hospital Patient Deaths & Safety Violations
The tragic death of 20-year-old Amber Mace at Pembroke psychiatric hospital in Massachusetts highlights ongoing concerns about UHS's behavioral facilities.
Over the last seven years, CCHR has been investigating the national private hospital chain owned by Universal Health Services (UHS) for fraud and patient abuse. CCHR has filed numerous complaints calling for greater oversight of the psychiatric-behavioral sector of UHS for putting patients at grave risk. UHS is currently under investigation by federal and state authorities.
The latest scandal involves a facility in Massachusetts involving a young girl's death and three other UHS psychiatric facilities cited for "urgent patient care and life safety violations." State authorities are also investigating a suicide outside a UHS behavioral center in Stanton, Delaware.
Click here to read the full article.
What You Help Us Achieve
Here is just one example of what you help us to achieve with people every day: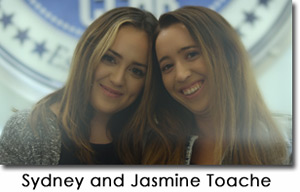 Sydney was prescribed ADHD drugs at age 7. Her older sister, Jasmine, adamantly opposed the drugs and, as she grew, directed her education in college to try and save her sister from the drugs that had drastically changed her. With the help of CCHR, she succeeded (see link below to watch the video).
"I don't know where we would be without the CCHR staff and all of the CCHR supporters. I just want to say thank you for giving my sister her life back. Thank you for giving me back my soulmate. She's the most important thing I have in my life, so thank you."
-Jasmine T., Sister
This is made possible through your support of CCHR and our campaigns. Please continue your support and make your tax-deductible donation to CCHR and help us continue our vital work.
Click here to watch their video.