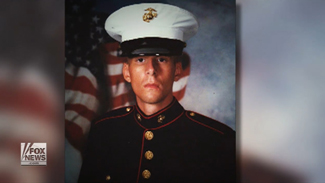 In an article released this past Memorial Day by Fox National News, investigative reporter Douglas Kennedy teams up with Dr. Peter Breggin and CCHR Human Rights Award Winner, Stan White to expose the "increased use of powerful psychiatric drugs on our veterans and the impact these drugs are having."
Stan White is the father of Marine Corporal Andrew White who survived the 2005 war in Iraq only to return home and be "treated" for PTSD which included a "lethal cocktail" of 19 different drugs prescribed by the Department of Veterans Affairs, including Paxil, Klonopin, and Seroquel, before he passed away in his sleep. Stan and his wife Shirley are now dedicated to exposing the massive drugging of American soldiers and veterans.
"It's inexcusable to be giving our military and our vets multiple
psychiatric drugs and cocktails. They do no good, they do huge harm."
— Dr. Peter Breggin
Click here to watch the video/read the article.
Video: Charges Reinstated Against Detroit Mom in Police Standoff Over Forced Drugging—Godboldo's Attorney Speaks Out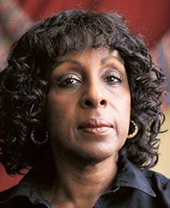 Charges have been reinstated against Detroit mother Maryanne Godboldo, who faced down a SWAT team and a tank for refusing to administer a dangerous and potentially lethal psychiatric drug (Risperdal)
to her daughter.
Godboldo's attorney, Allison Folmar said, "It shocks the conscience a judge never signed the order, a judge never read the order, a judge never consented to the order to go into my clients home and essentially break in. You cannot force an antipsychotic medication upon a child, and that's what they were there to do. We're ready for trial. If there has to be a trial, we're ready for trial. My client did nothing illegal."
The fact that they have reinstated these charges against Maryanne tells us one thing—the alliance of psychiatry and the state is powerful and it does not want someone like Maryanne being an example to others that a parent has the right to fight back against a corrupt system—a system which can mandate a parent to risk the life of their child with a drug like Risperdal, which is documented to cause diabetes, stroke, heart attack, violence, and death.
That the alliance of psychiatry and the state have that power over life and death is not only a travesty of justice, but is itself, insane.
Click here to watch the video/read the article.
CCHR's Protest— Childhood is Not a Mental Disorder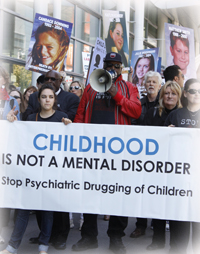 On May 18th, in San Francisco, California, the American Psychiatric Association (APA) held its annual convention.
As you know, the "treatments" offered by the psychiatric field are dangerous, mind-altering drugs, documented by international drug regulatory agencies to cause diabetes, mania, psychosis, heart attack, stroke, violence, suicide, and sudden death. 9 million American children are currently on these dangerous psychiatric drugs.
CCHR took to the streets to protest against the APA and its latest release—the Diagnostic and Statistical Manual (DSM 5), which classifies even more regular childhood behaviors into "mental disorders." Hundreds of CCHR's dedicated supporters showed up in force with banners, placards, and the CCHR t-shirt and messenger bag, spreading the message that "Childhood is Not a 'Mental Disorder.'"
New CCHR Merchandise: Limited Time Discount!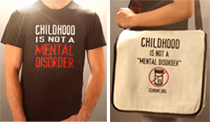 The T-shirt—CCHR's new t-shirt is an American Apparel Tri-Blend of cotton, polyester, and rayon. Polyester retains shape and elasticity, cotton lends both comfort and durability, and the addition of rayon makes for a unique texture and drapes against the body for a slimming look. Get your t-shirt today for only $25.00!
The Bag—This messenger bag is made from recycled cotton. Comes in a Natural Canvas color, has a 46 inch adjustable shoulder strap, and has three separate compartments so you can keep your items organized on the go. Get your messenger bag today for only $20.00!
For a limited time CCHR is offering a package discount of $40.00 for BOTH your messenger bag and t-shirt!