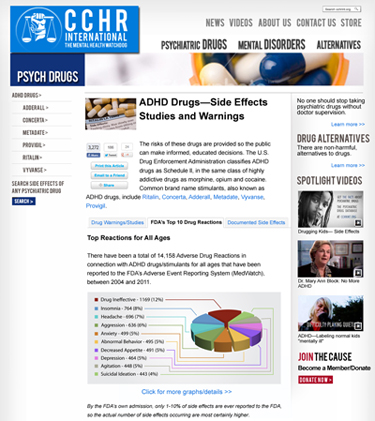 COMING SOON: Next month, CCHR International will be revealing its newly upgraded website (www.cchrint.org). This includes a greatly improved version of our online Psychiatric Drug Side Effects Search Engine, which is comprised of more than 500,000 adverse reactions reported to the US FDA in graphic form as pictured above, all documented adverse reactions of psychiatric drugs, summaries of all studies and warnings on psychiatric drugs searchable by drug class (i.e. antidepressants, antipsychotics, anti-anxiety drugs, ADHD drugs) or, by individual brand names of drugs. In addition, the website features summaries of all the classes and major brands of drugs as depicted in the photo above. But that's not all—CCHR has been running Google Ads on psychiatric drug side effects which lead the public directly to these drug side effects pages. We've received more than 61,000 clicks in the past few months—from the ads alone. On top of the Google advertisements, CCHR also has video ads that are running on Youtube, and these ads have received 275,301 views in total with 20,062 people clicking on our ad to learn more! Our Youtube channel now has more than 2 million views.
The new website also features regular news articles from investigative journalists, information on psychiatric disorders, and links to all of CCHR's social media sites (Facebook, Twitter, Youtube channel etc.).
All of these people are being directed to the cchrint.org website where they then get the summarized, easy to understand facts about the dangers of psychiatric drugs so that they can then make an informed decision.
School Shootings & Psychiatric Drugs—CCHR Says Federal Investigation Into Psychiatric Drugs & Violence Long Overdue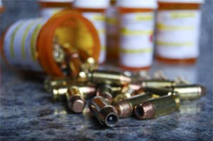 To expose the link between psychiatric drugs and random acts of violence after the latest tragic shooting in Newtown, CT, CCHR published the article, "School Shootings & Psychiatric Drugs—CCHR Says Federal Investigation Into Psychiatric Drugs & Violence Long Overdue." The article was not only posted on CCHR's website—www.cchrint.org, but also sent out as a news release to thousands of online media outlets through PRWeb, and it was picked up over 12,000 times online.
The article promotes the section of CCHR's website that documents at least fourteen recent school shootings were committed by those taking or withdrawing from psychiatric drugs, resulting in 109 wounded and 58 killed. It also lists
22 international drug regulatory warnings that have been issued on psychiatric drugs causing side effects of mania, psychosis, aggression, hostility, violence and even homicidal ideation. The article calls for a federal investigation into psychiatric drugs and acts of senseless violence, which
CCHR says is long overdue.
CCHR also created a petition calling for law makers to require an investigation into the role of psychiatric drugs and violence in relation to school shootings and similar acts of violence. Sign the Petition here.
Click here to read the full article.
Join US—citizens commission on human rights awards banquet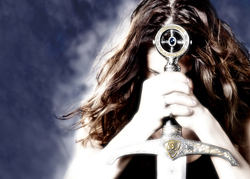 Saturday, February 16th, 2013
CCHR's Anniversary and Human Rights Awards Banquet is an annual charity event honoring outstanding human rights achievements in the field of mental health reform, attended each year by more than 1,000 individuals, including, legislators, human rights activists, medical professionals and celebrities.
Come and join us in honoring CCHR's outstanding Human Rights Award recipients for 2013.
CCHR's award winners this year include:
• A 15-term member of the US Congress who has long championed the rights of children to be educated drug-free.
• Two parents who have campaigned tirelessly against the use of psychiatric drugs in the treatment of military personnel.
Click here to watch a video of highlights from a previous Human Rights Awards Banquet.
To purchase tickets or for more information contact Eitan Celender or Deborah Bolin at (800) 869-2247
or email: humanrights@cchr.org.
JOIN THE CAUSE—BECOME AN OFFICIAL CCHR MEMBER TODAY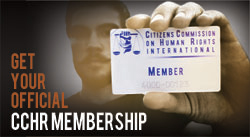 & Get Your Official
Membership Card
$25.00
Since CCHR launched its official Membership Drive a few months ago, there has been a 450% increase in the number of people coming on board and becoming members.
Your personal membership card includes all CCHR contact data, website/social media sites, and psychiatric drug side effects search engine, so you can easily refer people to CCHR for more information.
Join the Cause and get your official CCHR membership today!