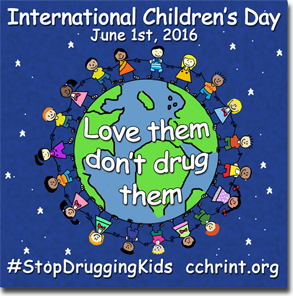 You may not know that June 1st is International Children's Day! In honor of this day, for the month of June, we will be placing ads and distributing our simple, easy-to-read booklet, Psychiatric Drugs & Your Child's Future, to parents for free!
Parents need facts. This easy-to-read, fully illustrated, 18-page guidebook (shown below) is the perfect booklet to give parents so that they can make educated, informed choices.
Please make a donation and help us place advertisements letting parents know they can get this information for free: click here to donate.
CCHR: Sounding the Alarm Against ECT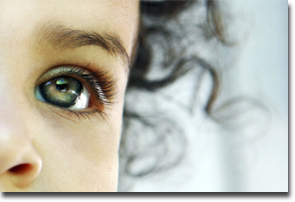 CCHR continues to sound the alarm on the American Psychiatric Association (APA) who is aggressively lobbying the Food and Drug Administration (FDA) to allow it broader use of electroshock (ECT) on patients, including children.
The APA states that "having access to a rapid and effective treatment such as ECT is especially meaningful in children and adolescents…."
Here is what CCHR has done so far to combat this:
Throughout the month of May CCHR released multiple articles which were picked up over 430 times by online media outlets.
CCHR started a public awareness campaign regarding the APA's proposal to the FDA, and 4Xed the number of negative comments and feedback on the FDA website from professionals and the public against the proposal to reclassify electroshock as "safe."
CCHR promoted this through our own social media channels which reached thousands of people and was shared by many including the co-founder of Def Jam Recordings, Russell Simmons, and singer-songwriter, Chaka Khan.
We still have more to do on this important issue but this is most definitely a step in the right direction.
Is America's Skyrocketing Antidepressant Use Fueling U.S. Epidemic of Increased Suicides?
Earlier this month CCHR released an article showing correlation between an increase of American's taking antidepressants and suicides. The article states, "According to a recently released report by the Centers for Disease Control and Prevention (CDC), suicides are on the rise in the U.S. with females between the ages of 10-14 and 45-64 accounting for the largest increases.
"But with more than 41 million Americans (1 in 8) taking at least one antidepressant, well documented as causing suicidality, the correlation between increased psychiatric drugging and increased suicides can no longer be ignored.
"At some point, the data revealing the correlation between suicides and psychiatric drugs become overwhelming. The CDC can no longer ignore this correlation. Lives depend on it."
Click here to read the full article.
May is Mental Health Month: Time to Review Psychiatry's Costly & Abusive Influence on the Nation's Health
Seeing as May is "Mental Health Month," we thought it would be appropriate to write and publish an article bringing to light psychiatry's costly & abusive influence on the nation's health. The article reads:
"While lawmakers scramble for increased mental health spending, taxpayers may be shocked to learn what has resulted from the money already provided. In a word, the data are dismal. Despite decades and tens of billions of dollars being poured into mental health services and psychiatric 'treatments,' no one appears to be getting better.
"Getting to exactly how much money is spent on mental health services year-to-year is difficult to impossible, but there are a number of sources that provide a financial picture that clearly contradicts the mental health industry's claims of a deficit in funding."
Click here to read the full article.