Help CCHR educate parents around the world on the dangers of psychiatric drugs, the unscientific nature of psychiatric "labels" and to provide information on non-harmful, workable medical and educational treatments for assisting children with problems of attention, mood and behavior. The message of the Fight For Kids campaign is that all children have the right to grow up label and drug free, and we strive to give parents enough information to make educated choices for their children.
Support the Cause
Introducing: The World's Only Psychiatric Drugs Side Effects Search Engine.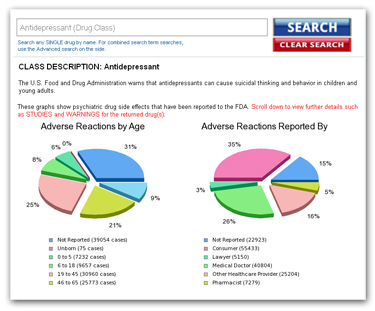 1 in 5 Americans and 120 million worldwide are taking psychiatric drugs. The public has been inundated with false information about the safety and efficacy of these drugs. The staff of CCHR International created the world's only complete psychiatric drug side effects search engine. The database fueling this search engine contains 470,000 adverse reaction reports filed with the US FDA, 207 international drugs warnings, and 221 drug studies to provide the public at large with the facts about psychiatric drug dangers. This search engine essentially comprises all known, documented risks of psychiatric drugs. It does not contain opinion, just documented studies, warnings and post market data — simply type in a drug name or choose from the drop down menu and get graphs showing summarized facts about what's been reported to the FDA.

Watch the "Psychiatric Drugs-Search Warnings, Studies, & Side Effects Video" below:
The Huffington Post—Drug Companies Drive the Psychiatric Drugging of Children
July 24, 2012 – Johnson & Johnson, the company that makes the antipsychotic drug Risperdal, has tentatively agreed to a settlement of $2.2 billion to resolve a federal investigation into the company's marketing practices. Although details are not fully finalized, this includes "a roughly $400 million criminal fine for the illegal promotion of the antipsychotic Risperdal," according to the Wall Street Journal. Click here to read the rest of this article.
Another pharmaceutical company, GlaxoSmithKline, faces $3 billion in penalties after pleading guilty to the biggest health care fraud case in history. GSK admitted that physicians had been bribed to push potentially dangerous drugs in exchange for Madonna tickets, Hawaiian holidays, cash and lucrative speaking tours. They also admitted distributing misleading information regarding the antidepressant Paxil. The report claimed that it was suitable for children, but failed to acknowledge data from studies proving its ineffectiveness in children and adolescents.  Click here to read the rest of this article.