More than 1 million children are being drugged between the ages of 0 to 5 in the United States alone. CCHR created a brand new PSA that includes never before released statistics on the psychiatric drugging of children from birth through age five.
"Children are the world's most valuable resource and its best hope for the future."
—John F. Kennedy
Congressional Inquiry Into Psych Drugs and Violence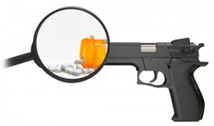 Investigative journalist Kelly Patricia O'Meara released an article which asks the necessary question—did psychiatric drugs cause the violent behavior of Washington Navy Yard shooter, Aaron Alexis? One member of Congress (U.S. Representative Miller (R-FLA.)) has asked the right question about the connection and stepped up to the plate to make an official inquiry into the gunman's psychiatric drug background.
"The overwhelming data supporting a connection between psychiatric drugs and violence, screams for a thorough investigation. That Alexis (like so many of the shooters before him) had been prescribed a psychiatric mind-altering drug, and was taking, Trazodone, may only be the tip of the iceberg."
—U.S. Representative Miller (R-FLA.)
While it is extraordinary news that a federal lawmaker finally, at a minimum, is willing to consider that there may be a connection between the shooter's violent behavior and psychiatric drug "treatment"… Read the rest of the article here.
State of Connecticut Refuses to Release Adam Lanza's Medical Records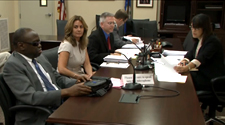 AbleChild, a non-profit parents rights organization, has been seeking the release of Sandy Hook School shooter Adam Lanza's toxicology reports and medical records for more than 9 months. In a hearing held, the Assistant Attorney General, Patrick B. Kwanashie, had this to say in regards to why they didn't want to release this information,
"It is harmful, because then you can cause a lot of people to stop taking their medication… stop cooperating with their treating physicians."
—Assistant Attorney General Patrick B. Kwanashie
Click here to watch this video/read this article online.
UNDRUGGABLE, UNSHOCKABLE, UNSTOPPABLE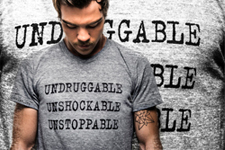 CCHR released a brand new T-shirt! It comes in a comfortable Tri-Blend of 50% Polyester / 25% Cotton / 25% Rayon. Polyester retains the shape and elasticity; Cotton has both comfort and durability and the addition of Rayon gives it a unique texture and slimming fit. A vintage T-shirt with a new CCHR message.
• Comes in a Tri-Blend gray
• Made from a Tri-Blend of 50% Polyester / 25% Cotton / 25% Rayon
• These T-shirts were printed using eco-friendly, acid-free inks
Click here to get your new CCHR T-shirt and support the cause for only $25.00!