Last month FOX National News released a three-part series on the drugging of our nation's military, produced by award-winning investigative reporter Douglas Kennedy, and assisted by CCHR International.
The first part of this series, "Military's Reliance on Powerful Psych Drugs," tells the story of Marine Corporal Andrew White who survived the 2005 war in Iraq, but unfortunately, says his father Stanley, he could not survive the drug cocktail prescribed to him by his caregivers at the Department of Veterans Affairs. Andrew was prescribed 19 different drugs from the Dept. of Veterans Affairs (VA), and was on 5 drugs for insomnia when he accidentally died in his sleep in 2011. A cocktail that included the antidepressant Paxil, the anti-anxiety Klonopin and the anti-psychotic Seroquel. Click here for part one of this series.
The second part of this series, "Military Prescribing Powerful Anti-psychotics," follows the tragic death of former Navy Corpsman, Kelly Greece, who overdosed on the cocktail of drugs she was prescribed by her doctor from the VA. She was prescribed Klonopin, Adderall, Seroquel, and at least 15 other powerful psychiatric drugs. Click here for part two of this series.
The third part of this series, "Drug Treatments for Vets Doing More Harm than Good?" tells the story of Iraqi war veteran Charles Perkins who, after returning home from Iraq, saw 13 different VA psychiatrists within one year, many of them giving him different diagnoses. Perkins ended up receiving 25 prescriptions for 25 different drugs. Once Perkins saw his own doctor, he was told "You are lucky to be alive." Click here for part three of this series.
"When you have so many soldiers on psychiatric drugs, you are producing chronic mental patients." — Dr. Peter Breggin
Just a Few More Weeks— CCHR's New Website & Psychiatric Drug Side Effects Search Engine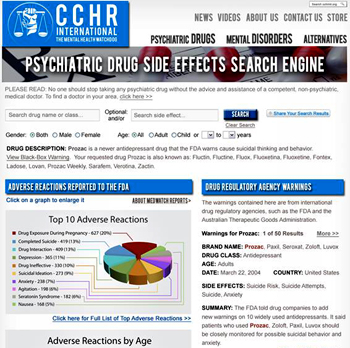 In just a few more weeks the newly designed CCHR website, featuring our psychiatric drug side effects search engine, will be launched!
The CCHR staff and executives have been working tirelessly to provide you with the tools you need to stay informed, as well as be able to easily inform others about the dangers of psychiatric drugs. This new website accomplishes just that. With its release, it will be faster and easier to use than ever before. By using CCHR's featured psychiatric drug search engine, anyone will be able to go on and quickly be able to find reported side effects, studies, and warnings as reported to the U.S. FDA about ANY psychiatric drug and thus be able to make an informed decision.
Save the Date—CCHR's Annual Human Rights Awards Banquet
Saturday, February 1st, 2014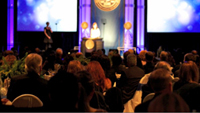 Each year, CCHR awards courageous individuals who have stood up against a multi-billion dollar mental health industry, fighting to expose abuse, enact reforms, and restore human rights to the field of mental health. Past award winners include state and federal legislators, medical doctors, psychologists, whistleblowers, attorneys, human and civil rights activists, and parents who have turned their tragedies into a crusade to help inform others.
Join us on February 1st, 2014 to acknowledge these courageous individuals.
Click here to watch a video of highlights from a previous Human Rights Awards Banquet.
To purchase tickets or for more information contact Eitan Celender at (800) 869-2247
or email: humanrights@cchr.org.
CCHR's Most Popular Documentary: Dead Wrong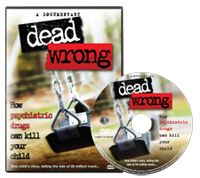 Dead Wrong: How Psychiatric Drugs Can Kill Your Child tells the story of a mother's mission to discover the truth behind her son's tragic death.
In her journey to discover what really occurred, Celeste Steubing meets and interviews doctors and health professionals, as well as a group of mothers whose children each fell victim to the harmful effects of mind-altering drugs.
Psychiatrists claim their drugs are safe for children.
Once you hear what eight brave mothers, their families, health experts, drug counselors, doctors, and others have to say, you will come away convinced of one thing…
Psychiatrists are DEAD WRONG.
"Anger, tears, sadness, inspiration. These were all but a few of my reactions to this documentary. I clicked on it to watch about ten minutes of it. 87 minutes later, I am just concluding this documentary. It gripped me. Profoundly helpful, and extremely powerful."
— Jeremy Lelek, M.A.
Click here to get your copy of Dead Wrong today for only $15.00.