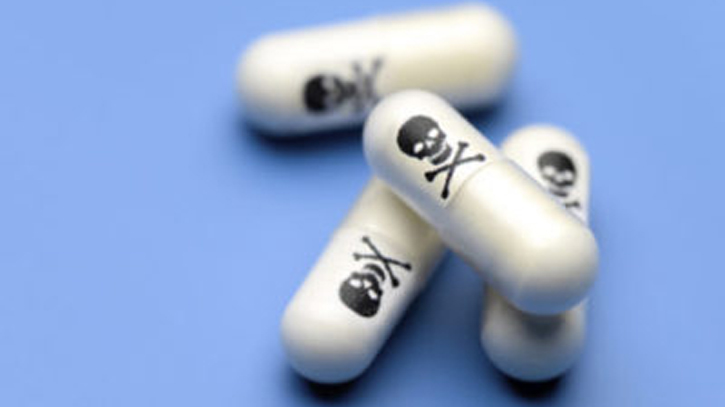 "Law enforcement officers should be aware of the connection between psychotropic drugs and their suicidal and homicidal effects, which can lead to acts of violence." – Jan Eastgate, President CCHR International
Due to reports of acts of mass violence, homicidal side effects of psychotropic drugs need to be made more prominent while toxicology tests should be conducted to identify prescription psychiatric drug use in perpetrators of such crimes.
By Jan Eastgate
President CCHR International
December 9, 2022
With a spate of increased mass shootings being reported around the country, CCHR International reinforces the need for toxicology testing to be conducted on perpetrators to isolate any psychotropic drug use that may have induced their committing violent acts. A common stimulant prescribed to children and teens now carries an Australian drug regulatory agency warning of homicidal thoughts, which CCHR calls upon the U.S. Food and Drug Administration (FDA) and similar agencies to include and to more prominently display all aggressive side effects in psychotropic drug prescription packaging. There should be a protocol put in place in every state during 2023 to monitor potential causes of violence, as more and more drug regulatory agencies warn of the drug-violence link.

One of the latest warnings comes from Australia's Therapeutics Goods Administration (TGA) for the stimulant dexamfetamine (also known as dextroamphetamine), which is prescribed to treat Attention Deficit Hyperactivity Disorder (ADHD). The drug—like many "ADHD" stimulants—is commonly abused, which can lead to overdose. The TGA warns that an overdose may cause "suicidal or homicidal tendencies."[1] However, this is not addressed in the FDA's warnings for several dexamfetamine products.[2]
In a boxed warning, the TGA adds, "Treatment with dexamfetamine should be withdrawn in patients who develop suicidal ideation or behavior, thoughts or acts of self-harm, psychosis/mania, or worsening of aggression/violent behavior" while taking the drug.
Abrupt cessation (withdrawal) following prolonged high dosage results in extreme fatigue and mental depression. The most severe manifestation of chronic intoxication is psychosis—which can be misdiagnosed as schizophrenia.
A common "ADHD" stimulant is Adderall (mixed amphetamine and dextroamphetamine). It takes about 50 hours for Adderall to be excreted from the body, so during that period, consumers can be at risk of violent behavior.[3]
With the new year soon upon us, CCHR says it is vital that this issue be addressed to revert a violent trend that has coincided with the proliferation of psychotropic drug consumption.
There are at least 630 international drug regulatory agency warnings about psychiatric drugs, of which 70 warn of self-harm, suicide, or suicidal ideation and 43 about violence, mania, psychosis, hostility, aggression, or homicidal ideation.[4] But it is doubtful that many consumers or parents of consumers taking these drugs are aware of such risks unless such are prominently displayed and the consumer is also informed by the prescriber.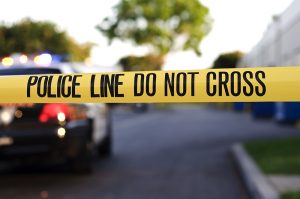 In several high-profile U.S. shootings, the perpetrators had been prescribed amphetamine-like stimulants, including Nikolas Cruz, 19, who killed 17 people and injured another 17 at Marjory Stoneman Douglas High School in Florida in 2018.[5] At one point he was labeled with "ADHD" and prescribed stimulants, which are known to cause hallucinations, behavior changes, aggression, abnormal thoughts, sudden outbursts, thoughts of suicide, and mood swings.[6]
In August 2019, Connor Betts, 24, opened fire outside a bar in Dayton, Ohio, killing 9 including his sister, Megan, and injuring 27 others. He was killed by police responders—possibly an act of "suicide by cop." The county coroner reported that Betts had cocaine, the benzodiazepine Xanax (alprazolam), and alcohol in his system at the time of the shooting rampage.[7] Betts was an admitted abuser of the stimulants Adderall and Vyvanse (lisdexamfetamine dimesylate) to stay high for days.[8]
In September 2012, Michael Hamilton, 33, shot to death Robert Marcyan, attempted to kill Robert's twin brother, Richard, and stole two cars to try to flee police in Jackson County, Michigan.
Just months before the shooting, Michael's daily dosage of Adderall had more than doubled. Hamilton was sentenced to life imprisonment.[9]
On January 30, 1999, in Grand Forks, North Dakota: Ryan Ehlis, 26, shot and killed his 5-day-old daughter and shot himself in the abdomen less than 10 days after starting to take Adderall. Psychiatrists testified in court and the judge agreed that Ehlis lacked the capacity to understand what he was doing because of the drug. "He began to experience delusions and hallucinations… He felt 'wired,' his pupils were dilated and his eyes were hurt by the light," according to the pleadings filed in North Dakota court by the Texas law firm Vickery and Waldner. Ehlis's lawyer, Andy Vickery, believes Adderall does not carry a sufficient warning. "Shire knew that its drug could cause this kind of behavior, and it is absolutely reprehensible that it failed to warn the public about it," he said. Ehlis was acquitted of the killing. The drug's label warns that in rare cases it can cause "psychotic episodes at recommended doses."[10]
In November 2005, the FDA added "homicidal ideation" as a side effect of the antidepressant Effexor XR (venlafaxine extended release).[11] The U.S. labels for all antidepressants as of August 2004 note that "anxiety, agitation, panic attacks, insomnia, irritability, hostility, aggressiveness, impulsivity, akathisia (psychomotor restlessness), hypomania, and mania have been reported in adult and pediatric patients being treated with antidepressants for major depressive disorder as well as for other indications, both psychiatric and nonpsychiatric."[12]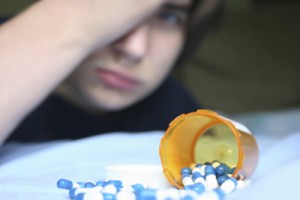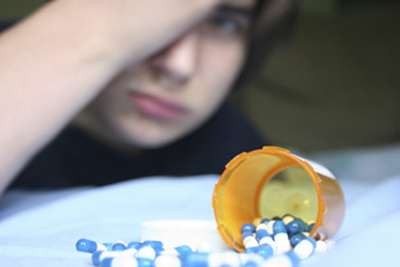 Reported in the journal Pediatrics on February 1, 2009, Andrew Mosholder, formerly from the Office of Surveillance and Epidemiology of the FDA's Center for Drug Evaluation and Research, reported spontaneous case reports of patients treated for ADHD, which showed a likely causal association between certain psychotropic drugs and signs and symptoms of psychosis or mania, notably hallucinations, in some patients. The authors concluded, "Patients and physicians should be aware that psychosis or mania arising during drug treatment of attention-deficit/hyperactivity disorder may represent adverse drug reactions." The prescription drugs were amphetamine/ dextroamphetamine (Adderall), atomoxetine (Strattera), or methylphenidate (Ritalin/Concerta/Daytrana).[13]
The FDA's Adverse Event Reporting System has at least 1,530 cases of homicide/homicidal ideation reported to it as linked to psychiatric drugs. The FDA admits that only 1-10 percent of drug side effects are reported to its MedWatch program. Taking a moderate five percent, then, the potential number of reported incidents could be as high as 30,620.[14]
Prof. David Healy, an international expert on psychopharmacology, noted in Paxil (paroxetine) clinical trials, "aggression and violence were commonly coded under the rubric of hostility. This coding term includes homicide, homicidal acts, and homicidal ideation as well as aggressive events and 'conduct disorders,' but no homicides were reported from these trials." In these trials, "hostile events are found to excess in both adults and children on paroxetine compared with placebo." And, "in healthy volunteer studies, hostile events occurred in three of 271 (1.1%) volunteers taking paroxetine, compared with zero in 138 taking placebo."[15]
Long-term side effects of dextroamphetamine-amphetamine (Adderall) can include hostility, paranoia, seizures, stroke, and heart attack.[16] It can induce psychotic breaks.[17]
The FDA has received hundreds of reports of aggressive behavior in children taking stimulant drugs. Up to 20% resulted in a significant injury or hospitalization.[18]
Adderall was introduced in 1996 by Richwood Pharmaceuticals, which later merged with Shire Pharmaceuticals. By 1999, Adderall accounted for $155.7 million in U.S. pharmaceutical sales.[19] In 2021, Adderall prescriptions had increased to 41 million from 37 million the year before.[20]
Sales of prescription stimulants reached almost $9 billion in 2012 in the U.S. alone—a more than quintuple increase since 2002, according to data from the healthcare technology and information company IMS Health (now IQVia). By 2013, more than 3.5 million American children were taking an ADHD drug—a nearly 500% increase since 1990.[21]
In 2020, the number of people taking the stimulants, thankfully, started to decline to 3.15 million in those ages 0-17, according to IQVia. However, an additional 3.24 million Americans between the ages of 25 and 44 years were also taking them.[22]
The point being is that with such high consumption of psychotropic drugs, a percentage—not all—of those taking them can become incredibly violent.
The fact that ADHD has no known etiology and no medical test to confirm its existence makes the mass diagnosing of it even more troubling. Often normal childhood behavior is marked as ADHD, causing dissension between medical factions about its validity, especially as it was not scientifically discovered but voted to be included in the Diagnostic and Statistical Manual of Mental Disorders (DSM) in 1987. Child psychiatrist Leon Eisenberg, an early pioneer in identifying ADHD, made a deathbed confession in 2009 that ADHD is a "fictitious" disease.[23]
However, according to one study, stimulant drugs were provided, prescribed, or continued at about 80% of ADHD visits to doctors among children aged 4–17 years over one year. A total of 48% of visits for ADHD were with pediatricians, 36% were with psychiatrists, and 12% were with general and family practitioners, which shows the influence of psychiatry's nebulous diagnosing methods on other sectors of the healthcare profession.[24]
The drugs prescribed to treat it have a controversial history, adding weight to the argument that they can cause violent behavior in some. During World War II, dextroamphetamines and methamphetamines were widely distributed among Allied, German, and Japanese soldiers to keep them awake and "alert" on the battlefield. After the war, in 1952, Smith, Kline, and French (today GlaxoSmithKline) introduced Dexedrine (dextroamphetamine sulfate) to the U.S.[25]
Then followed the Vietnam War, when the U.S. military plied its servicemen with speed, steroids, and painkillers to help them handle extended combat, wrote Lukasz Kamienski, in an article entitled "The Drugs That Built a Super Soldier," published in The Atlantic on April 8, 2016. The American military, Kamienski wrote, "readily supplied its troops in Vietnam with speed. 'Pep pills' were usually distributed to men leaving for long-range reconnaissance missions and ambushes." However, the standard army instruction (20 milligrams of dextroamphetamine for 48 hours of combat readiness) was rarely followed; doses of amphetamine were issued, as one veteran put it, "like candies," with no attention given to recommended dose or frequency of administration. From 1966 to 1969, the armed forces had used 225 million tablets of stimulants, mostly Dexedrine.
Kamienski made an important point: "In short, the administration of stimulants by the military contributed to the spread of drug habits that sometimes had tragic consequences—because amphetamine, as many veterans claimed, increased aggression as well as alertness."[26]
It is this aggression side effect that can occur not only with stimulants but also with other psychotropic drugs. In February 2014, the FDA's Center for Drug Evaluation and Research Office of Surveillance and Epidemiology Pediatric Postmarketing Pharmacovigilance and Drug Utilization Review, wrote to Forest Labs, the manufacturer of the atypical antipsychotic, Saphris (asenapine) sublingual tablets, stating: "Given recent concerns regarding psychiatric adverse events with psychiatric medication use, particularly in children, you must provide an assessment of psychiatric adverse events (i.e. worsening of psychosis, depressed mood, suicidality, and homicidal ideation) as part of this written request."[27]
Law enforcement officers should be aware of the connection between psychotropic drugs and their suicidal and homicidal effects, which can lead to acts of violence. Such acts are committed by those who may be suicidal and seek to have police shoot and kill them—commonly known as "suicide by cop."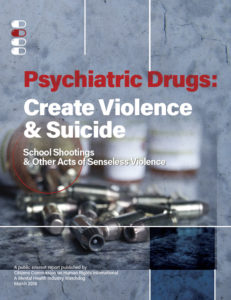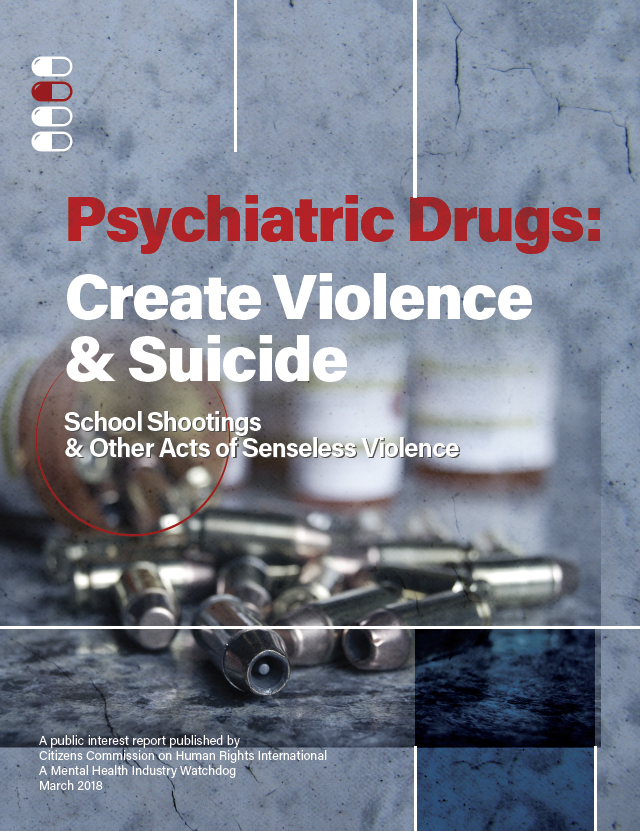 CCHR's report Psychiatric Drugs Create Violence and Suicide draws attention to a New York Assembly Bill introduced in 2015, which had it been enacted, would have required police agencies to report to the Department of Criminal Justice Services (DCJS) on certain crimes and suicides committed by a person who was using psychotropic drugs. These crimes included assault, homicide, sex offenses, robbery offenses, firearms, and other dangerous weapons offenses, kidnapping, and arson. A report on psychiatric drug usage in such crimes would regularly be made public to identify which drugs are most associated with violence.

---
[1] AUSTRALIAN PRODUCT INFORMATION ASPEN DEXAMFETAMINE (dexamfetamine sulfate) tablets, 15 Oct. 2021
[2] Adderall: https://www.accessdata.fda.gov/scripts/cder/daf/index.cfm?event=medguide.page; Dexedrine: https://www.accessdata.fda.gov/scripts/cder/daf/index.cfm?event=medguide.page
[3] https://www.healthline.com/health-news/adhd-medication-shortage-what-to-know-about-availability-of-adderall
[4] https://www.cchrint.org/2022/11/07/20th-anniversary-of-fight-for-kids/
[5] Mark Abadi, James Pasley, Taylor Ardrey, "The 30 deadliest mass shootings in US history include Buffalo and Uvalde," Yahoo! News, 26 May 2022, https://news.yahoo.com/30-deadliest-mass-shootings-us-184057639.html
[6] Ritalin, Side Effects Center, http://www.rxlist.com/ritalin-side-effects-drug-center.htm; Adderall, Side Effects Center, http://www.rxlist.com/adderall-side-effects-drug-center.htm; https://www.cchrint.org/2017/04/05/study-shows-long-term-use-of-adhd-drugs-ineffective-as-treatment-but-do-cause-growth-suppression/
[7] https://www.cchrint.org/2021/04/20/cchr-renews-calls-for-investigation-into-psychiatric-drug-induced-mass-killings/; Dan Whitcomb, "Dayton gunman had cocaine, Xanax, alcohol in his system during attack," Reuters, 15 Aug. 2019, https://www.reuters.com/article/us-usa-shooting-ohio/dayton-gunman-had-cocaine-xanax-alcohol-in-his-system-during-attack-idUSKCN1V600V; Gregory Lemos, CNN 29Nov 2021, https://www.cnn.com/2021/11/29/us/connor-betts-daytona-mass-shooter/index.html
[8] Pritha Paul, "Dayton shooter was obsessed with drugs, mental illness and Lucifer, wrote about 'hunting' down students," MEAWW.com, 9 Aug. 2019, https://meaww.com/dayton-shooter-connor-betts-journal-recorded-thoughts-on-satanism-drugs-murder-and-mental-illness
[9] https://www.cchrint.org/psychiatric-drugs/drug_warnings_on_violence/recent-murdersmurder-suicides/, citing, Danielle Salisbury, "Doctor prescribed Michael Hamilton Adderall, increased dosage; prosecution suggests prescription overuse," MLive.com, 9 Oct 2013, https://www.mlive.com/news/jackson/2013/10/doctor_prescribed_michael_hami.html; "Michael Hamilton sentenced to life in prison for shooting to death Robert," MLive.com, 4 Dec. 2013, Marcyanhttps://www.mlive.com/news/jackson/2013/12/michael_hamilton_sentenced_to.html
[10] https://www.cchrint.org/psychiatric-drugs/drug_warnings_on_violence/recent-murdersmurder-suicides/; "Man sues drugmaker for $100,000," Deseret News, 24 Sept. 2000, https://www.deseret.com/2000/9/24/19530492/man-sues-drugmaker-for-100-000; Sarah Bosely, "Family sues drug firm over baby killing," The Guardian, 22 Feb 2000, https://www.theguardian.com/uk/2000/sep/23/sarahboseley
[11] Psychiatric Drugs Create Violence & Suicide, CCHR International, 2017, p. 12, citing "Detailed View: Safety Labeling Changes Approved By FDA Center for Drug Evaluation and Research (CDER) – November 2005; U.S. Food and Drug Administration, Nov. 2005
[12] David Healy, M.D., et al., "Antidepressants and Violence: Problems at the Interface of Medicine and Law," PLoS Medicine, Sept. 2006, https://www.ncbi.nlm.nih.gov/pmc/articles/PMC1564177/
[13] Psychiatric Drugs Create Violence & Suicide, CCHR International, 2018, p. 34 https://www.cchrint.org/issues/psychiatric-drugs-create-violence-suicide/
[14] Psychiatric Drugs Create Violence & Suicide, CCHR International, 2017, p. 12
[15] David Healy, M.D., et al., "Antidepressants and Violence: Problems at the Interface of Medicine and Law," PLoS Medicine, Sept. 2006, https://www.ncbi.nlm.nih.gov/pmc/articles/PMC1564177/
[16] https://rehabs.com/dextroamphetamine-abuse-and-addiction/ and https://www.verywellmind.com/generic-adderall-uses-side-effects-dosages-precautions-5085111
[17] http://somatosphere.net/2012/meducating-our-children-the-moral-influence-of-adderall-on-education-parenting-and-treatment.html/
[18] Psychiatric Drugs Create Violence and Suicide, CCHR International, 2018, p. 9, citing: "New Warnings Urged for ADHD Drugs," WebMD, 23 Mar. 2006, https://web.archive.org/web/20150906034104/https://www.webmd.com/add-adhd/childhood-adhd/news/20060323/adhd-drugs-reports-aggressive-behavior; http://www.rxlist.com/ritalin-side-effects-drug-center.htm
[19] https://www.encyclopedia.com/medicine/drugs/pharmacology/dextroamphetamine
[20] https://www.healthline.com/health-news/adhd-medication-shortage-what-to-know-about-availability-of-adderall
[21] https://qz.com/158457/the-alarming-rise-of-adderall-in-two-charts
[22] https://www.cchrint.org/psychiatric-drugs/people-taking-psychiatric-drugs/
[23] https://www.cchrint.org/2022/02/14/new-diagnostic-manual-with-adhd-listed-could-turn-childhood-into-a-mental-disorder/
[24] Michael Albert, M.D., M.P.H., rt. Al., "Physician Office Visits for Attention-deficit/Hyperactivity Disorder in Children and Adolescents Aged 4–17 Years: United States, 2012–2013," CDC, Jan. 2017, https://www.cdc.gov/nchs/products/databriefs/db269.htm
[25] https://www.encyclopedia.com/medicine/drugs/pharmacology/dextroamphetamine
[26] Lukasz Kamienski, "The Drugs That Built a Super Soldier," The Atlantic, 8 Apr. 2016, https://www.theatlantic.com/health/archive/2016/04/the-drugs-that-built-a-super-soldier/477183/
[27] Letter from the FDA to Forest Labs, 4 Feb. 2014, from Robert Temple, M.D. Deputy Director Office of Drug Evaluation I Center for Drug Evaluation and Research