Not everyone taking psychiatric drugs will experience violence, mania, psychosis or homicidal ideation.  But according to international drug regulatory agencies, a percentage of them will.  And no one knows who will be next.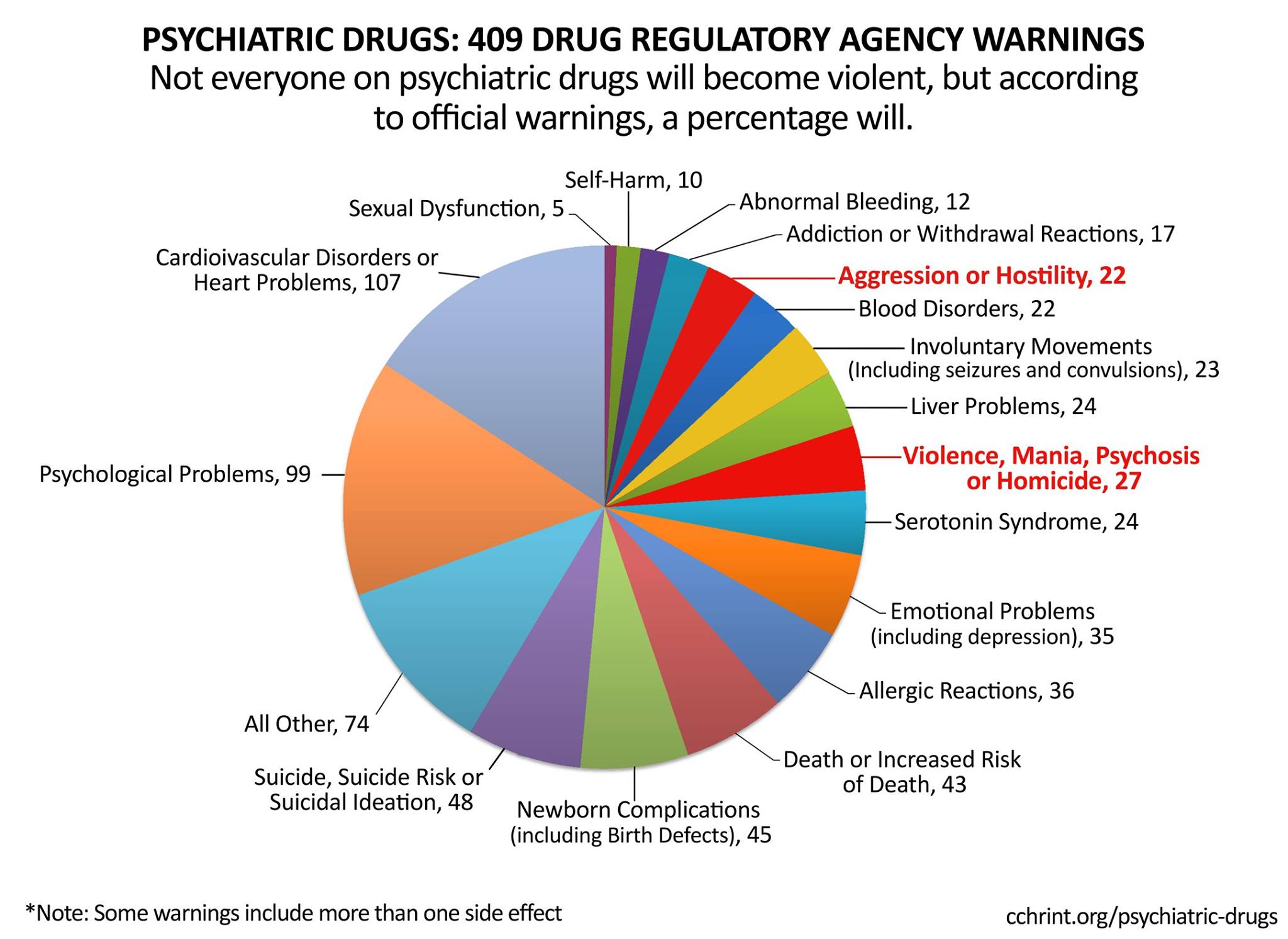 Fact: Despite 27 international drug regulatory warnings on psychiatric drugs citing effects of mania, hostility, violence and even homicidal ideation, and dozens of high profile shootings/killings tied to psychiatric drug use, there has yet to be a federal investigation on the link between psychiatric drugs and acts of senseless violence.
Fact: At least 36 school shootings and/or school-related acts of violence have been committed by those taking or withdrawing from psychiatric drugs resulting in 172 wounded and 80 killed (in other school shootings, information about their drug use was never made public—neither confirming or refuting if they were under the influence of prescribed drugs).
Watch this short interview with Michael Moore, author, director and producer of Bowling for Columbine, on the link between antidepressants and school shootings.
Fact: School shootings are not the only mass killings tied to psychiatric drug use. There are 32 other acts of senseless violence committed by individuals taking or withdrawing from psychiatric drugs resulting in an additional 369 dead and 748 wounded.
Fact: Between 2004 and 2012, there have been 14,773 reports to the U.S. FDA's MedWatch system on psychiatric drugs causing violent side effects including: 1,531 cases of homicidal ideation/homicide, 3,287 cases of mania & 8,219 cases of aggression. Note:  The FDA estimates that less than 1% of all serious events are ever reported to it, so the actual number of side effects occurring are most certainly higher.
Fact: It took months for  the release of information showing that police had found psychiatric drugs in the apartment of Aurora Colorado movie theater shooter, James Holmes—including the anti-anxiety drug clonazepam and the antidepressant sertraline, the generic version of the antidepressant Zoloft. And despite official, legal requests for the release of Sandy Hook school shooter Adam Lanza's toxicology reports and medical history to ascertain whether psychiatric drugs played a role in the school massacre,  the office of the Connecticut medical examiner has refused to release this crucial information to the public, prompting a parent's rights organization to take the matter to court.
Of the 36 people who committed acts of violence that were documented to be under the influence of psychiatric drugs, at least 13 were seeing either a psychiatrist or psychologist.  See the list of school shootings and/or school-related acts of violence by those on psychiatric drugs here.
The correlation between psychiatric drugs and acts of violence and homicide is well documented – both by international drug regulatory warnings and studies, as well as by hundreds of cases where high profile acts of violence/mass murder were committed by individuals under the influence of psychiatric drugs.
The New York State Senate recognized this as far back as 2000, introducing a bill which would "require police to report to the Division of Criminal Justice Services (DCJS), certain crimes and suicides committed by persons using psychotropic drugs," citing "a large body of scientific research establishing a connection between violence and suicide and the use of psychotropic drugs."
Unfortunately that bill stalled out in the finance committee.   By reviewing the international drug regulatory warnings, studies, and adverse reaction reports submitted to the US FDA below, it is evident that the reintroduction of the New York bill is needed on a federal level in order to determine just how many crimes and acts of violence are being committed by individuals under the influence of drugs documented to induce violence, mania, psychosis, aggression, hostility and  homicide.
As the world's leading mental health watchdog, CCHR has for decades investigated hundreds of acts of senseless violence, working alongside investigative reporters,  law enforcement, as well as legislative hearings, such as those held in Colorado following the 1999 Columbine  massacre  (ringleader Eric Harris was found to be under the influence of the antidepressant Luvox, Dylan Klebold's autopsy reports were never unsealed). Moreover, Coroner's in cases such as the Sandy Hook shooting, can refuse to release toxicology reports, despite the fact that this would violate no privacy laws and the public has the right to the information given the heinous nature of the crime. See Attorney Jonathan Emord video on his suit against the Sandy hook Coroner below
And while there is never one simple explanation for what drives a human being  to commit such unspeakable acts, all too often one common denominator has surfaced in hundreds of cases—prescribed psychiatric drugs which are documented to cause mania, psychosis, violence, suicide and in some cases,  homicidal ideation. It is an injustice that the general public are not being  informed about the well documented links between psychiatric drugs and violence, and so once again we present the facts:
There have been 27 international drug regulatory warnings issued on psychiatric drugs causing violence, mania, hostility, aggression, psychosis, and other violent type reactions. These warnings have been issued in the United States, European Union, Japan, United Kingdom, Australia and Canada.
In determining what would prompt a person  to commit such brutal and senseless crimes, the press must ask the right questions,  including:  What, if any, prescribed psychotropic drugs the perpetrator may have been on (or in withdrawal from).
Read the international drug regulatory warnings issued on psychiatric drugs causing violence, mania, hostility, aggression, psychosis, and other violent type reactions.
See the recent study from PLoS One here on psychiatric drugs being linked to violence.
At least 36 school shootings and/or school-related acts of violence were committed by those taking or withdrawing from psychiatric drugs. It is important to note the following lists cases where the information about the shooters psychiatric drug use was made public.
It took months for  the release of information showing that police had found psychiatric drugs in the apartment of Aurora Colorado movie theater shooter, James Holmes—including the anti-anxiety drug clonazepam and the antidepressant sertraline, the generic version of the antidepressant Zoloft.
Note that all these acts of violence didn't just occur in the United States.
Of these 36, thirteen were seeing either a psychiatrist or psychologist.
Austin, Texas – May 1, 2017: Kendrex J. White, 21, stabbed four people with a machete-like hunting knife at the University of Texas, killing one and wounding three. The stabbings occurred within a one-block area as the attacker "calmly walked around the plaza," according to the chief of police. After he was arrested, White told police he did not remember the attack. The police department said that White had recently been involuntarily committed in another city, and county records showed that he had been arrested and charged with a DWI (Driving While Intoxicated) on April 4, 2017. When an officer spoke to him, White said he had taken two "happy pills," listed as the antidepressant Zoloft.
Tallahassee, Florida – November 20, 2014: 31-year-old Myron May, a Florida State University alum, opened fire in the school's library, wounding three before he was shot and killed by police. ABC Action News found a half-filled prescription for the antianxiety drug Hydroxyzine in his apartment after the shooting. In addition, according to May's friends, he had seen a psychologist and had been prescribed the antidepressant Wellbutrin and the ADHD drug Vyvanse. He also checked himself in to a mental health center called Mesilla Valley Hospital around September of 2014. Shortly after this, his friends discovered the antipsychotic Seroquel among his prescriptions.
Seattle, Washington – June 5, 2014: 26-year-old Aaron Ybarra opened fire with a shotgun at Seattle Pacific University, killing one student and wounding two others. Ybarra planned to kill as many people as possible and then kill himself. In 2012, Ybarra reported that he had been prescribed the antidepressant Prozac and antipsychotic Risperdal. A report from his counselor in December of 2013 said that he was taking Prozac at the time and planned to continue to meet with his psychiatrist and therapist as needed. His lawyer also said that Ybarra had a long history of mental health issues for which he was taking prescribed drugs for at the time of the shooting.
Milford, Connecticut – April 25, 2014: 16-year-old Chris Plaskon stabbed Maren Sanchez, also 16, to death in a stairwell at Jonathan Law High School after she turned down his prom invitation. According to classmates and a former close friend, Chris was taking drugs for ADHD.
Sparks, Nevada – October 21, 2013: 12-year-old Jose Reyes opened fire at Sparks Middle School, killing a teacher and wounding two classmates before committing suicide. The investigation revealed that he had been seeing a psychiatrist and had a generic version of Prozac (fluoxetine) in his system at the time of death.
St. Louis, Missouri – January 15, 2013: 34-year-old Sean Johnson walked onto the Stevens Institute of Business & Arts campus and shot the school's financial aid director once in the chest, then shot himself in the torso. Johnson had been taking prescribed drugs for an undisclosed mental illness.
Snohomish County, Washington – October 24, 2011: A 15-year-old girl went to Snohomish High School where police alleged that she stabbed a girl as many as 25 times just before the start of school, and then stabbed another girl who tried to help her injured friend. Prior to the attack the girl had been taking "medication" and seeing a psychiatrist. Court documents said the girl was being treated for depression.
Planoise, France – December 13, 2010: A 17-year-old youth held twenty pre-school children and their teacher hostage for hours at Charles Fourier preschool.  The teen was reported to be on "medication for depression".  He took a classroom hostage with two swords. Eventually, all the children and the teacher were released safely.
Myrtle Beach, South Carolina – September 21, 2011: 14-year-old Christian Helms had two pipe bombs in his backpack, when he shot and wounded Socastee High School's "resource" (police) officer. However the officer was able to stop the student before he could do anything further. Evidence showed that he was planning an attack similar to the Columbine High School shooting and had even made a list of who he was going to kill. Helms had been taking drugs for attention deficit hyperactivity disorder and depression.
Huntsville, Alabama – February 5, 2010: 15-year-old Hammad Memon shot and killed another Discover Middle School student Todd Brown.  Memon had a history for being treated for ADHD and depression.  He was taking the antidepressant Zoloft and "other drugs for the conditions." He had been seeing a psychiatrist and psychologist.
Kauhajoki, Finland – September 23, 2008: 22-year-old culinary student Matti Saari shot and killed 9 students and a teacher, and wounded another student, before killing himself.  Saari was taking an SSRI and alprazolam (Xanax). He was also seeing a psychologist.
Fresno, California – April 24, 2008: 17-year-old Jesus "Jesse" Carrizales attacked the Fresno high school's officer, hitting him in the head with a baseball bat.  After knocking the officer down, the officer shot Carrizales in self-defense, killing him.  Carrizales had been prescribed Lexapro and Geodon, and his autopsy showed that he had a high dose of the antidepressant Lexapro in his blood that could have caused him to be paranoid, according to the coroner.
DeKalb, Illinois – February 14, 2008: 27-year-old Steven Kazmierczak shot and killed five people and wounded 21 others before killing himself in a Northern Illinois University auditorium. According to his girlfriend, he had recently been taking the prescribed drugs Prozac, Xanax and Ambien but had stopped taking Prozac three weeks before the shooting. Toxicology results showed that he still had trace amount of Xanax in his system. He had been seeing a psychiatrist.
Jokela, Finland – November 7, 2007: 18-year-old Finnish gunman Pekka-Eric Auvinen had been taking antidepressants before he killed eight people and wounded a dozen more at Jokela High School in southern Finland, then committed suicide.
Texas – November 7, 2007: 17-year-old Felicia McMillan returned to her former Robert E. Lee High School campus and stabbed a male student and wounded the principle with a knife.  McMillan had been on drugs for depression, and had just taken them the night before the incident.
Cleveland, Ohio – October 10, 2007: 14-year-old Asa Coon stormed through his school with a gun in each hand, shooting and wounding four before taking his own life. Coon had been prescribed the antidepressant Trazodone.
Sudbury, Massachusetts – January 19, 2007: 16-year-old John Odgren stabbed another student to death with a large kitchen knife in a boy's bathroom at Lincoln-Sudbury Regional High School. In court his father testified that Odgren was prescribed the drug Ritalin.
North Vernon, Indiana – December 4, 2006: 16-year-old Travis Roberson stabbed another Jennings County High School student in the neck, nearly severing an artery. Roberson was in withdrawal from Wellbutrin, which he had stopped taking days before the attack.
Hillsborough, North Carolina – August 30, 2006: 19-year-old Alvaro Rafael Castillo shot and killed his father, then drove to Orange High School where he opened fire. Two students were injured in the shooting, which ended when school personnel tackled him. His mother said he was on drugs for depression.
Chapel Hill, North Carolina – April 24, 2006: 17-year-old William Barrett Foster took a shotgun to school and took a teacher and a fellow student hostage at East Chapel Hill High School. After being talked out of shooting the hostages, Foster fired two shots through a classroom window before fleeing the school on foot. Foster's father testified that his son had stopped taking his antidepressants and antipsychotic drugs without telling him.
Red Lake, Minnesota – March 21, 2005: 16-year-old Jeff Weise, on Prozac, shot and killed his grandfather and his grandfather's girlfriend, then went to his school on the Red Lake Indian Reservation where he shot dead 5 students, a security guard, and a teacher, and wounded 7 before killing himself.
Greenbush, New York – February 9, 2004: 16-year-old Jon Romano strolled into his high school in east Greenbush and opened fire with a shotgun. Special education teacher Michael Bennett was hit in the leg. Romano had been taking the antianxiety drug Xanax. He had previously spent time in a psychiatric care facility.
Red Lion, Pennsylvania – February 2, 2001: 56-year-old William Michael Stankewicz entered North Hopewell-Winterstown Elementary School with a machete, leaving three adults and 11 children injured. Stankewicz was taking four different drugs for depression and anxiety weeks before the attacks.
Ikeda, Japan – June 8, 2001: 37-year-old Mamoru Takuma, wielding a 6-inch knife, slipped into an elementary school and stabbed eight first- and second-graders to death while wounding at least 15 other pupils and teachers. He then turned the knife on himself but suffered only superficial wounds. He later told interrogators that before the attack he had taken 10 times his normal dose of antidepressants. Police said he had been under the care of a psychiatrist.
Wahluke, Washington – April 10, 2001: Sixteen-year-old Cory Baadsgaard took a rifle to his high school and held 23 classmates and a teacher hostage. Three weeks earlier, his doctor had switched Baadsgaard's prescription from Paxil to Effexor. The morning of the incident, his dosage of Effexor had been increased. Baadsgaard said he had no memory of the incident.
El Cajon, California – March 22, 2001: 18-year-old Jason Hoffman, on the antidepressants Celexa and Effexor, opened fire on his classmates, wounding three students and two teachers at Granite Hills High School. He had been seeing a psychiatrist before the shooting.
Williamsport, Pennsylvania – March 7, 2001: 14-year-old Elizabeth Bush was taking the antidepressant Prozac when she shot at fellow students, wounding one.
Oxnard, California – January 10, 2001: 17-year-old Richard Lopez went to Hueneme High School with a gun and shot twice at a car in the school's parking lot before taking a female student hostage.  Lopez was eventually killed by a SWAT officer.  He had been prescribed Prozac, Paxil and "drugs that helped him go to sleep."
Conyers, Georgia – May 20, 1999: 15-year-old T.J. Solomon was being treated with the stimulant Ritalin when he opened fire on and wounded six of his classmates.
Columbine, Colorado – April 20, 1999: 18-year-old Eric Harris and his accomplice, Dylan Klebold, killed 12 students and a teacher and wounded 26 others before killing themselves. Harris was on the antidepressant Luvox.  Klebold's medical records remain sealed. Both shooters had been in anger-management classes and had undergone counseling.  Harris had been seeing a psychiatrist before the shooting.
Notus, Idaho – April 16, 1999: 15-year-old Shawn Cooper fired two shotgun rounds in his school, injuring one student. He was taking a prescribed antidepressant and Ritalin.
Springfield, Oregon – May 21, 1998: 15-year-old Kip Kinkel murdered his parents and then proceeded to school where he opened fire on students in the cafeteria, killing two and wounding 25. Kinkel had been taking the antidepressant Prozac. Kinkel had been attending "anger control classes" and had previously been under the care of a psychologist.
Blackville, South Carolina – October 12, 1995: 15-year-old Toby R. Sincino slipped into the Blackville-Hilda High School's rear entrance, where he shot two Blackville-Hilda High School teachers, killing one. Then Toby killed himself moments later. His aunt, Carolyn McCreary, said he had been undergoing counseling with the Department of Mental Health and was taking Zoloft for emotional problems.
Chelsea, Michigan – December 16, 1993: 39-year-old chemistry teacher Stephen Leith, facing a disciplinary matter at Chelsea High School, shot Superintendent Joseph Piasecki to death, shot Principal Ron Mead in the leg, and slightly wounded journalism teacher Phil Jones. Leith was taking Prozac and had been seeing a psychiatrist.
Houston, Texas – September 18, 1992: 44-year-old Calvin Charles Bell, reportedly upset about his second-grader's progress report, appeared in the principal's office of Piney Point Elementary School. Bell fired a gun in the school, and eventually wounded two officers before surrendering. Relatives told police on Friday that Bell was an unemployed Vietnam veteran and had been taking anti-depressants.
Winnetka, Illinois – 20 May 1988: 30-year-old Laurie Wasserman Dann walked into a second grade classroom at Hubbard Woods School in Winnetka, Illinois carrying three pistols and began shooting children, killing an eight-year-old boy, and wounding five others before fleeing. She entered a nearby house where she shot and wounded a 20-year-old man before killing herself. Dann had been seeing a psychiatrist and subsequent blood tests revealed that at the time of the killings, she was taking the antidepressant Anafranil.
Note: Psychiatric Drugs Can Also Cause Severe Withdrawal Symptoms—Violent and Suicidal Thoughts – Watch This 2 Minute Video
32 additional murders and murder-suicides, resulting in 369 dead and 748 wounded:
Sutherland Springs, Texas – November 5, 2017: Devin Patrick Kelley, 26, opened fire during church services on the First Baptist Church in Sutherland Springs, killing 26 people and injuring 20 more, with victims ranging in age from 18 months to 77 years old. He was later found dead in a vehicle after he was shot and chased by two men who heard the gunfire at the church. The autopsy released by the Travis County Medical Examiner's Office reported that Kelley died from a self-inflicted gunshot wound. The autopsy also reported that toxicology tests detected marijuana and anti-anxiety drugs in his system.
Las Vegas, Nevada – Oct. 1, 2017: Stephen Craig Paddock opened fire on thousands of concertgoers on the Las Vegas Strip, from a room on the 32nd floor of the Mandalay Bay Resort and Casino. He killed 58 and wounded 546 before taking his own life. According to the autopsy report, Paddock had antianxiety medication in his system at the time of the shooting.
Quebec City, Canada – January 28, 2017: Alexandre Bissonnette, age 27, walked in to a Quebec City mosque and opened fire into a crowd of men, women and children during evening prayers, killing six Muslim men and wounding 18. His mother told police that his doctor had recently given him a new prescription for the antidepressant paroxetine (Paxil) and that he was very "anxious and unstable" in the week before the shooting. When he pleaded guilty in 2018, he did not explain why he targeted the mosque but said he had "suicidal thoughts" and an "obsession" with death and said he was "not a terrorist, nor an Islamophobe."
Burlington, Washington – September 23, 2016: 20-year-old Arcan Cetin opened fire in a Macy's department store at the Cascade Mall, killing 5 people. Cetin had seen at least four mental-health treatment providers in his life and was involuntarily committed to a psychiatric hospital in November 2015 after a suicide attempt. He was on three different psychiatric drugs — the antidepressant Prozac and ADHD drugs Concerta and guanfacine — as of 2015. Additionally, records obtained by investigators from an NBC affiliate in Washington found that he had been diagnosed with autism, depression and ADHD, and had been receiving drugs "like Prozac" in the months before the shooting.
Munich, Germany – July 22, 2016: 18-year-old Ali David Sonboly shot and killed 9 people, injured 27 others, then killed himself. According to CNN, he had a history of psychiatric care at a hospital for two months in 2015 and was suffering from depression and anxiety. The Guardian reported that after leaving the hospital, Sonboly "continued to receive outpatient treatment for social anxiety disorder and depression for which he was receiving medication."
Baton Rouge, Louisiana – July 17, 2016: Former Marine Gavin Long, age 29, went on a shooting rampage, killing three law officers and wounding three others before being shot dead by a SWAT team officer. He told friends he had post-traumatic stress disorder. CNN reported that Long had filled a prescription for Ativan, an anti-anxiety drug, as recently as June, and also had prescriptions for Valium (also an anti-anxiety drug) and the sedative Lunesta.
Southern France – March 24, 2015: According to medical records, Andreas Lubitz, the pilot who deliberately crashed a Germanwings plane in a remote, mountainous area of Southern France killing all 150 people on board, was on drugs for depression, anxiety and panic attacks, including lorazepam and an antidepressant. Lubitz had increased the dosage of anti-depressants prescribed to him to twice the amount and also reportedly blamed the drug for loss of sleep and panic attacks. He also spent a year and a half in "psychiatric treatment" six years prior to the crash.
Montgomery County, Pennsylvania – December 15, 2014: Iraq War veteran Bradley Stone, 35, killed his ex-wife plus her mother, grandmother and sister, and the sister's husband and 14-year-old daughter and then committed suicide. According to the Medical Examiner, he had both the antidepressant trazodone and the antipsychotic risperidone in his system at the time of his death.  Just one week prior to the murders, he had seen his Veterans Affairs psychiatrist, whose evaluation stated Stone had no suicidal or homicidal ideation.
Santa Barbara, California – May 23, 2014: 22-year-old Elliot Rodger stabbed his two roommates at the apartment he shared with them, along with a third person who was visiting. He then drove to a University of California at Santa Barbara (UCSB) sorority house where he shot three women, killing two of them. Driving again, he exchanged fire with deputies, hit a bicyclist, fired on other people in multiple locations and then killed himself. In all he killed 6 and wounded 13 others before taking his own life. He explained in his manifesto that he had psychiatric drugs and made them part of his plan in ending his own life. On page 133 of the manifesto, Rodgers explains that he'll shoot himself in the head and "I will quickly swallow all of the Xanax and Vicodin pills I have left…." He explains that if the bullets don't kill him, the mixture of pills will.
Fort Hood, Texas – April 2, 2014: Specialist Ivan Lopez opened fire at Fort Hood military base, killing three people and wounding 16 others before taking his own life.  He had been prescribed Ambien, antidepressants and other medications to treat anxiety and depression and had also been examined by a psychiatrist within the month prior and was being evaluated for PTSD.
Washington, DC – September 17, 2013: Aaron Alexis, a Navy contractor, opened fire inside a building at the Washington Navy Yard, killing 12 and wounding eight others before he was killed by police. Alexis had received prescriptions from two Veterans Administration hospitals in August 2013 for the antidepressant Trazodone.
West Palm Beach, FL – September 12, 2013: According to toxicology results, Pamela Brooks had a prescribed dosage of the antidepressant Prozac in her system when she killed her 10-year-old daughter by stabbing her more than 20 times and committed suicide by stabbing herself more than 150 times with a kitchen knife.
Jackson County, MI – September 8, 2012: Michael Hamilton shot to death Robert Marcyan, attempted to kill Robert's twin brother, Richard, and stole two cars to try to flee police. Robert was a handyman who had gone to the Hamilton house with his brother to fix some deck issues.  Just months before the shooting, Michael's daily dosage of Adderall had more than doubled.
Aurora, CO – July 20, 2012: 24-year-old James Holmes entered a movie theater where about 420 people were watching a midnight showing of "The Dark Knight Rises" and opened fire, killing 12 people and wounding 70. Officers found Holmes by his car behind the theater and arrested him. During court testimonies, his psychiatrist, Lynne Fenton, said that she had prescribed Holmes the antidepressant sertraline and antianxiety drug clonazepam. In a recorded interview with Holmes, he was asked if the shootings would not have taken place if he hadn't taken the prescribed drugs. Holmes answer was, "I'd say it was a possibility."
Pittsburgh, Pennsylvania – March 8, 2012:  30-year-old John Shick, former patient of University of Pittsburgh Medical Center (UPMC) and former student at nearby Duquesne University, shot and killed one and injured six inside UPMC's Western Psychiatrist Institute. Nine antidepressants were identified among the drugs police found in Shick's apartment.
El Cajon, California – January 16, 2012: An unidentified 10-year-old boy killed his best friend, 12-year-old Ryan Carter, by stabbing him to death with a kitchen knife.  The boy's mother said that about a month before the attack, he was prescribed the antidepressant Anaphranil.  At this point, his personality changed and he became "much more aggressive."
Fort Carson, CO – January 8, 2012: Sgt. Vincinte Jackson, 40, stabbed Spc. Brandy Fonteneaux 74 times before choking her to death.  Jackson doesn't know why he did it.  Capt. Jeremy Horn, one of Jackson's defense lawyers,said that a combination of heavy drinking and a prescription antidepressant, Celexa, left Jackson unable to control his own actions.
Seal Beach, California – October 12, 2011:  Scott DeKraai, a harbor tugboat worker, entered the hair salon where his ex-wife worked, killing her and seven others and injuring one. At DeKraai's initial hearing, his attorney indicated to the judge that DeKraai was prescribed the antidepressant Trazodone and the "mood stabilizer" Topamax.
Afghanistan – October 17, 2010: Indiana soldier David Lawrence was taking the two antidepressants – Trazodone and Zoloft – when he killed a top Taliban commander by shooting him in the face in a prison cell. During questioning, David said he imagined all the people he knew being blown up and blacked out before the shooting.
Newport, Maine – October 26, 2009: Perley Goodrich Jr. beat his mother and then shot his father dead shortly after being injected with Trazodone in a psychiatric hospital. Goodrich had complained that he didn't want to take the medication because it made him feel "violent."
Lakeland, Florida – May 3, 2009:  Toxicology test results showed that 34-year-old Troy Bellar was on Tegretol, a drug prescribed for "bi-polar disorder," when he shot and killed his wife and two of his three children in their home before killing himself.
Granberry Crossing, Alabama – April 26, 2009:  53-year-old Fred B. Davis shot and killed a police officer and wounded a sheriff's deputy who had responded to a call that Davis had threatened a neighbor with a gun. Prescription drug bottles found at the scene showed that Davis was prescribed the antipsychotic drug Geodon.
Middletown, Maryland – April 17, 2009:  Christopher Wood shot and killed his wife, three small children and himself inside their home. Toxicology test results verified that Wood had been taking the antidepressants Bupropion (Wellbutrin), Amitriptyline (Elavil), and Nortriptyline (Pamelor), as well as the anti-anxiety drugs Zolpidem (Ambien) and Alprazolam (Xanax).
Carthage, North Carolina – March 29, 2009: Robert Kenneth Stewart killed eight people and wounded three others during a shooting rampage at a Carthage nursing home. He was under the influence of the antidepressant Lexapro and the sedatives Ambien and Xanax. Tests run on Stewart's blood following the shooting showed he had 12 times the therapeutic dose of Ambien in his system. Two days before the shooting he attempted to see a doctor. The doctor wasn't there, but a nurse prescribed Lexapro and Xanax. The day before the shooting, Stewart became agitated because of the antidepressants he was taking. Stewart's attorney said Stewart's problems with the anti-depressants prompted him to overdose on Ambien. His attorney also said, "Robert Stewart does not remember what happened on March 29, 2009, and he has never been able to tell anyone about it."
Concord, California – January 11, 2009:  Jason Montes, 33, shot and killed his wife and then himself at home. Montes had earlier begun taking the antidepressant Prozac for depression related to his impending divorce and a recent bankruptcy.
Little Rock, Arkansas – August 14, 2008:  Less than 48 hours after Timothy Johnson shot and killed Arkansas Democratic Party Chairman Bill Gwatney, the Little Rock Police declared they were investigating shooter's use of the antidepressant Effexor, which was found in Johnson's house.  A Little Rock city police report later stated that Johnson "was on an antidepressant and that the drug may have played a part in his 'irrational and violent behavior.'"
Omaha, Nebraska – December 5, 2007:  19-year-old Robert Hawkins killed eight people and wounded five before committing suicide in an Omaha mall. Autopsy results confirmed he was under the influence of the "anti-anxiety" drug Valium.
Fallujah, Iraq – December 31, 2006: Marine Lance Cpl. Delano Holmes killed Iraqi soldier Mutather Jasem Muhammed Hassin by stabbing him 40 times with a combat knife, with some of the wounds piercing his spine. Holmes had been prescribed Trazodone (an antidepressant), Ambien and Valium (both anti-anxiety drugs).
North Meridian, Florida – July 8, 2003:  Doug Williams killed five and wounded nine of his fellow Lockheed Martin employees before killing himself. Williams was reportedly taking two antidepressants, Zoloft and Celexa, for depression after a failed marriage.
Wakefield, Massachusetts – December 26, 2000:  42-year-old computer technician Michael McDermott had been taking three antidepressants, Paxil, Prozac and Desyrel, when he hunted down employees with a shotgun and a rifle in the accounting and human resources offices where he worked, killing seven.
Buffalo, New York – May 1, 1998:  37-year-old Juan Roman, an Erie County sheriff's deputy, pursued his estranged wife into their children's elementary school and shot her dead, and a school aide was hit in the elbow. Roman was taking antidepressants and seeing a psychiatrist.
St. Petersburg, FL – May 25, 1992:  30-year-old David Doyle Rittenhouse shot and killed a man that went on a date with his wife. Rittenhouse said he was taking a drug somewhat similar to the controversial drug Prozac, and that the drug impeded his perception abilities and he thought the man had raped his wife, though he said "He knows it didn't happen that way – but he said that is what was in his mind."
As far back as 1991, CCHR, along with numerous experts brought evidence before the US FDA that antidepressants were causing suicide and violence. The heavily Pharma-funded FDA panel ignored the evidence provided, and it would take 14 years, and a great deal of public pressure,  for the FDA to finally issue it's strongest warning, the black box, on antidepressants inducing suicidal ideation.   21 years later, the FDA has yet to issue a black box warning on antidepressants and other classes of psychiatric drugs documented by international regulatory agencies and studies to cause violence.  This is not in the public's interest, who deserve to be warned, it's in Big Phama's interest,  upon whose funding the FDA heavily relies on.