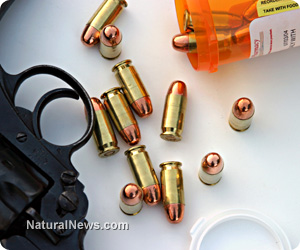 "Commonly prescribed psychiatric medications have been officially connected with at least 31 violent school-related episodes since 1988, most of which were shootings."
Natural News – September 25, 2013
By Thomas Henry
The State of Connecticut still maintains that the public does not have a right to know whether accused killer Adam Lanza was taking medication, or alternately withdrawing from it, when 20 children and six adults were killed at Sandy Hook last December. This is despite the fact that Lanza had been diagnosed with Asperger Syndrome and was, at least according to reports from some who knew him, taking psychiatric drugs.
As a blind Nigerian lawyer serving as Assistant Attorney General for the State of Connecticut, Patrick Kwanashie stands out as the latest odd figure to aid in the furtherance of a massive cover-up concerning the shooting.
In a bizarre justification for the State's denial of the release of Lanza's medical records and toxicology report, Kwanashie claims that even conclusive "causal" linkage between psychiatric drugs and the shooter's murderous behavior would be irrelevant and constitute an "illegitimate use of information."
His dazed demeanor, thick accent and incoherent, stuttered speech make this outrageous and illogical official rationale all the more difficult to comprehend. He stated:
"No matter how the outcome of the use of antidepressants, or the causal link between the use of antidepressants and kind of violence that took place in Newtown, that's not a legitimate use of information, that information. You can't generalize just from one case. Even if you can conclusively establish that Adam Lanza – his murderous actions – were caused by antidepressants.
"You can't logically from that conclude that, you know, others would commit the same actions as a result of taking antidepressants. So it's simply not legitimate, and not only is it not the use to which they are proposing to put the information, not legitimate. It is harmful, because they you can cause a lot of people to stop taking their medications; stop cooperating with their treating physicians. Just because of the heinousness of what Adam Lanza did."
Keep in mind that Lanza's psychiatric records have NOT been released to the public, yet AAG Patrick Kwanashie argues preemptively against their importance by arguing that "You can't just generalize from one case." Is this a tacit admission from an official Connecticut attorney that Lanza was in fact on psychoactive prescription drugs at or near the time of the shooting? Authorities have previously told the press that the autopsy investigation revealed no such substances in Lanza's body. Watch the 2 minute video below
Sheila Matthews, co-founder of AbleChild (a parent's rights organization), is behind a Freedom of Information request that led to this August 22, 2013, hearing. She appears alongside activist attorney Jonathan Emord, visibly dumbfounded by listening to Kwanashie's astounding basis for refusing to release publicly relevant information in the face of her repeated requests to the Connecticut Medical Examiner's Office. Matthews efforts have not been to generalize, but to secure specific information about Lanza's case.
Instead, it has been President Obama, the federal government and various political interests who have exploited the Sandy Hook massacre to make generalizations, pushing for new gun control measures and sweeping changes to mental health treatment in this country. They have sought to do so without even knowing the facts about the medical conditions that may have played a role in Lanza's actions.
Commonly prescribed psychiatric medications have been officially connected with at least 31 violent school-related episodes since 1988, most of which were shootings. In each of these documented cases, the acts were committed by individuals either under the influence of, or in withdrawal from, psychiatric drugs. Yet these same drugs carry warnings administered by multiple regulatory agencies including the FDA, admitting that they can cause violent reactions, psychotic breaks and manic behavior.
Back in March, Sheila Matthews worked with Newtown resident Patricia Sabato to gather signatures from area residents to demand the release of Adam Lanza's' medical, psychiatric and toxicology/autopsy records. Following hundreds of signatures and a pointed letter, Connecticut Medical Examiner H. Wayne Carver, M.D., denied the request without cause, despite federal and state laws requiring transparency and disclosure.
Authorities admit that they seized medical records from the Lanza home but have refused to release them to the public.
http://www.naturalnews.com/042207_Adam_Lanza_medication_history_mind_control.html