LOVE.  PROTECT.  ENGAGE.  ACTIVATE.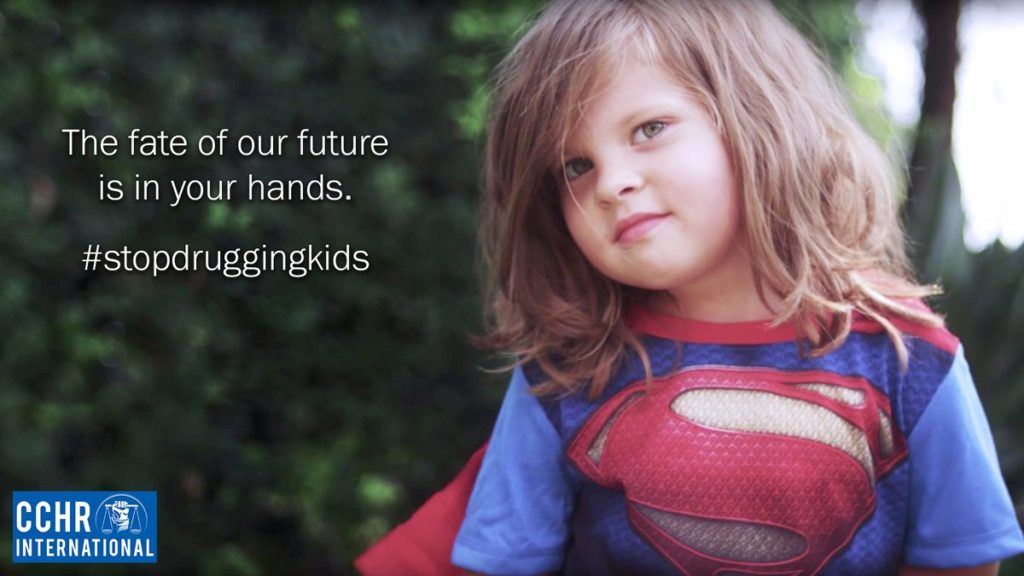 No organization has done more to protect children from harmful mental heath practices than CCHR International and its Fight For Kids campaign:
CCHR's Fight For Kids campaign has resulted in the passage of State and Federal laws which prohibit schools from requiring a child take a psychiatric drugs as a condition of attending school.
CCHR obtained and publicly released information on the number of U.S. children being prescribed psychiatric drugs using the most accurate and documented data available on psychiatric drug usage. The information was obtained from IQVia (formerly IMS Health) and released to the public by CCHR International.
Through Freedom of Information Act, CCHR exposed the fact that 19 U.S. states are currently electroshocking children, with 7 states administering electroshock to children aged 0-5.
By distribution of documents on the electroshocking of children, 9 states have introduced legislation to ban it's use on children with 9 more states pending.
Through our free public awareness campaigns, millions of parents have been educated on the dangers of psychiatric drugs, and been given access to non-harmful, medical and educational solutions to handle problems of attention, learning, and behavior.
CCHR's "Parents Know Your Rights" campaign has helped tens of thousands of parents get the facts, know their rights, and get enough information to make informed, educated choices for their child.
Our new website for our Fight For Kids campaign will launch soon.  Please consider a generous tax-deductible donation to the Fight For Kids to enable us to continue helping children grow up label and drug free. And thank you for your support!
[gravityform id="15″ title="false" description="false"]
[add_to_cart item="OD1″ img="https://www.cchrint.org/wp-content/uploads/cart-images/donate-now.png" quantity="user:1″ ]
"The people at CCHR work with dedication, courage and fearless integrity. Without them my son would still be on many psychotropic drugs and in and out of psychiatric hospitals. Thank you CCHR from my family and other people around the world you have helped save."
John B. —  Father
"Having CCHR was an incredible resource for me. Having so many people I could reach out to and give me advice made a huge difference. The services they offer are superb. They pretty much saved my child's life."
Cindy F. —  Mother
"I went online and started looking for any law that I could take to court and say you are violating my son's rights as a human being. I found CCHR and emailed them and they called me back right away! Every single person I talked to at CCHR went so far above and beyond to help me, anything I needed they were there. I went back to court and I won!" 
Caroline B. —  Mother
"I sincerely want to thank the people at CCHR for the opportunity to take full control of my daughter's destiny, health and freedom. Words cannot describe the peace of mind you have given me, knowing there are people like you fighting for all of us. You saved my daughter's life."
Felix A. —  Father
"It was a fierce battle trying to free my son from the psychiatric facility. CCHR was the only group willing to help. Thanks to the staff at CCHR, my son is home."
"Your help has been invaluable. Preston has been taken off Strattera and he is healing. Thank you, thank you, thank you! You have helped save Preston's life!"
Susan R. —  Grandmother
To read about CCHR's direct accomplishments in the Fight For Kids Campaign, click here.