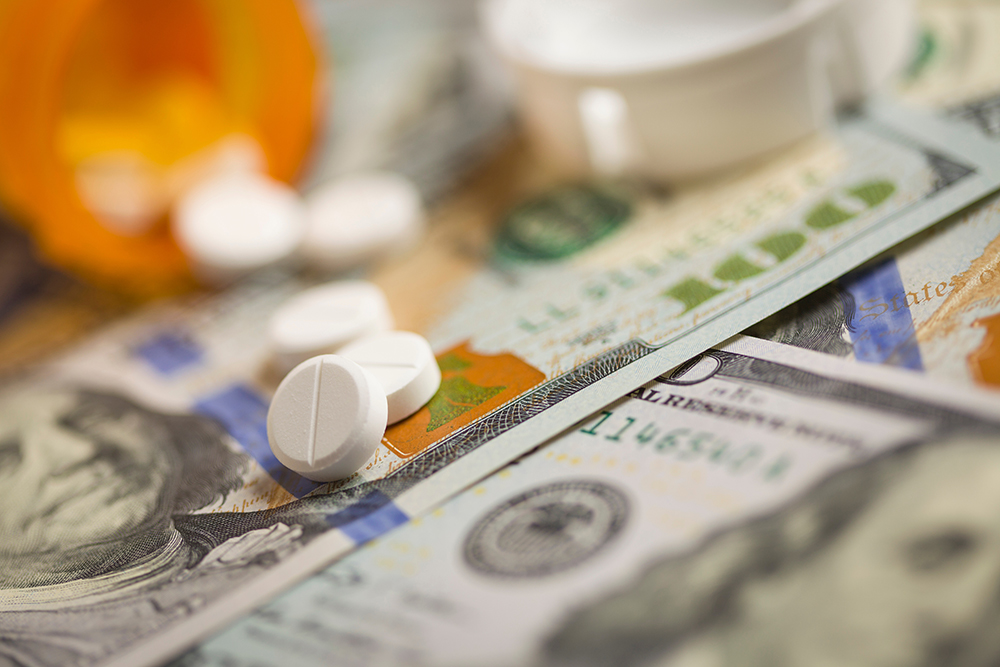 "Sadly, when it comes to healthcare fraud, mental health, and drug treatment programs are some of the worst actors." – Ronnie Shows, Former Congressman
With $42 billion invested in the addiction treatment industry, CCHR says the closure of 16 facilities warrants more government oversight and stronger penalties for fraud.
By CCHR International
The Mental Health Industry Watchdog
March 10, 2023
After the closures of 16 addiction treatment centers in the wake of government healthcare fraud investigations, mental health industry watchdog, Citizens Commission on Human Rights (CCHR), calls for more oversight with strong penalties.[1] The addiction treatment industry is plagued by what CCHR calls "psych drug rehab fraud." The market increased from about $35 billion in 2015 to $42 billion in 2020 and the fraud schemes have increased exponentially—since 2008, federal legislative changes have had the effect of flooding the addiction treatment industry with more patients and more money.[2]
In 15 of the closed facilities, the fraud schemes involved billing for services not delivered for the time specified—a 45-minute counseling session sometimes only lasted five or ten minutes. Recovery Connection Centers of America (RCCA) in Rhode Island and Massachusetts and its founder, Michael Brier, were charged by criminal complaint with healthcare fraud, according to a report from the U.S. Department of Justice.[3]
In another case, The Healing Corner, a shuttered Milwaukee addiction center, must pay more than $2 million for allegedly defrauding Medicaid. Siamak Arassi, MD, an "addiction medicine doctor," and the clinic's only practitioner, allegedly ordered refills of Vivitrol (naltrexone), a psychiatric drug used to treat addiction, in the names of former patients. Those refills were reimbursed by Medicaid despite not being prescribed to patients Arassi was actively seeing. Arassi then allegedly sold the Vivitrol to patients for cash for more than $1,000 per month. He was ordered to pay $2.35 million for False Claims Act violations.[4]
The risk to patients is shocking, CCHR says. The Food and Drug Administration (FDA) advises that patients taking Vivitrol, "be warned of the risk of hepatic [liver] injury" and to seek medical attention if they experience "symptoms of acute hepatitis" while taking the drug.[5] Other potential side effects include depression and suicidal ideation or attempts, anxiety, panic attack, nervousness, fatigue, frequent headaches, and so-called "posttraumatic stress disorder" and "obsessive compulsive disorder."[6] In other words, the drug can cause "psychiatric conditions," requiring additional treatment.
Addiction psychiatrists claim that they can help prevent overdose deaths by expanding their practices to assess for and treat substance use disorder.[7] In 2020, the National Drug Control Budget sought $34.6 billion across five areas of drug control functions: operations, prevention, treatment, interdiction (illegal drug interception), and law enforcement.[8] In 2022, some $10.7 billion was given to the federal Department of Health and Human Services that included funding to expand access to substance use prevention, treatment, harm reduction, and recovery support services, as well as funding to bolster the Nation's behavioral health infrastructure.
CCHR says Americans should expect a good return for their taxpayer dollars spent—a reduction in drug abuse—but this has yet to be seen.
According to the Substance Abuse and Mental Health Services Administration, more than 18 million people ages 12 and older have used prescription drugs for nonmedical reasons in the previous year. That's more than 6% of the U.S. population.[9]
Some 614,000 teens aged 12–17 admit to using the Attention Deficit Hyperactivity Disorder (ADHD) stimulant Adderall for nonmedical reasons. Abuse of the drug leads to almost 1,500 emergency room visits every year, and serious side effects can include stroke.[10]
The Centers for Disease Control and Prevention reports more than 106,000 persons in the U.S. died from a drug-involved overdose in 2021. Of these, 32,537 involved stimulants, including cocaine or psychostimulants with abuse potential—up 5,848% from 547 in 1999.[11]
Former Congressman Ronnie Shows wrote about "eliminating wasteful spending" and Medicare fraud, stating: "Sadly, when it comes to healthcare fraud, mental health, and drug treatment programs are some of the worst actors."[12]
Add to this a New York Attorney General's comment when sentencing a psychiatrist to 7½ years in jail for indiscriminately dispensing psychiatric drugs: "There are few things more pathetic than a crooked doctor, particularly one who uses his office like a drug dealership."
CCHR maintains a psychcrime database of such cases—last year psychiatrist Jose Santeiro, MD, of Miami Lakes, Florida, was sentenced to 54 months in prison for engaging in a scheme that fraudulently billed about $112 million for substance abuse services that were never provided or were medically unnecessary, the U.S. Department of Justice reported.[13]
As for self-appointed expertise in treating addiction, psychiatrists are among the top three healthcare professionals that have higher rates of drug misuse.[14]
Psychiatrists' role in the opioid epidemic is also telling. According to a study published in the Journal of the American Board of Family Medicine, adults with a "mental illness" receive more than 50% of the 115 million opioid prescriptions in the U.S. annually. Researchers found that nearly 19% of Americans labeled with a mental health disorder use prescription opioids, compared to only 5% of those without a mental health condition.[15]
Much of their fraud occurs because of the Diagnostic and Statistical Manual for Mental Disorders (DSM), known as psychiatry's "billing bible." DSM lists more than 50 billing codes for the treatment of substance abuse disorders. According to a study in PLoS Medicine, 70% of the psychiatrists involved in determining which mental disorders were included in DSM-5 were financially affiliated with drug companies.[16]
Dr. Tana Dineen, Ph.D., an author with over 30 years of experience as a psychologist, states: "It seems that, whatever the results, addiction treatment" in the mental health industry's hands, "is identifiably a business that ignores its failures. In fact, its failures lead to more business. Its technology, based on continued recovering, presumes relapses. Recidivism is used as an argument for further funding…."
CCHR encourages people to report fraud and abuse in the mental health industry.

---
[1] Hayley DeSilva, "15 addiction treatment centers close following CEO fraud charges," Becker's Behavioral Health, 3 Mar. 2023, https://www.beckersbehavioralhealth.com/behavioral-health-addiction-treatment/15-addiction-treatment-centers-close-following-ceo-fraud-charges.html; Marcus Robertson, "Milwaukee addiction center to pay $2M over alleged Medicaid fraud," Becker's Behavioral Health, 6 Mar. 2023, https://www.beckersbehavioralhealth.com/behavioral-health-addiction-treatment/milwaukee-addiction-center-to-pay-2m-over-alleged-medicaid-fraud.html
[2] Dan Munro, "Inside The $35 Billion Addiction Treatment Industry," Forbes, 15 Apr. 2015, https://www.forbes.com/sites/danmunro/2015/04/27/inside-the-35-billion-addiction-treatment-industry/?sh=6c948dc617dc; John LaRosa, "$42 Billion U.S. Addiction Rehab Industry Poised for Growth, and Challenges," Market Research.com, 5 Feb. 2020, https://blog.marketresearch.com/42-billion-u.s.-addiction-rehab-industry-poised-for-growth-and-challenges; Zachary Rothenberg, "Trends in Combating Fraud and Abuse in Substance Use Disorder Treatment," Journal of Health Care Compliance, Sept.–Oct. 2018, https://www.nelsonhardiman.com/wp-content/uploads/2018/09/HCCJ_0910_18_Rothenberg.pdf
[3] Op. cit., Becker's Behavioral Health, 3 Mar. 2023
[4] Op. cit., Becker's Behavioral Health, 6 Mar. 2023
[5] https://www.cchrint.org/2017/01/31/risky-pills-for-a-weighty-problem/, citing: Hubert, Susannah K., MPH. "NDA 021897, Vivitrol® (naltrexone for Extended-release Injectable Suspension)." Letter to Nancie A. Zecco, Senior Regulatory Associate. 04 Nov 2010
[6] "Naltrexone Side Effects," Drug.com, accessed 26 Jan 2017, https://www.drugs.com/sfx/naltrexone-side-effects.html; https://www.cchrint.org/2022/03/29/medicalizing-grief/; https://www.drugs.com/sfx/naltrexone-side-effects.html
[7] https://psychnews.psychiatryonline.org/doi/10.1176/appi.pn.2022.2.6
[8] https://drugabusestatistics.org/
[9] https://www.webmd.com/mental-health/addiction/abuse-of-prescription-drugs; https://www.samhsa.gov/data/report/2017-nsduh-detailed-tables
[10] https://drugabusestatistics.org/
[11] https://nida.nih.gov/research-topics/trends-statistics/overdose-death-rates
[12] https://www.cchrint.org/2017/10/03/largest-psychiatric-hospital-chain-patient-sexual-assault-abuse-violence/; Ronnie Shows, "Dear GOP: Eliminate Waste And Fraud To Help Pay For Healthcare Bill," The Daily Caller, 29 June 2017, http://dailycaller.com/2017/06/29/dear-gop-eliminate-waste-and-fraud-to-help-pay-for-healthcare-bill/
[13] Megan Brooks, "Psychiatrist Sentenced to 54 Months in Jail for Addiction Treatment Fraud," Medscape, 8 July 2022, https://www.medscape.com/viewarticle/976802
[14] https://www.providencetreatment.com/addiction-blog/why-doctors-are-vulnerable-to-addiction/
[15] https://www.cchrint.org/2019/07/29/psychiatric-industry-and-behavioral-centers-profit-from-opioid-crisis/; https://khn.org/news/patients-with-mental-disorders-get-half-of-all-opioid-prescriptions/
[16] Katie Moisse, "DSM-5 Criticized for Financial Conflicts of Interest," ABC News, 13 Mar. 2012, https://abcnews.go.com/Health/MindMoodNews/dsm-fire-financial-conflicts/story?id=15909673