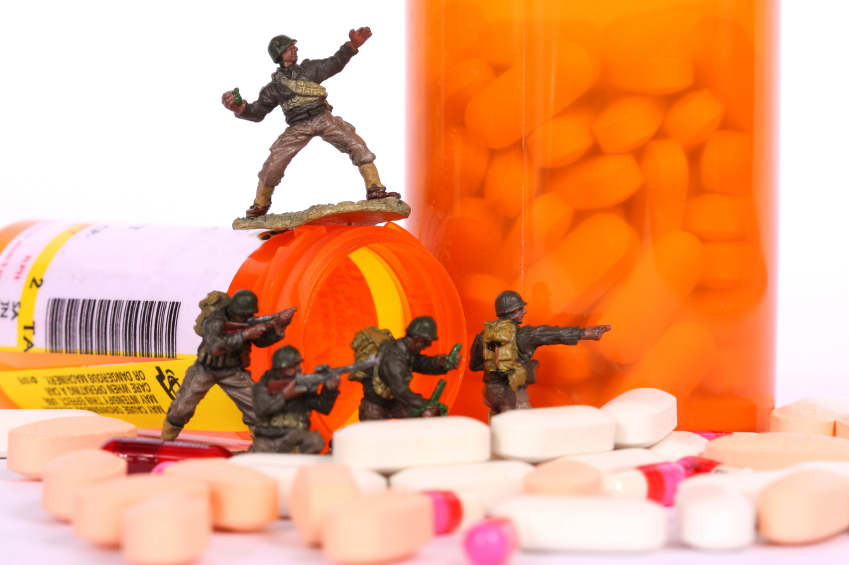 "With antidepressants linked to suicides and cocktails of antipsychotics sourced to sudden deaths of veterans, returning defenders of freedom face a kind of psycho-pharmacological firing squad." – Jan Eastgate, President of CCHR International
While remembering the fallen on the 20th anniversary of the 9/11 attacks, CCHR exposes tragic consequences for vets in the War Against Terrorism. VHA spent $2.4 billion (2015-2019) on psychotropic drugs, with 4.2 million vets taking them in 2019
By CCHR International
The Mental Health Industry Watchdog
September 13, 2021
On the 20th anniversary of the 9/11 terrorist attacks, the Citizens Commission on Human Rights International paid tribute to those who lost their lives as a result of the attacks and to the family members of the victims. It also recognizes those Americans lost in the subsequent War Against Terrorism but raises serious concerns about veterans potentially bearing the brunt of ineffective and dangerous mental health treatment. In July 2021, CCHR filed an FOIA request with the Veterans Health Administration (VHA) requesting their expenditures on and number of veterans prescribed mind-altering drugs.
The VHA's response on September 8 revealed that between 2015 and 2019, the administration spent $2,414,495,320 on psychotropic drugs, with 4.2 million vets taking these in 2019.
Of that 4.2 million, 41% (1.75 million) were on antidepressants, followed by mood stabilizers with 27% (1.12 million); Anti-anxiety/sedatives at 20% (830,246); antipsychotics at 9% (366,153) and stimulants with 3% (151,958).
The $2.4 billion spent during 2015-2019 represents only VHA expenditures. The highest costs were for antipsychotics (48%), $1,557,224,136; stimulants, $781,655,473 (24%); mood stabilizers, $468,808,320 (15%); antidepressants, $348,540,271 (11%) and anti-anxiety/sedatives, $76,470,273 (2%).
Earlier criticism levelled at the cocktails of mind-altering drugs prescribed vets and active soldiers linked these to increasing suicide among this population. From 2005 to 2011, the Department of Defense (DOD) had increased its prescriptions of psychiatric drugs by nearly seven times—over 30 times faster than in the civilian population.[1]
In 2013, Military Times reported one in six American service members was on at least one psychiatric medication.[2] Over a ten-year period, the U.S. government had spent more than $4.5 billion on these for both active military members and veterans.[3] Around that time, the VA reported veteran suicides running at about 8,000 a year. The DOD determined that the number of military suicides in 2012 had far exceeded the total of those who were killed in battle, at an average of about one a day. [4]
The Food and Drug Administration has a black box warning on antidepressants due to the risk of suicide in those up to age 24. However, medical experts say the suicide risk is potential for all ages.
With antidepressants linked to suicides and cocktails of antipsychotics sourced to sudden deaths of veterans, returning defenders of freedom face a kind of psycho-pharmacological firing squad, Jan Eastgate, president of CCHR International said.[5]
In June 2021, Brown University's "Costs of War" report revealed continuing startling trends in suicide rates of veterans who served in wars after the 9/11 terror attacks as well as deployments in five other spots around the world. According to the report, more veterans of the terror wars have killed themselves than those who died in combat. The paper estimates that 30,177 active-duty personnel and post-9/11 veterans have died by suicide—significantly more than the 7,057 service members killed in post-9/11 war operations. "Active service member suicide rates have grown during the Global War on Terror to surpass any service member suicide rates since before World War II."[6]
However, the study does not address the increases in psychotropic drug usage by the DOD and VHA that could be a source of the suicide increases.[7]
One law firm described the VHA's reliance upon psychiatric "medications." Many of these, the firm's website says, "have been shown to cause side effects, as well as the potential to cause secondary disabilities in those who take them. Often, veterans are unaware that their new health problems are related to their already service-connected disability." The drugs "can also have very serious behavioral consequences, including increased violent behavior and suicide. Doctors and researchers are still not entirely sure what causes these dramatic changes in behavior, but many perpetrators of violent crimes in recent years, including acts by veterans."[8]
CCHR suspects misdiagnosis is rife and cocktails of psychotropic drugs may be fueling a suicide epidemic in the Armed Forces and veteran populations.
In 2014, 37% of war veterans were being treated for Post-traumatic stress disorder (PTSD), with 80% prescribed with at least one psychiatric drug.[9] During a 2015 interview with NBC's "Dateline," U.S. Army veteran Matt Kahl, who served two tours of duty in Afghanistan, said the VA had prescribed a wide assortment of drugs to treat PTSD. Kahl said the drugs made him feel like a "zombie," and 10 months after returning from duty, he attempted suicide.[10]
The Brown University report attributed some of the inordinately high suicide rates to the use of IEDs in the terror wars, which has led to a spike in brain injuries among combat vets.[11] Traumatic Brain Injury (TBI), a neurological condition, is often wrongly diagnosed as PTSD, a subjective psychiatric "disorder" because of similar symptoms. TBI symptoms include not having realistic or proper awareness of their surroundings; not having the capability to feel or demonstrate appropriate emotions; memory issues; withdrawal from social situations and unexplained aggression or angry outbursts.[12]
Dr. Frederic Sautter, retired head of the family mental health program at New Orleans VA, said that hundreds of Iraq and Afghanistan vets from 2009 to 2019 were not properly assessed for TBI, and that left undiagnosed, can lead to suicide. Research shows vets with TBI are twice as likely to die by suicide.[13]
One service member diagnosed with PTSD was found instead to have brain damage caused by a malaria drug, raising questions about the diagnosis in other post-9/11 veterans. The sailor experienced uncontrolled anger, insomnia, nightmares and memory loss and reported stumbling frequently, arguing with his family and needing significant support from his staff while on the job due to cognitive issues. [14]
However, physicians believed a common malaria medication, mefloquine, once used widely by the U.S. armed forces, was the problem. Mefloquine has been linked to brain stem lesions and psychiatric symptoms. In 2013, the DOD designated it as a drug of last resort after the Food and Drug Administration slapped a boxed warning on its label, noting it can cause permanent psychiatric and neurological side effects.[15]
Soldiers took the drug once a week – a ritual that gave rise to terms like "Mefloquine Monday," "Whacko Wednesday" and "Psycho Sunday." And yet there's often no mention of it in their individual medical records, which is crucial evidence for any future claims.[16]
As psychoactive drugs have failed to stem suicides and mental distress, in 2020, the DOD approved yet another potentially disastrous drug, a ketamine nasal spray, Spravato, as treatment for severe depression.[17] Medical News Today reports ketamine can cause a loss of consciousness and confusion.  It can also cause heart or breathing failure.[18] The controversial drug has been cited as causing death when used in police restraints of suspects. In September 2021, several officers and paramedics in Colorado were indicted on charges of manslaughter and criminally negligent homicide in relation to the death of Elijah McClain, who was injected with ketamine.[19]
Outrageously, psychedelic drugs are now being tested on veterans. A psychedelic drug study claims to have shown "promise" as a treatment option for patients—largely combat veterans, with chronic PTSD, a 2018 study shows.  Published in the Lancet Psychiatry, researchers explored MDMA—the main ingredient in ecstasy—reduced symptoms.[20] A person may experience the intoxicating effects of MDMA within 45 minutes or so after taking a single dose. Other potential effects are potentially life threatening—including high blood pressure (hypertension), faintness, panic attacks, and in severe cases, a loss of consciousness and seizures.[21]
The push for psychotropics, especially, antidepressants, was not limited to military/veteran use, but marketed to the general public following 9/11.
Within days of this act of terrorism, Congress was told that 71% of Americans (over 151 million[22]) were depressed. However, this was based on a telephone survey to 1,200 adults conducted during the six days after the 9/11 terrorist attack, when Americans were in a state of shock and suffering from predictable reactions to the horror and tragedy. In a semantic leap, this was interpreted as nearly three-quarters of all Americans were depressed.[23] Psychiatrists also "predicted" 30% of all Americans would develop PTSD, while asking for $3 billion to treat mental health problems in New York alone.[24] Antidepressant prescriptions soared.
Time magazine reported that no one should be "wandering off into [an antidepressant-]induced forgetfulness."[25] So, it should also be for our military members and veterans.
Between Tricare and Veteran Affairs, the DoD also spent more than $70 million dollars on electroshock over an 8–10-year period. Between 2010 and 2019, the latest available statistics, Tricare paid out $98.6 million for electroshock (ECT) and three other brain-intervention treatments on military personnel and their families alone. This astoundingly includes three children aged 0-5 electroshocked in 2018.
Of this total amount, nearly $18 million was for the administration of ECT—representing an 81% increase over the decade—and for treatment that carries risks of brain damage, memory loss, cognitive dysfunction, and potentially, even death.[26]
To address concerns about the dangerous mental health treatment of our military and veterans, CCHR produced its acclaimed documentary, Hidden Enemy: Inside Psychiatry's Covert Agenda. It features interviews with more than 80 soldiers, veterans and experts, tackles psychotropic prescriptions soaring military suicide rates and the sudden death of veterans in their sleep, while on cocktails of drugs, and the unexplained mass violence that included the Navy Yard shootings in 2013.
We urge all to watch and enlighten others with his documentary and CCHR's report Psychiatric Drugs Create Violence & Suicide, section on military and veteran shootings potentially influenced by psychotropic drugs (pages 39-40).
References:
[1] Richard A. Friedman, "War on Drugs," The New York Times, 6 Apr. 2013, http://www.nytimes.com/2013/04/07/opinion/sunday/wars-on-drugs.html
[2] Andrew Tilghman, "Medicating the military — Use of psychiatric drugs has spiked; concerns surface about suicide, other dangers," Military Times, March 29, 2013, http://www.militarytimes.com/story/military/archives/2013/03/29/medicating-the-military-use-of-psychiatric-drugs-has-spiked-concerns/78534358/
[3]  "VA/Defense Mental Health Drug Expenditures Since 2001," https://cdn.govexec.com/media/gbc/docs/pdfs_edit/051712bb1_may2012drugtotals.pdf; Jeremy Schwartz, "Soaring Cost of Military Drugs Could Hurt Budget," Austin American-Statesman, 30 Dec. 2012, https://www.statesman.com/article/20121230/NEWS/312309805
[4] Harold Mandel, "Psychiatry is a Hidden Enemy," Examiner.com, 10 Jan. 2014, https://www.cchrint.org/2014/01/13/psychiatry-is-a-hidden-enemy/
[5] Kelly Patricia O'Meara, "Behind The Epidemic Of Military Suicides: New Documentary Exposes Psychiatry As 'The Hidden Enemy' In Military Mental Health," CCHR International, 8 Jan. 2014, https://www.cchrint.org/2014/01/08/behind-the-epidemic-of-military-suicides-new-documentary-exposes-psychiatry-as-the-hidden-enemy-in-military-mental-health/
[6] Ken Silva, "America's Veterans Are Killing Themselves at an Alarming Rate: Report," The Epoch Times, 26 July 2021, https://www.theepochtimes.com/americas-veterans-are-killing-themselves-at-an-alarming-rate_3918982.html?utm_source=sharenewsnoe&utm_medium=email&utm_campaign=breaking-2021-07-26-2
[7] Thomas Howard Suitt III, "High Suicide Rates among United States Service Members and Veterans of the Post 9/11 Wars," Boston University, 21 June 2021, https://watson.brown.edu/costsofwar/papers/2021/Suicides (to download report)
[8] https://www.hillandponton.com/veterans-guide-psychiatric-medications/
[9] Susan Donaldson James, "Marines Battalion Mentally Upbeat, Despite Record Deaths," ABC News, April 15, 2011, https://abcnews.go.com/Health/camp-pendleton-marine-battalion-mentally-fit-deadliest-war/story?id=13377215; Mohamed S, Rosenheck RA, "Pharmacotherapy of PTSD in the U.S. Department of Veterans Affairs: diagnostic- and symptom-guided drug selection," Journal of Clinical Psychiatry, 2008, June Vol. 69, No. 6, pp. 959-65, https://ncbi.nlm.nih.gov/pubmed/18588361
[10] https://www.huffpost.com/entry/veterans-ptsd-marijuana_n_7506760
[11] Op. cit., The Epoch Times, 26 July 2021
[12] "TBI May Be Misdiagnosed as PTSD," Dolman Law Group, http://www.tampabaybraininjuryblog.com/2017/11/tbi-may-be-misdiagnosed-as-ptsd/
[13] Jim Axelrod, Michael Kaplan, "Whistleblower: VA failed to properly assess hundreds of veterans for traumatic brain injuries," CBS News, 12 Nov. 2020, https://www.cbsnews.com/news/veterans-traumatic-brain-injuries-va-new-orleans-whistleblower/
[14] Patricia Kime, "Malaria drug causes brain damage that mimics PTSD: case study," Military Times, 11 Aug. 2016, https://www.militarytimes.com/news/your-military/2016/08/11/malaria-drug-causes-brain-damage-that-mimics-ptsd-case-study/
[15] Ibid.
[16] Ken Olsen, "An anti-malaria drug may have inflicted permanent neurological injuries on some servicemembers," The American Legion, 18 July 2019, https://www.legion.org/magazine/246284/mefloquine-mondays
[17] https://www.military.com/daily-news/2020/04/17/defense-department-approves-ketamine-based-antidepressant-some-patients.html
[18] "CCHR Welcomes State Actions that Ban or Restrict Behavioral Restraint Use," CCHR International, 3 Sept. 2021, https://www.cchrint.org/2021/09/03/cchr-welcomes-state-actions-that-ban-or-restrict-behavioral-restraint-use/, citing: https://www.medicalnewstoday.com/articles/320409
[19] Ibid., citing: "Colorado grand jury indicts 3 officers, 2 paramedics in Elijah McClain's 2019 death," Associated Press, KTLA News, 1Sept. 2021, https://ktla.com/news/nationworld/colorado-grand-jury-indicts-3-officers-2-paramedics-in-elijah-mcclains-2019-death/
[20] https://www.militarytimes.com/news/your-army/2018/05/09/psychedelic-drug-provides-relief-for-veterans-with-ptsd/
[21] https://www.drugabuse.gov/publications/research-reports/mdma-ecstasy-abuse/what-are-effects-mdma
[22] 212,297,780 adults in 2001; 71% of which is over 151 million;  https://datacenter.kidscount.org/data/tables/99-total-population-by-child-and-adult-populations#detailed/1/any/false/12/39,40,41/416,417
[23] "Overwhelming Support for Bush, Military Response But…AMERICAN PSYCHE REELING FROM TERROR ATTACKS," Pew Study, contacts: Andrew Kohut, Director and Carroll J. Doherty, Editor; 19 Sept. 2011
[24] Lucette Lagnado, "New York Rushes to Spend Grants For Counseling," The Wall Street Journal, 5 Oct. 2001
 [25]Lance Morrow, "The Case for Rage and Retribution," TIME, 11 Sept. 2001
[26] "CCHR Supports Veterans Against Electroshock: DoD Spends $70m on Shocking Minds," CCHR International, 25 May 2021, https://www.cchrint.org/2021/05/25/cchr-supports-veterans-against-electroshock-dod-spends-70m-on-shocking-minds/