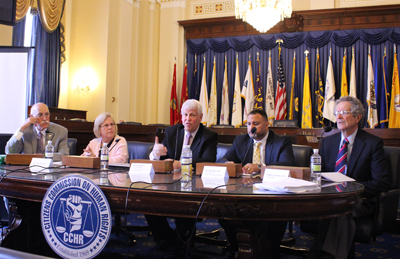 "Producers of the film said military suicide rates among active duty soldiers and veterans also have soared to record numbers and the documentary counts as the first to expose psychiatry's role in the devastating effects upon the armed forces."
The Washington Informer
May 21, 2014, by Stacy M. Brown
The conquests of the United States military remain awe-inspiring.
From the Colonial wars of the 1600s and 1700s, to the Theater of Wars in the 1900s to the War on Terrorism that began in 2001, America's soldiers have toppled the opposition.
Still, the most pressing question remains as to why the military cannot defeat its most insidious enemy: suicide.
"Suicide is now the leading cause of injury death in the United States and, among young adults, it ranks as the second or third leading cause of death," said Silvia M. Dutchevici, president and founder of the Critical Therapy Center in New York and a member of the National Association of Social Workers in Northeast Washington, D.C.
"We know that young veterans in particular are at a higher risk of suicide, about three times the rate of active duty troops, and several factors contribute to this," Dutchevici said.
"First, most of them have severe personal issues and they suffer from Post Traumatic Stress Syndrome. Second, most do not receive appropriate care, and when they do seek out help, the military is much more comfortable to medicate than to treat them. Finally, when these young men and women return from war, they have little social support and no real economic prospects and deep scars."
Creators of a new documentary note that returning soldiers also arrive home with questions like why do 22 veterans commit suicide everyday? Why 85 percent of military suicide victims never experience combat and what do the Fort Hood and Navy Yard shootings have in common?
A special screening of the documentary, titled, "The Hidden Enemy," attracted a crowd on May 6 at the Cannon House Office Building in Southeast.
The documentary, which features interviews with more than 80 soldiers and experts, tackles what filmmakers call the unsuspected factor that's causing military suicide rates to soar, the sudden death of veterans in their sleep and unexplained mass violence that include the Navy Yard shootings in 2013 where a lone gunman fatally shot 12 individuals and injured three others.
The documentary, released by the mental health watchdog group, Citizens Commission on Human Rights (CCHR), revealed that there's increased mental health diagnosis, such as Post Traumatic Stress Disorder (PTSD) in soldiers and a higher rate of psychiatric drugging.
Producers of the film said military suicide rates among active duty soldiers and veterans also have soared to record numbers and the documentary counts as the first to expose psychiatry's role in the devastating effects upon the armed forces.
"We have never drugged our troops to this extent and the current increases in suicides is not a coincidence," said Ret. Lt. Col. Bart Billings, who noted that military psychiatrists have used emotionally and psychologically wounded soldiers to experiment with treatments like electroshock, insulin shock and mind-altering drugs.
The documentary highlights how the U.S. Department of Defense increased its prescriptions of psychiatric drugs from 2005-2011 by nearly seven times, and that one out of every six service members have been prescribed at least one psychiatric drug.
Producers of the film said the U.S. government has spent more than $4.5 billion over the past decade medicating soldiers and veterans.
Most importantly, they said more active duty service personnel committed suicide in 2012 than those who died in combat and, since 2002 the suicide rate has nearly doubled.
"I didn't see the emergence of psychiatry in the Army until I suffered my own injury, and then it was like, it was a flood," said former U.S. Army Sgt. Joel Kort.
"I know that I've been on Ambien, Seroquel, Paxil, the big ones. Also, a very dangerous drug called Abilify. It kind of puts whatever meds you're on, on steroids," said Kort, who's featured in the documentary.
Kort's experience with a virtual cocktail of psychiatric drugs has fast become the norm in military mental health treatment, said CCHR's Kelly Patricia O'Meara.
"The problem, as exposed by 'The Hidden Enemy' is that the majority of psychiatric drug cocktails have never been studied in combination by national drug regulatory agencies," O'Meara said.
Among the factors filmmakers said proves telling in the documentary, an interview with Dr. Abdul Alim Muhammad, who said psychiatry has been unable to produce any science to back up even one of the alleged mental disorders in diagnosing troops.
"Psychiatry especially has no objective means of making any diagnosis. In general medicine at least we have X-rays and blood tests to go on," Muhammad said.
"That's the big, big dilemma faced by psychiatry. They have zero ability to diagnose, so they have zero ability to treat," he said.
Producers said "The Hidden Enemy" counts as a battle cry for action against the psychiatric diagnosing and drugging of militaries worldwide.