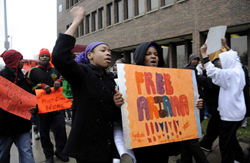 Health Impact News – March 28, 2014
By Brian Shilhavy
In what appears to be a final victory for Maryanne Godboldo and her daughter Ariana, a Detroit Judge has removed all charges against Maryanne for trying to protect her daughter from the unlawful seizure by CPS and local police because she refused psychiatric medication for her homeschooled daughter.
"This court finds that the defendant in fact did use reasonable force in this case — did not use deadly force … to prevent an illegal attachment, to prevent the removal of her child by the Detroit police," said Judge Richard Skutt. "This court feels (Detroit police) did not, one, have the authority to remove the child at that time." (source)
Maryanne Godboldo's story is told in the following video and Health Impact News has provided extensive coverage of her story as well. When she refused to give over custody of her daughter to forced medication, police sent a SWAT team and tank to her home to forcibly remove her daughter. (See: Police use Assault Weapons and Tank against Home School Mom wanting to protect daughter from Dangerous Medications)

[Also read Maryanne Godboldo's Story—Timeline of Events Leading to Armed Assault on Her and Her Daughter]
This long protracted legal battle, which has resulted in the child being reunited with her mother and all charges against the mother dropped, would not have been possible without Attorney Allison Folmar.

Watch Allison Folmar's Human Rights Award presention from CCHR here
Parents who have taken their children off of psychiatric drugs after seeing the dangerous effects on their child have been charged with medical neglect and had their children forcibly removed from their custody.
The charge of "medical neglect" is an oxymoron when it comes to the issue of psychiatric labels and drugs because:
A) There are no medical/scientific tests to prove any child diagnosed "mentally ill" has a medical condition of "mental illness", as none exists and
B) because the psychiatric drugs prescribed against the parents will have been documented by international drug regulatory agencies to cause mania, psychosis, suicidal ideation, heart problems, diabetes, stroke, and sudden death.
The "medical neglect" being perpetrated on these children is by those forcibly drugging them against their parents' wishes. Detroit, Michigan Attorney Allison Folmar has successfully won cases such as the case of mother Maryanne Godboldo, who faced down a SWAT team and tank and police who broke into her home, and Folmar was victorious in her battle when a judge ruled the order which prompted the seizure of Maryanne's daughter was not only illegal, but unconstitutional. Folmar has fought and won other similar cases and now is focusing on enacting laws to protect parents from having their rights obliterated under the guise of "mental health".
http://healthimpactnews.com/2014/homeschool-mom-wins-appeal-for-protecting-daughter-from-forced-medical-treatment-from-police-and-cps/