By Kelly Patricia O'Meara
March 11, 2014
Citizens Commission on Human Rights (CCHR) celebrated its 45th Anniversary and Human Rights Awards Banquet on February 1st, in Los Angeles. Among an extraordinary group of award winners, Detroit attorney, Allison Folmar, was recognized for her outstanding contributions in the on-going struggle on behalf of parents—not the State—to decide whether to
administer psychiatric drugs to their child
. In fact, the question raised is why psychiatrists are not the ones being
charged with reckless endangerment/child endangerment
when subjecting children to potentially lethal drugs against their parents will?
Folmar's day-to-day battle is on the home front. In the face of great adversity, Folmar took up the mantle for Detroit mother, Maryanne Godboldo. Nearly three years ago, Godboldo withstood an armed assault by a SWAT team and a tank for refusing to give her daughter a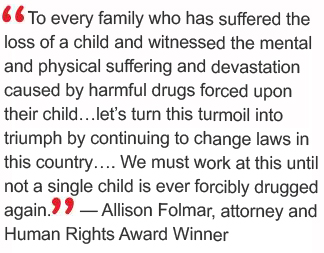 harmful, potentially lethal antipsychotic drug. In fact, the drug she refused to give her child is well documented by international drug regulatory agencies to cause diabetes, stroke, kidney failure, and even death. Read the complete Maryanne Godboldo timeline of events here.
According to Godboldo, "If it were not for Allison Folmar my daughter would still be locked away in a mental institution. We would be forgotten."
Since that brutally surreal day, Folmar has represented Godboldo and made it her mission to fight for mothers, like Godboldo, and other parents, facing similar injustices and harmful policies at the hands of State Child Protective Mental Health Services.
Folmar did not stop at the injustices brought upon Maryanne Godboldo. Another mother, Kim Gee from Buffalo, New York, was also going through Child Protective Services hell, losing her child to state authorities on charges of "medical neglect," for simply refusing to give her daughter a powerful antipsychotic drug, Risperdal.
Like so many who've acknowledged Folmar's incredible sense of justice and extraordinary efforts, Gee recalled that, "she knew I had a little girl who was unlawfully seized for a ridiculous, bogus reason and she listened to me. She said she'd get my daughter back and she did! She came in like the wind! She knew we were wronged and she was gonna make it right."
Much to her credit, Folmar's work on both of these lengthy cases was done pro-bono. Aware that the number of similar cases continues to increase, Folmar regrets she can not take on every single case that comes to her and believes the only way to handle the epidemic of children being unlawfully force drugged is to focus on enacting state and federal laws that prohibit children from being unlawfully seized under the guise of "mental health" interests.
Due to Folmar's work in exposing the illegal seizure of Maryanne Godboldo's daughter prompted by Child Protective Services, Michigan Child Protective Services changed its rules and will no longer investigate parents for "complaints that allege parents are failing or refusing to provide their children with psychotropic medications…." [See page 11 of the Michigan Mandated Reporter's Guide.]
Folmar, in accepting her Human Rights Award said, "To every family who has suffered the loss of a child," said Folmar, "and witnessed the mental and physical suffering and devastation caused by harmful drugs forced upon their child…let's turn this turmoil into triumph by continuing to change laws in this country…. We must work at this until not a single child is ever forcibly drugged again."
According to CCHR, parents who have been charged with medical neglect for refusing to drug their child should seek legal advice on filing charges of reckless endangerment against any doctor or psychiatrist who subjects their child to psychiatric drugs without their consent. To find out more information click here. There have been more than 200 international drug regulatory agency warnings that psychiatric drugs can cause dangerous and potentially life-threatening affects.
—
Kelly Patricia O'Meara is an award-winning former investigative reporter for the Washington Times' Insight Magazine, penning dozens of articles exposing the fraud of psychiatric diagnosis and the dangers of the psychiatric drugs—including her ground-breaking 1999 cover story, "Guns & Doses," exposing the link between psychiatric drugs and acts of senseless violence. She is also the author of the highly acclaimed book, Psyched Out: How Psychiatry Sells Mental Illness and Pushes Pills that Kill. Prior to working as an investigative journalist, O'Meara spent sixteen years on Capitol Hill as a congressional staffer to four Members of Congress. She holds a B.S. in Political Science from the University of Maryland.