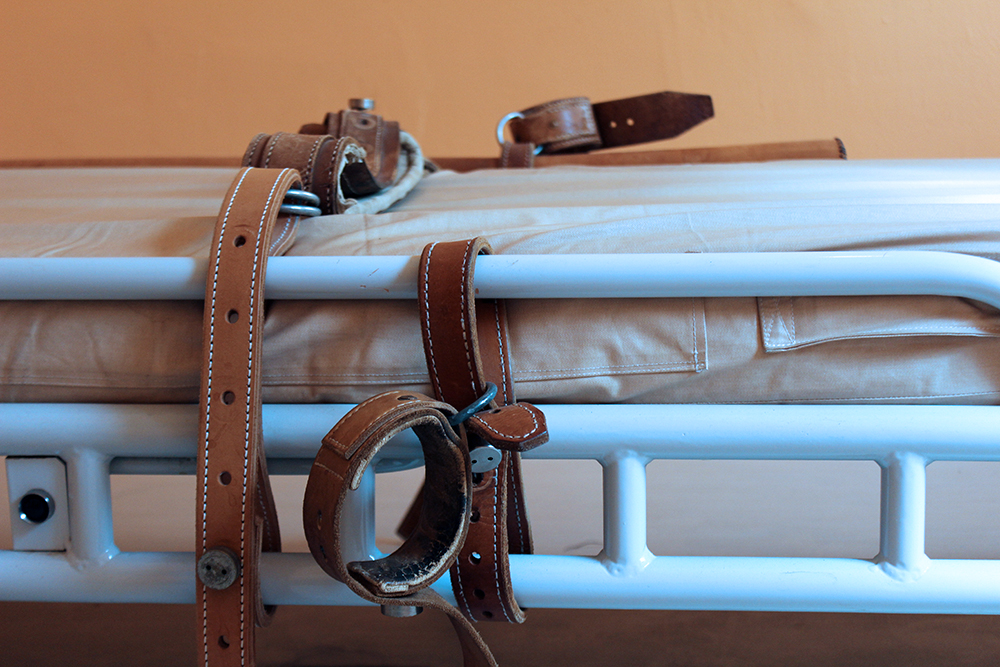 "Clearly, far, far stronger protections are needed and this means greater accountability: funding cuts, license revocations, fines, compensation to patients harmed—much of which would be afforded with a complete ban on restraint procedures." – CCHR International
A Utah Senate bill passed through the Senate is a step in the right direction but tougher laws are needed nationally to protect children from chemical and physical restraints in state- and privately-owned psychiatric facilities
By CCHR International
The Mental Health Industry Watchdog
February 17, 2021
In response to a plague of allegations of child restraint abuse in behavioral facilities, the Utah Senate approved Senate Bill 127 to limit the use of restraints and isolation rooms and bans chemical restraints, with some exceptions.[1] Utah is one of several states taking action in the wake of restraint deaths and other appalling abuse of troubled teens, often in behavioral facilities owned by for-profit psychiatric hospital chains.
The bill, which was introduced by Utah Senator Mike McKell, an attorney and Adjunct Professor, Utah Valley University, states that a congregate care program (defined as outdoor youth programs, residential support program, residential treatment program, or therapeutic school) may not use a cruel, severe, unusual, or unnecessary practice on a child, and lists several examples of what that includes:
"inducing pain to obtain compliance, hyperextending joints, peer restraints, discipline or punishment that is intended to frighten or humiliate, spanking, hitting, shaking, or otherwise engaging in aggressive physical contact, and others."[2]
Legislators were stunned by the abuses reported to them during testimony before the Senate Judiciary and Law Enforcement Committee and Senator Mike Kennedy, even asked if they should ban these troubled teen behavioral facilities outright.[3] Yes, they should! Utah's bill is a step in the right direction and commendable, but it comes after similar reforms were recommended and implemented in the U.S. 22 years ago. However, they had such weak penalties and oversight, they failed to fully protect children and today we are still seeing children being assaulted and killed. The fact that restraints are even being used should be considered treatment failure.
Paris Hilton testified before the Utah Sente about her frightening experience as a teen at Provo Canyon behavioral school in Utah in 1999.[4] Owned then by Charter Behavioral Healthcare, a year later the chain was bankrupt in the wake of fraud and abuse allegations, including restraint deaths that CCHR helped expose, especially through 60 Minutes II's story, "Unsafe Haven" in 1999.[5] In 2000, Universal Health Services (UHS) bought out Provo as part of its expansion into the lucrative business of "behavioral" health.[6]
Hilton described being taken from her home in the middle of the night and sent to youth treatment facilities, where she was abused and sometimes kept in solitary confinement. "That small room covered in scratch marks and smeared blood with no bathroom is one of the most vivid and traumatizing memories I've ever experienced in my entire life," she said. "Children were restrained, hit, thrown into walls, strangled and sexually abused regularly at Provo."[7]
There was national outrage over such abuses at the time, with a Hartford Courant five-part series on restraint deaths in 1998, a benchmark in the attempt to turn the tide.[8] In 1999, a U.S. government report "found conclusively that children are especially targeted by facility staff for this unsafe practice (restraints), and are at greater risk of injury and death."[9] African Americans were over-represented in restraint-related deaths of children and adults with disabilities, accounting for 22% of the deaths studied while representing only 13% of the U.S. population.[10]
A Rule of the Health Care Financing Administration (HCFA, now the Center for Medicare and Medicaid Services, or CMS) on 22 January 2001 noted that a General Accounting Office (GAO) report had "specifically recommended that we mandate that any hospital or residential facility that treats persons with mental illness or mental retardation, as a requirement for receiving Medicare and Medicaid funds, report promptly to the State licensing body and the appropriate State Protection and Advocacy (P&A) system, all patient deaths and serious injuries among persons with mental illness or mental retardation, and to indicate whether restraint or seclusion was used during or immediately prior to the death or injury."[11]
Yet by 2007, the GAO report on "Residential Treatment Programs," dated 10 October, found thousands of allegations of abuse still occurring, some of which involved death at residential treatment programs across the country and in American-owned and American-operated facilities abroad. During 2005 alone, 33 states reported 1,619 staff members involved in incidents of abuse in residential programs.[12]
Mother Jones investigated and found that "Despite thousands of reports of abuse in such programs—including torturous tactics like food deprivation, sleep deprivation, vicious and extended emotional attacks, sexual humiliation and punitive use of isolation and restraint—the programs have remained unregulated and have suffered few legal consequences."[13]
A 2015 study published by the Agency for Healthcare Research and Quality, reported that since the late 1990s, CMS and the Joint Commission—have required that seclusion and restraints must be used only for a behavior that "jeopardizes the immediate physical safety of the patient, a staff member, or others" (including other patients) and when less restrictive measures have failed. Despite organizations' guidelines advocating limitations of seclusion or restraints as much as possible, data in the United States and Europe show that 10% to 30% of patients (from adolescent and young adult to elderly) admitted to acute psychiatric units receive these interventions. The Joint Commission reported in 2010 more than 200 deaths related to seclusion or restraints over a prior 5-year period.[14]
Psychiatric Restraints Cause Damage
The dangers on restraints and seclusion (R&S), as published in a paper on case law include:
Death during R&S often is due to asphyxiation, aspiration, or cardiac events.
Any type of technique that obstructs airways or impairs breathing, any technique that obstructs vision, and any technique that restricts a patient's ability to communicate, "should not be used under any circumstances."
Any form of restraint that involves compression of the patient's chest can increase the risk of death by asphyxiation.
Prone restraint increases the risk of suffocation and supine restraint increases the risk of aspiration.
The use of face towels to prevent biting or spitting may also increase risk.
Prolonged restraint can increase the risk of deep vein thrombosis and pulmonary embolism, particularly in patients already at risk for these conditions.
Choke holds and pressure on the patient's neck or throat also carry greater risk.[15]
Reforms, although inadequate
In 1997, the Commonwealth of Pennsylvania's Mental Health and Substance Abuse Services implemented new policies restricting the use of R&S to patients at imminent risk of harm to themselves and others and only after all other interventions had failed.[16] Restraints cannot be "employed as punishment, for the convenience of staff, as a substitute for program, or in any way that interferes with the treatment program. Restraints shall not be applied unless other available techniques or resources have failed, and the least possible restrictions shall be used…. No chemical restraints may be administered except upon the order of the physician."[17]
Reported in 2005, Pennsylvania demonstrated leadership in behavioral health when the state hospitals participated in an aggressive statewide program to significantly reduce the use of seclusion and restraints. According to Steven Karp, DO, former Chief Psychiatric Officer of the PA Department of Public Welfare, seclusion hours "…dropped from more than 5,000 in February 1993 to just over 4 in February 2003. During this same period, the number of mechanical restraint hours dropped from almost 11,000 to slightly more than 90. Two state hospitals claimed not to have used restraints, and two others had not used seclusion, in more than two years."[18]
Yet, on April 22, 2017, The Philadelphia Enquirer reported that David Hess, 17, had died in a confrontation with staff at Wordsworth, a residential treatment center for troubled young people. His death—ruled a homicide, "was yet another violent chapter in a hidden history of abuse at the city's only residential treatment center for troubled young people," an Inquirer and Daily News investigation has found. On October 13, 2016, three Wordsworth staffers had entered Hess's bedroom in search of a stolen iPod. As they flipped over his bed and tossed furniture around his room in, the 149-pound Hess grew agitated and struggled with them. At one point, a staffer held him down while another punched him repeatedly in the ribs, witnesses later told state investigators.[19]
He was pinned to the ground in a headlock before he lost consciousness, and then given chest compressions—at one point by a tired employee who used a foot. He also had apparently been inappropriately restrained by staff members in the weeks leading up to his death.[20]
"Get off me," he cried, according to a state report on the incident. "I can't breathe." And then, witnesses said, the room fell silent. He died shortly thereafter. Staff lied to both the responding nurse and emergency medics, according to a government report, saying Hess "hit his head on the floor, took a deep breath, and then coded."[21] The city Medical Examiner's Office ruled that Hess died from suffocation.[22]
Four days after the incident, the treatment center's license was revoked.[23] The "school" subsequently closed in 2017 after declaring bankruptcy. According to an investigation by The Philadelphia Inquirer, police were summoned to Wordsworth more than 800 times for incidents ranging from minor disturbances to rape in the span of a decade. Police records showed reports of 12 rapes, two cases of involuntary deviate sexual intercourse, seven reports of indecent exposure, four cases of corruption of the morals of a minor, and one case of child endangerment, according to the Inquirer.[24]
"One or more people caused the death," a spokesman for the Medical Examiner said in a statement. "It is not a determination of criminality. It is the role of the District Attorney's Office to determine if these actions were crimes and, if so, if there is sufficient evidence to charge any person(s) with a crime." No one was criminally charged in Hess's death.[25]
In 2019, Hess's sister, Elizabeth, told NBC News, "Everyone should have been arrested that night," she said. "There was a murder."[26]
Texas's restraint law in 2005 is one of the strongest U.S. laws. It allows a health and human services agency to "revoke, suspend, or refuse to renew the license, registration, or certification of a facility that violates" and "impose an administrative penalty against the facility" up to a maximum limit. Each day a violation continues is a separate violation for purposes of imposing the penalty.[27]
The Federal Children's Health Act of 2000 enacted that noncompliance with one or more Conditions of Participation or with the restraint and seclusion provisions of the Children's Health Act may lead to termination from the Medicare and Medicaid programs.[28]
However, few facilities appear to have had their federal funding cut. One exception is Western State Hospital in Olympia, Washington, that in 2018, lost its certification to participate in the Medicare program due, in part, to excessive use of restraints, costing the psychiatric facility $53 million a year in federal funding. According to survey reports, patients had been restrained for hours at a time, despite not showing any signs of being a danger to themselves or others.[29]
CMS released new rules in 2007 prohibiting the use of R&S as measures to restore order in a unit but largely reverting to less restrictive standards. In 2008, CMS published a revised set of interpretive guidelines for R&S that require face-to-face examination by a physician, nurse, or physician's assistant within one hour of placement in restraints or seclusion.[30] Under 482.13 (e)(12) Patient Rights: Restraint or Seclusion, "All patients have the right to be free from physical or mental abuse, and corporal punishment. All patients have the right to be free from restraint or seclusion, of any form, imposed as a means of coercion, discipline, convenience, or retaliation by staff. Restraint or seclusion may only be imposed to ensure the immediate physical safety of the patient, a staff member, or others and must be discontinued at the earliest possible time."[31]
According to a paper on "Restraint and Seclusion in Psychiatric Treatment Settings: Regulation, Case Law, and Risk Management," published in The Journal of the American Academy of Psychiatry and the Law in 2011:
"Minimum standards for the use of R&S must protect patients' basic constitutional rights, such as life and liberty interests and freedom from cruel and unusual punishment or unnecessary bodily restraints."
The use of R&S to control a patient who does not pose an imminent risk of harm can result in serious sanctions through the legal system.
Not only is the punitive or custodial use of R&S potentially harmful to patients, mental health clinicians lack the legal authority to use R&S for punishment or control of a patient whose agitated or uncooperative behavior is troublesome but not dangerous.[32]
Had Federal bill H.R. 587, "Stop Child Abuse in Residential Programs for Teens Act of 2008" been enacted, it would have required the federal government to track abuse complaints for all residential providers for kids nationwide, and each program's history of violations, and deaths. Any owner or operator found to have violated the standards required could have faced a penalty of up to $50,000 for each violation and specified that those injured "may bring suit or a claim demanding relief."[33]
Since 2014, CMS has had an online service that rates 1,640 of the nation's inpatient psychiatric facilities and how they stack up on key measures of care, but not all hospital data is available.[34] A review of site shows it is lacking in information.
California's law is virtually identical to federal law with respect to the rights of patients, stating that: A patient has the right to be free from the use of seclusion and behavioral restraints of any form imposed as a means of coercion, discipline, convenience, or retaliation by staff.[35]
The rights also include being free from the use of a drug used in order to control behavior or to restrict the person's freedom of movement, if that drug is not a standard treatment for the person's medical or psychiatric condition.[36]
There's no central database that shows how many youth treatment centers are operating throughout the country, let alone a restraint use database.[37]
But California has and maintains a reporting system on restraint and seclusion room use in its state psychiatric residential facilities (only)—that should be implemented at every state and federal level but include privately owned and for-profit facilities.
It includes:
Number of Seclusion Episodes
Number of Restraint Episodes
Number of Seclusion Episodes (per 1,000 patient days)
Number of Restraint Episodes (per 1,000 patient days)
Total Hours of Seclusion
Total Hours of Restraint
Average Time in Seclusion
Average Time in Restraints
Emergency Medication Administrations Total
Emergency Medication Administrations Total (per patient days)
Seclusion & Restraint Related Staff Injuries
Seclusion & Restraint Related Patient Injuries
Seclusion & Restraint Related Deaths[38]
Accessible to the public, it shows that during 2020 and COVID, the average number of hours of restraint was 229 in January and for seclusion over 304 hours compared to 2018, when seclusion hours for the same month was nearly 11 hours (21 times greater in 2020) and for restraints 12 hours (25 times greater in 2020).[39] That should have flagged the need for an investigation.
Students in California schools and special education were given added protections in 2018, in that a pupil "has the right to be free from the use of seclusion and behavioral restraints of any form imposed as a means of coercion, discipline, convenience, or retaliation by staff." It outlines procedures that cannot be used—which are missing from other legislation covering psychiatric or behavioral residential and other facilities, especially for-profit or privately owned ones.
Staff cannot:
"Use a physical restraint technique that obstructs a pupil's respiratory airway or impairs the pupil's breathing or respiratory capacity, including techniques in which a staff member places pressure on a pupil's back or places his or her body weight against the pupil's torso or back."
"Use a behavioral restraint technique that restricts breathing, including, but not limited to, using a pillow, blanket, carpet, mat, or other item to cover a pupil's face."
"Place a pupil in a facedown position with the pupil's hands held or restrained behind the pupil's back."[40]
It's a disgrace that physical and chemical restraint abuse—the assault of children—in behavioral and psychiatric facilities/schools remains so prevalent today. National outcry over the same abuses occurred in the late 90s and "reforms" were introduced, yet over 20 years later, nothing has changed.
It indicates ineffective legislative protections, oversight and, especially accountability with criminal and civil penalties to curb this. A much stronger message is needed to prevent abuses but also to mete justice to staff and facilities that harm using these methods. Case law supports this:
In Davis v. Rennie, staff at a Massachusetts state hospital forcibly restrained a patient who had eloped earlier in the day to go drinking with another patient. While restrained, the patient was assaulted by one staff member and sustained physical and psychological injuries. Noting the U.S. Supreme Court's holding in Youngberg v. Romeo, the First Circuit rejected the argument that staff members should not be held liable for failing to intervene. Patients, even those who are involuntarily committed, have constitutionally protected liberty interests.[41]
In People v. Harvey, 528 N.E.2d 1053 (Ill. App. Ct.1988), a counselor was found guilty of involuntary manslaughter for the death of a teenaged boy who was forcibly restrained to punish him for nonviolent disobedience. The boy aspirated his vomit during the restraint. The court noted that the boy was not assaultive until the staff tried to restrain him. Punitive or custodial use of R&S may be acceptable in correctional or criminal settings, but punitive use in treatment settings violates the patient's constitutional rights.[42]
Since 2015, CCHR has raised concerns about R&S in the for-profit behavioral chains, such as UHS, Acadia Healthcare, Sequel Youth & Family Services and numerous others. Thousands of alerts have been sent to legislators across the nation. Disability rights groups also found shameful levels of abuse and officially reported it. Yet, few staff who carried out restraints, killing patients, or the psychiatrists or physicians that are required to order the restraints, have been prosecuted.
UHS tried distancing itself from Hilton's accusations, deflecting them to Charter Behavioral Health who owned Provo at the time, but similar concerns have plagued Provo and other UHS-owned behavioral hospitals since UHS took ownership of them.
The Salt Lake Tribune reported the case of a 14-year-old girl from Oregon who was secluded and physically or chemically restrained at UHS's Provo Canyon facility nearly 30 times over three months. "Typically, in a restraint, [the girl] stated she received 'booty juice,' which she described as a liquid that makes someone fall asleep and calms you down."[43] 
Staff injected the girl with sedatives 17 times—a number so alarming that child welfare officials from Oregon who had sent her there flew in to investigate. Oregon officials got the girl on a plane and took her back to Oregon in March 2019. "And what they sent back to us was a broken, injured, frightened child with more trauma than she went there with," said Oregon state Sen. Sara Gelser.[44]
Utah Senate Bill 127
McKell's bill prohibits sedating residents or using mechanical restraints, like a straitjacket, without the prior authorization of the Office of Licensing, which is the industry's primary regulator in Utah. The bill requires treatment centers to document any instance in which staff used physical restraints and seclusion and submit monthly reports to the office. It allows Utah's Department of Human Services to conduct surprise inspections.[45]
No one objected to the bill. It passed unanimously through the Senate Judiciary, Law Enforcement and Criminal Justice Committee and was then passed by the full Senate and has gone to the House of Representatives.[46]
On February 4, 2021, the Michigan House of Representatives also announced a new bipartisan task force to focus on reforms in the state's restraints use and its adoption and foster care systems. This was in response to such tragedies as the death of Cornelius Frederick, the 16-year-old African American foster child who died after being wrongfully restrained in April 2020 at Sequel Youth & Family Services' Lakeside Academy in Kalamazoo, Michigan. Three people face manslaughter and child abuse charges in connection to his death.[47] Lakeside Academy is now closed along with Starr Albion Prep, a sister Sequel facility in the state that housed more than 60 children.[48]
The task force's goal is to eliminate restraint use, unless "absolutely necessary." The Children's Services Agency within the Michigan Department of Health and Human Services has already started working on this.[49]
In a review of laws in 14 states that have a significant number of youth residential treatment centers, Utah was also one of only three that had no clear written policy for chemical restraints on children. The others are North Carolina and Connecticut.[50] Chemical restraints should be prohibited on children and youths across the boards, with criminal penalties for any violation of this.
Utah's Senator Kennedy's comment about banning troubled teen behavioral facilities outright should be taken seriously. Violators should not only face CMS funding cuts, but prosecutions should also occur should a patient be damaged by or damaged as a result of restraint or seclusion.
Sequel Facilities Close in Wake of Abuse Exposure
In January 2021, the San Francisco Chronicle reported that Sequel Youth and Family Services' Normative Services Inc. in Wyoming is closing in March, following allegations of abuse. Until recently, California had been sending youths to this facility. Allegations of rampant abuse of children have been occurring for years, including children facing violence at the hands of staff (which Sequel denies). Wyoming and California child welfare officials investigated nearly two dozen licensing violations at the facility in 2019 and 2020. Normative fired a staff member who repeatedly pushed a child who refused to stay seated, then put his hands around the youth's neck, leaving red marks, according to an investigation by Wyoming child welfare officials. Wyoming investigators found the same employee had choked and threatened to kill another child the year prior.[51]
In February 2021, multiple news outlets reported that Sequel's Clarinda Academy in Iowa for teens with "behavioral and emotional issues," is also closing. While Sequel claims the closures are "voluntary," Clarinda has a history of abuse allegations, and fewer children have been placed there after states stopped sending foster care children there in the wake of alleged abuse that included the rape of a teen by a staff member, according to NBC News.[52] Sequel considers Clarinda its flagship program for troubled foster care and other youths. But Sequel has been plagued by accusations of negligence and physical abuse, including the improper use of restraints.[53]
In January, The Moulton Advertiser exposed another Sequel facility, Courtland in Alabama. A lawsuit was filed against Courtland, alleging employees assaulted a teenage patient, identified as Hunter C numerous times. Hunter lived at the facility in 2018 and 2019. It is alleged he suffered "multiple traumas to his head causing concussions, lacerations that required stitches, hematomas [blood clots] and other injuries." Attorney Tommy James said:
"There is systemic violence in Sequel facilities throughout the country."
"The level of abuse is staggering and very disturbing. No informed parent would ever allow their child to spend even one hour in a Sequel facility."
"It is disgusting when our most vulnerable children are placed in these facilities and then treated like animals."
"Sequel must be held accountable for what they did to Hunter and countless other children who were abused under their care."[54]
In February 2021, WTVR-CBS 6 in Richmond, Virginia also reported a North Carolina teen, identified as RH, who shared how she was repeatedly sexually assaulted while at UHS' Cumberland Hospital in Virginia. A $127 million lawsuit was filed against the facility over allegations of sexual abuse, physical assaults and battery, attempts to deceive public and state health officials, reckless disregard and violations of the Virginia Consumer Protection Act. The story was headlined: "Teen shares story of alleged sex abuse at Virginia hospital: 'I hope that he feels the pain that I feel every day.'"[55]
Clearly, far, far stronger protections are needed and this means greater accountability: funding cuts, license revocations, fines, compensation to patients harmed—much of which would be afforded with a complete ban on restraint procedures.
References:
[1] Jessica Miller, "Utah 'troubled-teen' centers have used 'booty juice' to sedate kids, a practice outlawed in other states." The Salt Lake Tribune, 4 Feb. 2021, https://www.sltrib.com/news/2021/02/04/utah-troubled-teen/
[2] S.B. 127 Human Services Program Amendments, https://le.utah.gov/~2021/bills/static/SB0127.html, pp. 29-30, lines 884-905
[3] Ben Winslow, "Paris Hilton testifies at Utah State Legislature on 'troubled teen' schools," Fox 13, 8 Feb. 2021, https://www.fox13now.com/news/local-news/paris-hilton-testifies-at-utah-state-legislature-on-troubled-teen-schools-bill
[4] Ibid.
[5] David Kohn, "Unsafe Haven: Hidden Cameras Reveal Potential Abuse," 60 Minutes II, Mar. 1999, https://www.cbsnews.com/news/unsafe-haven/; Barry Meier, "A Chapter 11 Filing by Charter Behavioral," The New York Times, 17 Feb. 2000, https://www.nytimes.com/2000/02/17/business/a-chapter-11-filing-by-charter-behavioral.html
[6] Louise Story, "A Business Built on the Troubles of Teenagers," The New York Times, 17 Aug. 2005, https://www.nytimes.com/2005/08/17/business/a-business-built-on-the-troubles-of-teenagers.html
[7] Op. cit., Fox 13, 8 Feb. 2021
[8] Glenn W. Currier, M.D., M.P.H., and Michael H. Allen, M.D., "Emergency Psychiatry: Physical and Chemical Restraint in the Psychiatric Emergency Service," Psychiatric Services, 1 June 2000, https://ps.psychiatryonline.org/doi/full/10.1176/appi.ps.51.6.717
[9] Wanda K Mohr, PhD, RN, FAAN, et al., "Adverse Effects Associated with Physical Restraint," Can J Psychiatry, Vol 48, No 5, June 2003, https://journals.sagepub.com/doi/pdf/10.1177/070674370304800509; "Mental health: improper restraint or seclusion use places people at risk," U.S. General Accounting Office, (GAO publication HEH-99-176), Washington (DC): USGAO; 1999, https://www.gao.gov/assets/230/228149.pdf
[10] "National Review of Restraint Related Deaths of Children and Adults with Disabilities: The Lethal Consequences of Restraint," Equip for Equality, 2011, https://www.equipforequality.org/wp-content/uploads/2014/04/National-Review-of-Restraint-Related-Deaths-of-Adults-and-Children-with-Disabilities-The-Lethal-Consequences-of-Restraint.pdf
[11] "Medicaid Program; Use of Restraint and Seclusion in Psychiatric Residential Treatment Facilities Providing Psychiatric Services to Individuals Under Age 21," Health Care Financing Administration, 66 FR 7147, 22 Jan. 2001, https://www.federalregister.gov/documents/2001/01/22/01-1649/medicaid-program-use-of-restraint-and-seclusion-in-psychiatric-residential-treatment-facilities
[12] "RESIDENTIAL TREATMENT PROGRAMS: Concerns Regarding Abuse and Death in Certain Programs for Troubled Youth," U.S. Government Accountability Office, 10 Oct. 2007, https://www.gao.gov/assets/120/118038.pdf
[13] Maia Szalavitz, "Under the Radar: The Child Abuse Bill Swap," Mother Jones, 19 June 2008, https://www.motherjones.com/politics/2008/06/under-radar-child-abuse-bill-swap/
[14] "Comparative Effectiveness of Strategies to De-escalate Aggressive Behavior in Psychiatric Patients in Acute Care Settings," Agency for Healthcare Research and Quality, 6 Oct. 2013, https://effectivehealthcare.ahrq.gov/products/aggression/research-protocol
[15] Patricia R. Recupero, JD, "Restraint and Seclusion in Psychiatric Treatment Settings: Regulation, Case Law, and Risk Management," Restraint and Seclusion in Treatment Setting, The Journal of the American Academy of Psychiatry and the Law, Vol. 39, No. 4, 2011, http://jaapl.org/content/jaapl/39/4/465.full.pdf
[16] Ibid.
[17] CHAPTER 13. USE OF RESTRAINTS IN TREATING PATIENTS/RESIDENTS, Pennsylvania Code, https://www.pacodeandbulletin.gov/Display/pacode?file=/secure/pacode/data/055/chapter13/chap13toc.html
[18] Patient Safety Authority, "Changing the Culture of Seclusion and Restraint," Mar. 2005, http://patientsafety.pa.gov/ADVISORIES/Pages/200503_22.aspx
[19] Nancy Phillips and Chris Palmer, "Death, rapes, and broken bones at Philly's only residential treatment center for troubled youth," The Philadelphia Enquirer, 22 Apr. 2017, https://www.inquirer.com/philly/news/pennsylvania/philadelphia/Death-rape-Philadelphia-Wordsworth-residential-treatment-center-troubled-youth.html
[20] Julia Terruso and Chris Palmer, "Two years after Wordsworth teen's death, more details released but no charges," The Philadelphia Enquirer, Updated 20 Dec. 2018, https://www.inquirer.com/news/wordsworth-philadelphia-david-hess-death-dhs-report-charges-20181220.html
[21] Ibid.; Op. cit., Nancy Phillips and Chris Palmer, The Philadelphia Enquirer, 22 Apr. 2017
[22] Ibid., Nancy Phillips and Chris Palmer, The Philadelphia Enquirer, 22 Apr. 2017
[23] Steve Helling, "Special Needs Teen's Asphyxiation Death at Philadelphia Treatment Center Ruled a Homicide," People, 14 Feb 2017, https://people.com/crime/david-hess-special-needs-teen-death-philadelphia-treatment-center-homicide/
[24] Alicia Victoria Lozano, "New Probe Launched into David Hess' Asphyxiation Death at Philadelphia Wordsworth Academy," NBC-10, Philadelphia, 12 June 2019, https://www.nbcphiladelphia.com/news/local/new-investigation-david-hess-death-at-philadelphia-wordsworth-academy/186049/
[25] Op. cit., People, 14 Feb. 2017
[26] Op. cit., NBC-10, Philadelphia, 12 June 2019
[27] S.B. No. 325, https://capitol.texas.gov/tlodocs/79R/billtext/html/SB00325F.HTM
[28] "Restraint and Seclusion," California Hospital Association, https://www.calhospital.org/sites/main/files/file-attachments/Preview_chapter_5_1.pdf
[29] "The Correct Use of Physical Restraints in the Inpatient Setting," Patient Safety and Quality Healthcare, 14 Aug. 2018, https://www.psqh.com/analysis/the-correct-use-of-physical-restraints-in-the-inpatient-setting/; "Western State Hospital loses its certification; feds cut off funding," KOMO News, 25 June 2018, https://komonews.com/news/local/western-state-hospital-loses-its-certification-feds-cut-off-funding
[30] Op. cit., The Journal of the American Academy of Psychiatry and the Law, Vol. 39, No. 4, 2011
[31] Centers for Medicare & Medicaid Services, HHS, 42 CFR Ch. IV (10–1–14 Edition), § 482.13 Condition of participation: Patient's rights, https://www.govinfo.gov/content/pkg/CFR-2014-title42-vol5/pdf/CFR-2014-title42-vol5-sec482-13.pdf
[32] Op. cit., The Journal of the American Academy of Psychiatry and the Law, Vol. 39, No. 4, 2011
[33] H.R.5876 – Stop Child Abuse in Residential Programs for Teens Act of 2008, 110th Congress (2007-2008), Introduced, https://www.congress.gov/bill/110th-congress/house-bill/5876/text
[34] Cheryl Clark, "Medicare measures psych hospitals' quality: A bed shortage taxes the system," inewsource, 28 Nov. 2016, https://inewsource.org/2016/11/28/feds-score-psychiatric-restraint/; https://www.medicare.gov/care-compare/?providerType=Hospital&redirect=true
[35] Op. cit., California Hospital Association
[36] Ibid.
[37] Op. cit., The Salt Lake Tribune, 4 Feb. 2021
[38] https://www.dsh.ca.gov/Publications/Reports_and_Data/Seclusion_and_Restraint/Current_SR_Reports.html
[39] https://www.dsh.ca.gov/Publications/Reports_and_Data/Seclusion_and_Restraint/docs/2020/1.pdf; https://www.dsh.ca.gov/Publications/Reports_and_Data/Seclusion_and_Restraint/docs/2019/1.pdf; https://www.dsh.ca.gov/Publications/Reports_and_Data/Seclusion_and_Restraint/docs/2018/1.pdf
[40] "New Law Regarding the Use of Restraint and Seclusion for Students in California," 24 Dec. 2018, https://www.cde.ca.gov/nr/el/le/yr18ltr1224.asp
[41] Op. cit., The Journal of the American Academy of Psychiatry and the Law, Vol. 39, No. 4, 2011
[42] Ibid.
[43] Op. cit., The Salt Lake Tribune, 4 Feb. 2021
[44] Ibid.
[45] Jessica Miller, "'This ain't Utah': Advocates led by Paris Hilton urge lawmakers to pass reforms for 'troubled-teen' treatment centers," The Salt Lake Tribune, 8 Feb. 2021, https://www.sltrib.com/news/politics/2021/02/08/new-rules-utahs-troubled/
[46] Op. cit., Fox 13, 8 Feb. 2021; S.B. 127 Human Services Program Amendments – Status, https://le.utah.gov/~2021/bills/static/SB0127.html
[47] "Michigan House announces Adoption and Foster Care Task Force," WoodTV.com, 4 Feb 2021, https://www.woodtv.com/news/michigan/michigan-house-to-announce-adoption-and-foster-care-task-force/; Justin Carissimo and Li Cohen, "Three charged in death of black teen who died after being restrained at youth facility," CBS News, 27 June 2020, https://www.cbsnews.com/news/cornelius-fredericks-death-lakeside-academy-staffers-charged-kalamazoo-michigan/
[48] http://lakesideacademy.net/; http://www.starralbionprep.com/
[49] Ibid., WoodTV.com, 4 Feb. 2021
[50] Op. cit., The Salt Lake Tribune, 4 Feb. 2021
[51] Sara Tiano, Joaquin Palomino, Cynthia Dizikes, "Amid abuse reports, Sequel-run facility that treated California children will close," San Francisco Chronicle, 28 Jan. 2021, https://www.sfchronicle.com/bayarea/article/Amid-abuse-reports-Sequel-run-facility-that-15906983.php
[52] Hannah Rappleye, Tyler Kingkade and Eric Salzman, "After years of abuse allegations, Iowa youth home to close," NBC News, 5 Feb 2021, https://www.nbcnews.com/news/us-news/after-years-abuse-allegations-iowa-youth-home-close-n1256890
[53] Ric Hanson, "Clarinda Academy to close following allegations of abuse," KJAN radio, 6th Feb. 2021, https://www.kjan.com/index.php/2021/02/clarinda-academy-to-close-following-allegations-of-abuse/
[54] Chelsea Retherford, "Lawsuit claims abuse at Courtland Sequel youth facility," The Moulton Advertiser, 7 Jan 2021, https://www.moultonadvertiser.com/news/article_8affb2d2-5035-11eb-a4d8-f3037059f4ae.html
[55] Laura French, "Teen shares story of alleged sex abuse at Virginia hospital: 'I hope that he feels the pain that I feel every day,'" WTVR-CBS 6 News, 2 Feb 2021, https://www.wtvr.com/news/problem-solvers/problem-solvers-investigations/teen-shares-cumberland-hospital-story; Reed Williams, "Sexual abuse alleged in $127 million lawsuit against children's hospital in New Kent County," Richmond Dispatch News, 20 Oct. 2020, https://richmond.com/news/state-and-regional/sexual-abuse-alleged-in-127-million-lawsuit-against-childrens-hospital-in-new-kent-county/article_48f551ed-0c7f-5736-aac6-5c05562faca6.html