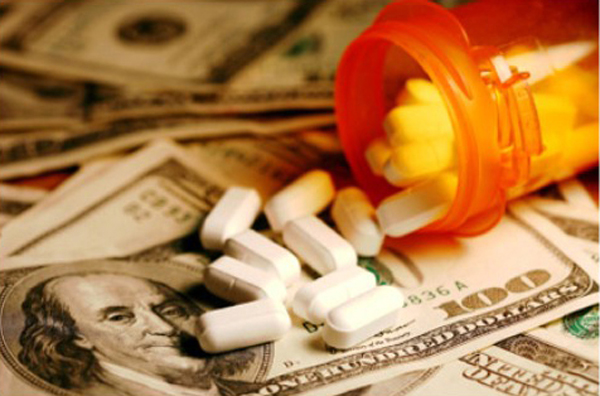 "These are groups operating under the guise of advocates for the 'mentally ill,' which in reality are heavily funded psychiatric-pharmaceutical front groups—lobbying and working on state and federal laws which effect the entire nation—from our elderly in nursing homes to our military, pregnant women, nursing mothers and schoolchildren."
Campaigns to "Stop the Stigma" of Mental Illness were Launched by the Psycho-Pharmaceutical Industry
By CCHR International
The Mental Health Industry Watchdog
August 17, 2020
With a seemingly altruistic agenda, the fact is campaigns aimed at ending the "stigma" of mental illness often have a hidden agenda: they are driven and funded by those who benefit from more people being labeled mentally ill and drugged—the psychiatric-pharmaceutical industry. The conflicts of interest with many of these groups is so pervasive that in 2009, a U.S. Senate investigation probed into the nation's largest mental illness advocacy group, the National Alliance on Mental Illness (NAMI). The group was asked to disclose any financial backing from drug companies or from foundations created by the industry.[1]
It was revealed that in two years alone (2006-2008) the pharmaceutical industry (Pharma) funded NAMI to the tune of $23 million, representing about three-quarters of its donations.
Other groups of concern were Children and Adults with Attention Deficit Hyperactivity Disorder (CHADD), the Depression and Bipolar Support Alliance (DBSA), and Mental Health America (MHA), formerly the National Mental Health Association, to name but a few.
In an incestuous relationship, some of the groups advocating for "mental illnesses" awareness campaigns were formed by former directors or researchers from the U.S. National Institute of Mental Health (NIMH)—the very organization that needed mental health advocacy groups to make demands on Congress for increased funding. All of them had board or advisory board members with financial ties to Pharma and the majority of the groups were heavily funded by psychotropic drug makers. This was a brilliant marketing/lobbying strategy: Set up patients' rights groups as a marketing arm for the psychiatric-pharmaceutical industry, use public relations (PR) firms to market how devastating mental illnesses are, which  increases the demand for more psychotropic drugs, resulting in greater profit.
As Mother Jones exposed, public-relations firms launched campaigns to promote a new mental disease, "using dramatic statistics from corporate-sponsored studies…patient groups are recruited to serve as the 'public face' for the condition, supplying quotes and compelling human stories for the media; many of the groups are heavily subsidized by drug makers, and some operate directly out of the offices of drug companies' P.R. firms. The strategy has enabled the pharmaceutical industry to squeeze millions in additional revenue from the blockbuster drugs known as selective serotonin reuptake inhibitors (SSRIs), a family of pharmaceuticals that includes Paxil, Prozac, Zoloft, Celexa, and Luvox."[2]
A Clinical Psychology Review report cited the incestuous relationship between NAMI, the American Psychiatric Association (APA), NIMH, and the pharmaceutical industry, as a "powerful quartet of voices [that] came together during the 1980s eager to inform the public that mental disorders were brain diseases. Pharmaceutical companies provided the financial muscle. The APA and psychiatrists at top medical schools conferred intellectual legitimacy upon the enterprise. The NIMH put the government's stamp of approval on the story. NAMI provided moral authority. This was a coalition that could convince American society of almost anything…."[3]
Pharmaceutical Executive, said: "I have witnessed that the most direct and efficient tool for driving long-term support for [drug] brands has been, and continues to be, a well-designed, advocacy-based public education program…." Further, "Unlike DTC, advocacy-based promotion brings with it a cadre of allies….This factor grows in importance as the pharma industry becomes more of a political target." In such a situation, advocacy groups "can be counted on to speak out for [the company]" and "the media will view them as more objective sources than industry spokespeople."[4]
Josh Weinstein, "a veteran pharma marketer" writing for the trade magazine 
In 2002, the Wall Street Journal revealed that Mental Health America (in collaboration with the JED Foundation) agreed to send 3,000 college presidents a letter and 13-page study titled, "Safeguarding Your Students Against Suicide." It was underwritten by Wyeth and Forest Labs, apparently aimed at offering widespread campus talks on depression called "Depression in College: Real World, Real Life, Real Issues" and funded by the makers of the antidepressant, Effexor.[5]
In 2009, Wyeth reportedly gave $40,000 to American Foundation for Suicide Prevention (AFSP), $269,000 to DBSA, $388,500 to MHA and $255,500 NAMI. DBSA, NAMI and MHA, along with the American Psychiatric Foundation, and several other organizations were all a part of the "Depression is Real" Coalition, and each individually received funds from Wyeth for that same project totaling $176,000.[6]
The pharmaceutical industry magazine Pharmaceutical Executive published a report by PR expert Teri Cox called "Forging Alliances, Advocacy Partners." According to Cox, partnering with advocacy groups helps drug companies to "diffuse industry critics by delivering positive messages about the healthcare contributions of pharma companies to legislators, the media, and other key stakeholders." And they help influence the decisions of policy-makers and regulators.[7]
Jeffrey Winton, former vice-president of global public relations for Pharmacia and former president and head of global communications at Eli Lilly and Co., was even clearer about the use of these groups. "Gone are the days when companies just handed out big checks to groups with no discussion afterward," said Winton. "Now, we seek opportunities with groups that not only help them achieve their goals and objectives, but also help us move our business along."[8] [Emphasis added] 
Biomedical Mental Illness Model Sells Drugs: Fraudulent "Chemical Imbalance" Theory
To be clear, people with mental issues clearly deserve the best care, especially as they are often seeking relief from emotional turmoil. That makes the misuse of them all the more egregious—having them support groups heavily built upon pharmaceutical funding and a "biological model." Group members may be unaware that the biological theory of "mental ills" is not founded on science; the theory emphasizes treatment to target presumed biological abnormalities that, unlike for physical illnesses, no medical or physical tests can prove.
This does not mean that mental problems don't exist; they do. This is not saying that mental problems aren't as important as medical illnesses. But psychiatrists twist the fact that mental disorders are not physically-based diseases to accuse experts and groups stating this of not believing in mental disability. This lie protects a psychotropic drug industry, with false claims that mind-altering "medication" is needed to correct mental disease.
Consumers need to know that no psychiatric-defined mental disorder meets the scientific definition of "disease" recognizable to pathologists and that scientists have not substantiated a single reliable biomarker for any mental disorder.
There is no credible evidence that a "chemical imbalance" is causing any mental disorder such as depression, or that any "medicine"—namely SSRI antidepressants—corrects one.
Indeed, three prominent psychiatrists interviewed on National Public Radio (NPR) concurred that this theory is scientifically invalid but suggested that it remains popular because it facilitates pharmaceutical "therapy." Another well-known psychiatrist called the "chemical imbalance" theory an "urban legend."[9]
Yet, "numerous patient advocacy groups (e.g., DBSA, NAMI) claim that mental disorders are caused by a chemical imbalance in the brain,"  according to B.J. Deacon in Clinical Psychology Review (2013).[10] A NAMI "Family Guide" to explain adolescent depression told parents that "some individuals develop depression because of a chemical imbalance in their brain."[11] [Emphasis added]
Deacon wrote that it is unclear whether individuals "would agree that disseminating misleading information about the cause and treatment of depression in order to increase the credibility of antidepressant medication constitutes ethical medical practice."[12]
In their 2020 book, Children of the Cure: Missing Data, Lost Lives and Antidepressants, Professor David Healy, a psychiatrist and international expert on psychopharmacology and his co-authors wrote, "In the 1990s, when the SSRIs were being marketed, no academic could state publicly that serotonin was low in people with depression. So, the role of persuading people to restore their serotonin levels to 'normal' fell to patient representatives and patient groups—heavily funded by pharmaceutical companies. The lowered serotonin story took root in the public domain. The public's concept of serotonin was like Freud's notion of libido—vague, and incapable of testing."[13]
NAMI purports mental health stigma can be reduced by attributing mental disorders to "brain diseases"—the biomedical model.[14] The group's campaign to stop the "stigma" and "end discrimination" against the mentally ill—had, as its "Founding Sponsors," eight pharmaceutical companies that manufacture psychotropic drugs and profit from a biomedical model for mental problems.
DSM Harms Legitimate Medicine
Look at the mental disorders in the Diagnostic and Statistical Manual of Mental Disorders (DSM) and you'll find a list of symptoms that often reflect normal behavior; however, when impacting the individual's life and ability to function, psychiatrists re-define these as "illnesses" in order to obtain insurance rebates for treating them. The solutions offered—often damaging psychotropic drugs, electroshock or other brain intervention procedures—are trustingly accepted in the hope of a cure. At best, the drugs, including antidepressants, antipsychotics, stimulants and sedatives, may temporarily "relieve" symptoms but this masks the real problem, which is then not addressed and cured.
DSM is published by the American Psychiatric Association. Nearly 70% of DSM-5 task force members (2013) reported financial relationships with pharmaceutical companies—up from 57% for DSM-4 (1994).[15]
In June 2019, Pharmaceutical Technology reported: "Fraudulent and illegal conduct by pharmaceutical companies poses a great risk to public health and maligns the decisions of healthcare providers, costing billions of dollars to the government."[16] By 2010, drug companies were No. 1 when it came to defrauding the government between 2007 and 2010, according to Public Citizen. It found that since 1991, Pharma penalties totaled $19.8 billion.[17]
Public Citizen also documented that from 1991 through 2015, drug makers paid $35.7 billion to settle federal and state civil and criminal charges of fraudulent practices.[18]
For example, Eli Lilly paid a $515 million criminal fine and up to $800 million as civil settlements to resolve allegations related to the unlawful promotion of its antipsychotic drug Zyprexa in 2009. Eli Lilly misbranded the drug for the treatment of conditions in elderly patients for which it was not Food and Drug Administration (FDA) approved—called "off-label." The company trained its sales force to unlawfully promote off-label uses and promoted the drug in nursing homes and to provide rewards for doctors for prescribing them to patients for the unapproved uses. False claims were submitted to federal insurance programs such as Medicaid.[19]
In 2012, Abbott pleaded guilty to unlawfully promoting its drug Depakote, which resulted in a $700 million criminal fine and forfeiture, in addition to $800 million in civil settlements. The FDA approved Depakote for three indications, including epileptic seizures, bipolar mania and migraine prevention. Abbott promoted off-label use for dementia patients for controlling behavioral disturbances, and for attention deficit disorder, autism and more.[20] Depakote side effects include: mood swings, agitation, tremor, weight changes, enlarged breasts, and an increase the risk of suicidal thoughts or behavior in patients.[21]
Psychiatric-Pharma Industry Creates Patient Group Marketing Arm: Mental Health Screening
In 1991, shortly after Eli Lilly's SSRI antidepressant Prozac was launched as the latest "miracle pill" to treat depression, Lilly funded a "National Depression Screening Day," which used a subjective questionnaire lasting less than five minutes to complete.[22] Screening was conducted at 2,000 sites across the country in 1994 and lectures on depression were given: at one, the audience was told "Antidepressants are not stimulants, not addictive, they make you normal." A Marketing Director showed a video called Moving into the Light —an infomercial produced by Mental Health America (then named National Mental Health Association) with money provided by Eli Lilly.[23]
In actuality, there are serious withdrawal effects from SSRI antidepressants.  Eli Lilly recognized this and "cleansed" the effect, calling it "antidepressant discontinuation syndrome." In a 2019 article on antidepressant withdrawal for The New York Times, Benedict Carey reported that doctors for years "have dismissed or downplayed such symptoms, often attributing them to the recurrence of underlying mood problems." Drug-makers also helped minimize the problem by urging staff and publicists in internal memos, "Highlight the benign nature of discontinuation symptoms, rather than quibble about their incidence."[24]
Children of the Cure reported: "Antidepressants cause dependence. Over 80% of antidepressant takers of all ages have been on them for more than a year, many for decades."[25]
Allen Frances, Professor Emeritus of Psychiatry and Behavioral Science, Duke University, said: "There's absolutely no interest on the part of the pharmaceutical companies in advertising the fact that getting on an antidepressant may trap you for years and maybe for life…."[26]
Post-withdrawal symptoms from antidepressants "may last several months to years" and include disturbed mood, emotional lability (excessive emotional reactions and frequent mood changes) and irritability, according to a study in Psychotherapy and Psychosomatics in 2012.[27]
Depression screening started in 1991. By 1993, 5,406,000 individuals in the U.S. were treated for depression, which increased 19% in 1994 to 6,674,000 patients, according to IMS America (now IQVia), a research organization that tracks the pharmaceutical industry. IMS America analyzed "diagnosis visits for depression" and also reported a 19% increase in visits where drugs were prescribed, administered or recommended. Prozac's total U.S. sales grew to $1.27 billion in 1994—up 41% in dollar volume.[28]
National Center for Health Statistics (NCHS) reported the rate of antidepressant use in the U.S. among teens and adults (people ages 12 and older) increased by almost 400% between 1988–1994 and 2005–2008—with women largely the targeted public.[29] The number of Americans who said they'd taken an antidepressant over the past month rose by 65% between 1999 and 2014, the U.S. Centers for Disease Control and Prevention survey found.[30]
Mental Health America continued to be supported by Big Pharma. Between 2001 and 2015, it received more than $26 million from drug companies—averaging $1.85 million a year. This was not disclosed in its "Stop the Stigma" campaign or the fact that at the time 78 million Americans were taking prescribed psychiatric drugs that carried 286 drug regulatory agency warnings, including, mania, psychosis, heart attack, stroke, diabetes, suicide, and sudden death, to name a few.[31]
Between 2015 and the third quarter of 2019, MHA received at least another $4.85 million from drug companies.[32] The group offers a mental health screening program and during the same period, at least eight pharmaceutical companies donated about $1.19 million to MHA's screening campaign.[33]
Even today, MHA's online depression screening questionnaire is copyrighted to Pfizer, manufacturer of Pristiq and Zoloft. The anti-anxiety questionnaire on MHA's website is also Pfizer copyrighted; Pfizer manufacturers the anti-anxiety drug Xanax (alprazolam). In 2004, alprazolam was prescribed nearly 18 million times. As of 2017, the number of prescriptions had risen to over 25 million.[34]
Adverse effects of Xanax include: memory problems, irritability, confusion, difficulty concentrating, changes in sex drive, seizures, suicidality, increased heart rate, liver damage and dependency.[35] Xanax is one of the class of drugs called benzodiazepines, which are implicated in approximately one-third of intentional overdoses or suicide attempts.[36]
Overdose deaths involving benzodiazepines — such as Xanax, Librium, Valium and Ativan—quadrupled between 2002 and 2015, according to the National Institute on Drug Abuse. The trend was fueled by a 67% rise in prescriptions. The market for these drugs is expected to reach $3.8 billion in the U.S. by 2020, reported Zion Market Research.[37]
Antidepressants Cause Youth Suicide
As of 2019, there were also 2.1 million American children and teens on antidepressants despite the FDA warning that this class of drugs can cause suicidal thoughts and behavior. Of these, over 33,000 were aged five or younger, of which more than 7,800 were one or younger.[38]
In 2018, the antidepressant sales market was valued at $13.69 billion in the U.S. alone. [39]
David Healy and colleagues questioned, "Something must surely be wrong if the frequency of depression has apparently jumped a thousand-fold since the introduction of antidepressants."[40]
Eli Lilly donated $450,000 to NAMI for its "Campaign for the Mind of America."[41] The company also "loaned" one of its executives to NAMI to work out of the organization's headquarters on "strategic planning."[42] Pfizer funded the creation of a "PTSD Alliance," a group that was staffed by employees of Pfizer's New York public-relations firm. The Alliance connected journalists with PTSD experts, one an officer of the Anxiety Disorders Association of America, a group heavily subsidized by Pfizer as well as GlaxoSmithKline, Eli Lilly, and other drug-industry companies.[43]
The potential influence is telling—in fact, dangerous to the community. In 2004, the FDA issued its strongest "black box" warning on antidepressants indicating they could cause an increased risk of suicidal thoughts and behaviors in under 18-year-olds (later increased to age 24). NAMI opposed this protection, stating that they asked the FDA committee "not to recommend action that would restrict safe and effective treatment options at a time when youth suicide is a public health crisis…."[44]
Between 2006 and 2015, 15 clinical trials of antidepressants recruiting more than 6,000 children took place. All were negative and showed an excess of suicidality took place, Healey, et al., reported.[45]
A June 2020 Australian study published in Frontiers in Psychiatry, reinforced that rather than antidepressants reducing the risk of suicide, they increased it. Using statistics from Australia, the researchers reported per-capita child, adolescent and young adult antidepressant dispensing (0–27 years old) and suicide (0–24 years) rates increased approximately 66% and 49%, respectively. Additionally, "there was a 98% increase in intentional poisonings among 5 to 19-year-olds in New South Wales and Victoria between 2006 and 2016" and commonly dispensed psychotropic drugs were the most commonly used in self-poisoning. "These results do not support claims that increased antidepressant use reduces youth suicide risk," the study found.[46]
Alongside antidepressant increase, "there is a rising tide of admissions for self-harm, which is not supposed to happen when treatments work. It's not just antidepressant use that is rising in adolescents—it's all psychotropic drug use as antidepressant disinhibition or suicidality spun as bipolar disorder leads to treatment with anticonvulsants and antipsychotics," reported Healy and his co-authors. Further, "Aside from suicide, most psychotropic drugs affect the heart. Teenagers put on them, especially in combination treatments, drop dead."[47]
Yet, NAMI opposed a parents and children's rights federal Child Medication Safety Act enacted in 2004 that protected children from being forced onto a psychotropic drug as a requisite for attending school.[48] Their opposition was also despite parents being threatened with criminal charges if they chose not to drug their child.
In 2006, MHA opposed the FDA extending the Black Box suicide warning placed on antidepressants to adults.[49] A decade later, The Pharmaceutical Journal reported: "Healthy adults who are taking certain antidepressants have a higher risk of suicidal thoughts and violent behavior, according to the results of a systematic review." Researchers based at the Nordic Cochrane Centre and the University of Copenhagen in Denmark said the drugs can "double the risk of suicidality and violence" and their results suggest that it is likely antidepressants increase the number of suicides in people of all ages. They warned that their risk calculation may be an underestimate because they were unable to access data from 2 of the 13 relevant trials identified.[50]
In 2019, a study published in the journal Psychotherapy and Psychosomatics, found adults who start treatment with antidepressants for depression are 2.5 times more likely to attempt suicide when compared to placebo.[51]
NAMI gave a special thanks to the industry partners that were part of its 2017 Advancing Discovery Steering Committee: Alkermes, Eli Lilly, Janssen, and Otsuka.[52] And its philanthropic partners in 2019 included the pharmaceutical companies Acadia Pharmaceuticals, Alkermes, Allergen, Bristol Myers Squibb (BMS), Boehringer Ingelheim, Janssen Pharmaceuticals, Lundbeck United States, Merck, Otsuka, Pfizer, Sunovion, Supernus Pharmaceuticals, Takeda and Teva pharmaceuticals.[53] Numerous psychiatrists are speakers or researchers for such companies or their advisors.
Of these 15 companies, 14 have been exposed for some type of notorious conduct or criminal or civil misconduct, with those sued or coming under Department of Justice investigation often settling their cases, while admitting no liability. Fines and settlements were a combined total of more than $24.8 billion between 2002 and 2020, although $22 billion was in the last decade (2010-2020).
What's more of a shocker is the conduct, which for some of the companies, involved withholding serious drug risks to the consumer, including death, cancer-causing agents or female breast growth (gynecomastia) in young boys, including one who grew size 46 DD breasts and another forced to undergo a double mastectomy. The humiliation, bullying and mental distress caused by this adverse drug reaction begs the question why a charity group is financially affiliated with a company that makes such a drug.
Several Pharma companies admitted to felony fraud charges over illicit marketing of potentially dangerous drugs or products for conditions not approved by the FDA, despite risks that included, for one drug, heart attacks that a reported 27,000 consumers suffered. Some companies paid kickbacks to doctors to prescribe their drugs, including one company's incentives that included: a Los Angeles Lakers basketball camp for doctors and their children; prepaid golf outings at luxury courses; tickets for doctors and their families to see Broadway shows and concert tickets for doctors who were especially big prescribers.[54]
Two companies marketed off-label use of an antipsychotic for pediatric use and dementia-related psychosis, knowing the drug could also cause compulsive behavior, including gambling and suicide attempts.[55]
Consider law enforcement comments on the illicit actions of pharma companies that are partnering with psychiatric illness advocacy groups. 
"Fraudulent marketing of drugs through off-label promotion and kickbacks to doctors undermines trustworthy medical decision-making, and FDA's protections in the drug approval process….Such conduct—as alleged in this case—poorly serves patients and taxpayers alike," said Daniel R. Levinson, Inspector General of the U.S. Department of Health and Human Services.[60]
"Drug companies should not market their drug for off-label uses or make claims that are not supported by scientific evidence," Attorney General Schneiderman said in 2016. "Consumers must be able to rely on their doctor's advice for medication without having to worry about drug companies manipulating their advertising to promote their products at the expense of patients."[61]   
"When companies put profit over patients' health and misuse taxpayer dollars, we demand accountability," said Associate Attorney General Tony West. [62]
"The conduct at issue in this case jeopardized the health and safety of patients and damaged the public trust," said former Attorney General Eric Holder. [63]
Psychotropic Drug Trade Creates Conflicts of Interest
As further evidence of how those well-intentioned supporters of mental illness advocacy groups are being misled, in July 2018, NPR and the Center for Public Integrity were looking at all the ways the drug industry tries to keep Medicaid money flowing to pharmaceutical companies. Trish Riley, executive director of the National Academy for State Health Policy said there were more than 150 bills related to drug prices pending in state legislatures that year. Drug companies spent tens of millions of dollars supporting patient advocacy groups that lobby state lawmakers. "The pharmaceutical industry is aware that they're not popular oftentimes, and so we see an increasing engagement of consumer groups," Riley said.[64]
The Center for Health Journalism also reported, "Under the pretense of better mental health care, Big Pharma has aggregated and sometimes co-opted patients into lobbying groups for high-priced drugs. While the groups say they fight the 'stigma' of mental illness, they spend their time fighting lawmakers and insurers for payment of high-priced drugs. How much do the drugs cost? One hundred middle dose pills of the depression drug Abilify can cost $1,644 and Invega, a drug used for bipolar conditions, $1,789." "When insurers balk at reimbursing patients for new prescription medications," the Los Angeles Times reported, these groups "typically swing into action, rallying sufferers to appear before public and consumer panels [and] contact lawmakers."[65]
Sally Zinman of the California Network of Mental Health Clients warned that NAMI's "focus on drugs obscures issues such as housing and income support, vocational training, rehabilitation, and empowerment, all of which play a role in recovery." Zinman argued that Thorazine, Prozac, and other drugs routinely prescribed for the mentally ill can be counterproductive and even harmful.[66]
In Summary
"The financial ties are troubling if they cause even one patient group to act in a way that's 'not fully representing the interest of its constituents,'" said Matthew McCoy, a medical ethics professor at the University of Pennsylvania who co-authored a 2017 study about patient advocacy groups' influence and transparency.[67]
These are groups operating under the guise of advocates for the "mentally ill," which in reality are heavily funded psychiatric-pharmaceutical front groups—lobbying and working on state and federal laws which effect the entire nation—from our elderly in nursing homes to our military, pregnant women, nursing mothers and schoolchildren.
Presenting themselves as patient advocacy groups is highly disingenuous, not only to their membership, many of which may have a sincere desire to help a loved one or a family member with mental problems, but also to legislators, the press and the American public—for they have consistently lobbied for legislation that benefits the psychiatric and pharmaceutical drug industries which fund them, and not the patients they claim to represent.
To put it simply, these groups are not what they appear to be. Yet their influence over legislation, lobbying, drug regulation (or lack thereof), and public relations campaigns is substantial and can have an adverse impact. They claim to be the voice of the "mentally ill." But are they? Or, are they the result of a brilliant marketing/lobbying campaign designed to benefit the Psycho/Pharmaceutical industry that funds them and increase the number of Americans unwittingly getting hooked on mind-altering prescription drugs.
References:
[1] http://alison-bass.blogspot.com/2009/04/nami-exposed-drug-money-behind-this.html; http://pharmagossip.blogspot.com/2009/04/nami-how-i-love-ya-how-i-love-ya.html
[2]Brendon I Koerner, "Disorders Made to Order," Mother Jones,  Jul/Aug. 2020, https://www.motherjones.com/politics/2002/07/disorders-made-order/
[3] Brett J. Deacon, "The biomedical model of mental disorder: A critical analysis of its validity, utility, and effects on psychotherapy research," Clinical Psychology Review, 8 April 2013, http://www.jonabram.web.unc.edu/files/2013/09/Deacon_biomedical_model_2013.pdf
[4]Gary Kohl, M.D., "Beware the So-Called Mental Health 'De-Stigmatization' Campaigns such as Make It OK and NAMI, for they are Front Groups for Big Pharma," Deluth Reader, 24 May 2018, http://duluthreader.com/articles/2018/05/24/13470_beware_the_so_called_mental_health_de
[5] https://www.madinamerica.com/2014/03/dear-nami-apologies-ive-unfair/; "From the Maker of Effexor: Campus Talks on Depression," Wall Street Journal, 10 Oct. 2002, https://www.wsj.com/articles/SB1034194386674920716
[6] https://www.madinamerica.com/2014/03/dear-nami-apologies-ive-unfair/
[7] Ibid.
[8] Ibid.
[9] Brett J. Deacon, "The biomedical model of mental disorder: A critical analysis of its validity, utility, and effects on psychotherapy research," Clinical Psychology Review, 8 April 2013, http://www.jonabram.web.unc.edu/files/2013/09/Deacon_biomedical_model_2013.pdf
[10] Brett J. Deacon, "The biomedical model of mental disorder: A critical analysis of its validity, utility, and effects on psychotherapy research," Clinical Psychology Review, 8 April 2013, http://www.jonabram.web.unc.edu/files/2013/09/Deacon_biomedical_model_2013.pdf
[11] https://studyres.com/doc/15057899/what-families-should-know-about-adolescent-depression-and
[12] Brett J. Deacon, "The biomedical model of mental disorder: A critical analysis of its validity, utility, and effects on psychotherapy research," Clinical Psychology Review, 8 April 2013, http://www.jonabram.web.unc.edu/files/2013/09/Deacon_biomedical_model_2013.pdf
[13] David Healy, M.D., Joanna Le Noury, Julie Wood, Children of the Cure: Missing Data, Lost Lives and Antidepressants, (Samizdat Health Writer's Co-operative Inc., 2020), p. 23.
[14] Brett J. Deacon, "The biomedical model of mental disorder: A critical analysis of its validity, utility, and effects on psychotherapy research," Clinical Psychology Review, 8 April 2013, http://www.jonabram.web.unc.edu/files/2013/09/Deacon_biomedical_model_2013.pdf
[15] "DSM-5 Criticized for Financial Conflicts of Interest," ABC News, 13 Mar. 2012, https://abcnews.go.com/Health/MindMoodNews/dsm-fire-financial-conflicts/story?id=15909673
[16] https://www.pharmaceutical-technology.com/features/biggest-pharmaceutical-lawsuits/
[17] http://hcrenewal.blogspot.com/2010/12/drug-companies-are-now-no-1-when-it.html
[18] https://www.statnews.com/pharmalot/2016/07/19/bristol-myers-kickbacks-doctors/
[19] https://www.pharmaceutical-technology.com/features/biggest-pharmaceutical-lawsuits/
[20] https://www.pharmaceutical-technology.com/features/biggest-pharmaceutical-lawsuits/
[21] https://www.rxlist.com/depakote-side-effects-drug-center.htm
[22] Joseph Glenmullen, M.D., Prozac Backlash, (Simon & Schuster, NY, 2000), pp. 228-229
[23] https://beyondthc.com/prozac-and-the-marketing-of-depression/
[24] Christopher Lane, Ph.D., "Antidepressant Guidelines to Tighten in the UK: Welcome policy change also reveals scale of the problem," Psychology Today, 31 May, 2019, https://www.psychologytoday.com/us/blog/side-effects/201905/antidepressant-guidelines-tighten-in-the-uk.
[25] David Healy, M.D., Joanna Le Noury, Julie Wood, Children of the Cure: Missing Data, Lost Lives and Antidepressants, (Samizdat Health Writer's Co-operative Inc., 2020), p. 239
[26] https://www.madinamerica.com/2018/10/allen-frances-increasing-use-antidepressants/.
[27] "Patient Online Report of Selective Serotonin Reuptake Inhibitor-Induced Persistent Post-withdrawal Anxiety and Mood Disorders," Psychotherapy and Psychosomatics, 19 Jan. 2012, https://www.karger.com/Article/FullText/341178.
[28] https://beyondthc.com/prozac-and-the-marketing-of-depression/
[29] https://www.health.harvard.edu/blog/astounding-increase-in-antidepressant-use-by-americans-201110203624
[30] https://www.cbsnews.com/news/antidepressant-use-soars-65-percent-in-15-years/
[31] https://www.cchrint.org/2015/05/08/mental-health-month-patient-advocacy-or-pharma-funded-advertising/
[32]  https://www.mhanational.org/foundation-and-corporate-support
[33] https://www.mhanational.org/foundation-and-corporate-support
[34] https://www.statista.com/statistics/781816/alprazolam-sodium-prescriptions-number-in-the-us/
[35] https://drugabuse.com/xanax/effects-use/
[36] https://www.ncbi.nlm.nih.gov/pmc/articles/PMC5846112/
[37] "Antianxiety drugs — often more deadly than opioids — are fueling the next drug crisis in US," CNBC, 3 Aug. 2018, https://www.cnbc.com/2018/08/02/antianxiety-drugs-fuel-the-next-deadly-drug-crisis-in-us.html
[38] https://www.cchrint.org/psychiatric-drugs/children-on-psychiatric-drugs/
[39] https://www.medgadget.com/2019/08/antidepressant-drugs-market-size-share-current-trends-opportunities-competitive-analysis-and-forecast-to-2019-2025.html
[40] David Healy, M.D., Joanna Le Noury, Julie Wood, Children of the Cure: Missing Data, Lost Lives and Antidepressants, (Samizdat Health Writer's Co-operative Inc., 2020), p. 20,
[41] https://www.propublica.org/article/health-advocacy-groups-take-drug-company-cashoften-without-full-disclosures
[42] Ken Siliverstein, "Prozac.org: An influential mental health nonprofit finds its 'grassroots' watered by pharmaceutical millions," Mother Jones, Nov/Dec. 1999, https://www.motherjones.com/politics/1999/11/prozacorg/
[43] "Disorders Made to Orders," Mother Jones, Nov/Dec. 1999, https://www.motherjones.com/politics/1999/11/prozacorg/
[44] "FDA Advisory Committee Recommends 'Black Box Warnings' for Anti-depression Medications," NAMI, Sept 15, 2004, URL https://web.archive.org/web/20081108114443/http://www.nami.org/Template.cfm?Section=Child_and_Adolescent_Action_Center&template=/ContentManagement/
ContentDisplay.cfm&ContentID=17662.
[45] David Healy, M.D., Joanna Le Noury, Julie Wood, Children of the Cure: Missing Data, Lost Lives and Antidepressants, (Samizdat Health Writer's Co-operative Inc., 2020), p. 238
[46] Martin Whitely, et al., "Antidepressant Prescribing and Suicide/Self-Harm by Young Australians: Regulatory Warnings, Contradictory Advice, and Long-Term Trends," Frontiers in Psychiatry, 5 June 2020, https://www.frontiersin.org/articles/10.3389/fpsyt.2020.00478/full
[47] David Healy, M.D., Joanna Le Noury, Julie Wood, Children of the Cure: Missing Data, Lost Lives and Antidepressants, (Samizdat Health Writer's Co-operative Inc., 2020), pp. 238-239
[48] "Policy Alerts," NAMI Beginnings, Summer 2003, pg 13.
[49] "Advocates' Message Prevails at FDA Panel Hearing on Antidepressant Safety," e-Bell Newsletter, MHA, April 2007, https://web.archive.org/web/20100930071159/http://www.nmha.org/pressroom/bell/2007-04/index.html; "FDA Meeting on Antidepressants, Suicidal Thoughts and Behaviors," MHA, Dec 13, 2006, https://web.archive.org/web/20130809152657/http://mentalhealthamerica.net/index.cfm?objectid=790A21C0-1372-4D20-C8E07FD59217A4FB
[50] https://www.pharmaceutical-journal.com/news-and-analysis/news/antidepressants-associated-with-increased-risk-of-suicidal-thoughts-in-healthy-adults/20201834.article?firstPass=false
[51] "New study: antidepressants significantly raise the risk of suicide in the treatment of depression for adults," Council-for Evidence-Based Psychiatry, 25 June 2019, http://cepuk.org/2019/06/25/new-study-antidepressants-significantly-raise-risk-suicide-treatment-depression-adults/
[52] https://www.nami.org/NAMI/media/NAMI-Media/Research/ADS-2017-Summary-Report.pdf
[53] https://www.nami.org/NAMI/media/NAMI-Media/PDFs/Financials/2019NAM-AnnualReport-web.pdf
[54] http://www.nbcnews.com/id/6192603/ns/health-arthritis/t/report-vioxx-linked-thousands-deaths/#.Xx-OoudlA2w; https://www.statnews.com/2019/12/11/fda-blasts-alkermes-vivitrol-branding/; https://www.justice.gov/opa/pr/allergan-agrees-plead-guilty-and-pay-600-million-resolve-allegations-label-promotion-botox; https://www.statnews.com/pharmalot/2016/07/19/bristol-myers-kickbacks-doctors/
[55] https://www.drugwatch.com/abilify/lawsuits/
[56] Companies were Allergan for $5 million, Janssen for $572 million and $20.4 million and Teva for $250 million;  https://www.wsj.com/articles/allergan-to-pay-5-million-to-settle-ohio-opioid-suit-11567166120; https://www.npr.org/sections/health-shots/2019/08/26/754481268/judge-in-opioid-trial-rules-johnson-johnson-must-pay-oklahoma-572-million; https://www.washingtonpost.com/investigations/johnson-and-johnson-reaches-tentative-204-million-settlement-in-massive-opioid-case/2019/10/01/6a8a9670-e48e-11e9-b403-f738899982d2_story.html; https://www.cnbc.com/2019/10/21/teva-shares-surge-after-announcing-global-opioid-settlement.html; https://www.reuters.com/article/us-teva-pharm-ind-results/teva-pharm-says-opioid-settlement-will-not-derail-ability-to-cut-debt-idUSKBN1XH1TK
[57] https://www.reuters.com/article/us-usa-opioids-litigation/drugmakers-endo-allergan-agree-to-15-million-in-settlements-in-major-opioid-case-idUSKCN1VA1FU
[58] https://www.reuters.com/article/us-h-lundbeck-settlement/drugmaker-lundbeck-to-settle-us-charity-probe-for-526-million-idUSKCN1J22PL
[59] https://www.reuters.com/article/us-h-lundbeck-settlement/drugmaker-lundbeck-to-settle-us-charity-probe-for-526-million-idUSKCN1J22PL
[60] https://www.justice.gov/opa/pr/boehringer-ingelheim-pay-95-million-resolve-false-claims-act-allegations
[61] https://ag.ny.gov/press-release/2016/ag-schneiderman-announces-195-million-multi-state-agreement-bristol-myers-squibb
[62] https://www.justice.gov/opa/pr/johnson-johnson-pay-more-22-billion-resolve-criminal-and-civil-investigations
[63] https://www.justice.gov/opa/pr/johnson-johnson-pay-more-22-billion-resolve-criminal-and-civil-investigations
[64]"How Drug Companies Control How Their Drugs Are Covered By Medicaid," NPR, 18 Jul. 2018, https://www.npr.org/2018/07/18/630246488/how-drug-companies-are-controlling-how-their-drugs-are-covered-by-medicaid
[65] Martha Rosenberg, "Pharma funding advocacy groups," Center for Health Journalism Member Posts, 15 Oct. 2014, https://www.centerforhealthjournalism.org/2014/10/15/discredited-patient-group-fights-mental-illness
[66] Ken Siliverstein, "Prozac.org: An influential mental health nonprofit finds its 'grassroots' watered by pharmaceutical millions," Mother Jones, Nov/Dec. 1999, https://www.motherjones.com/politics/1999/11/prozacorg/
[67] https://khn.org/news/patient-advocacy-groups-take-in-millions-from-drugmakers-is-there-a-payback/