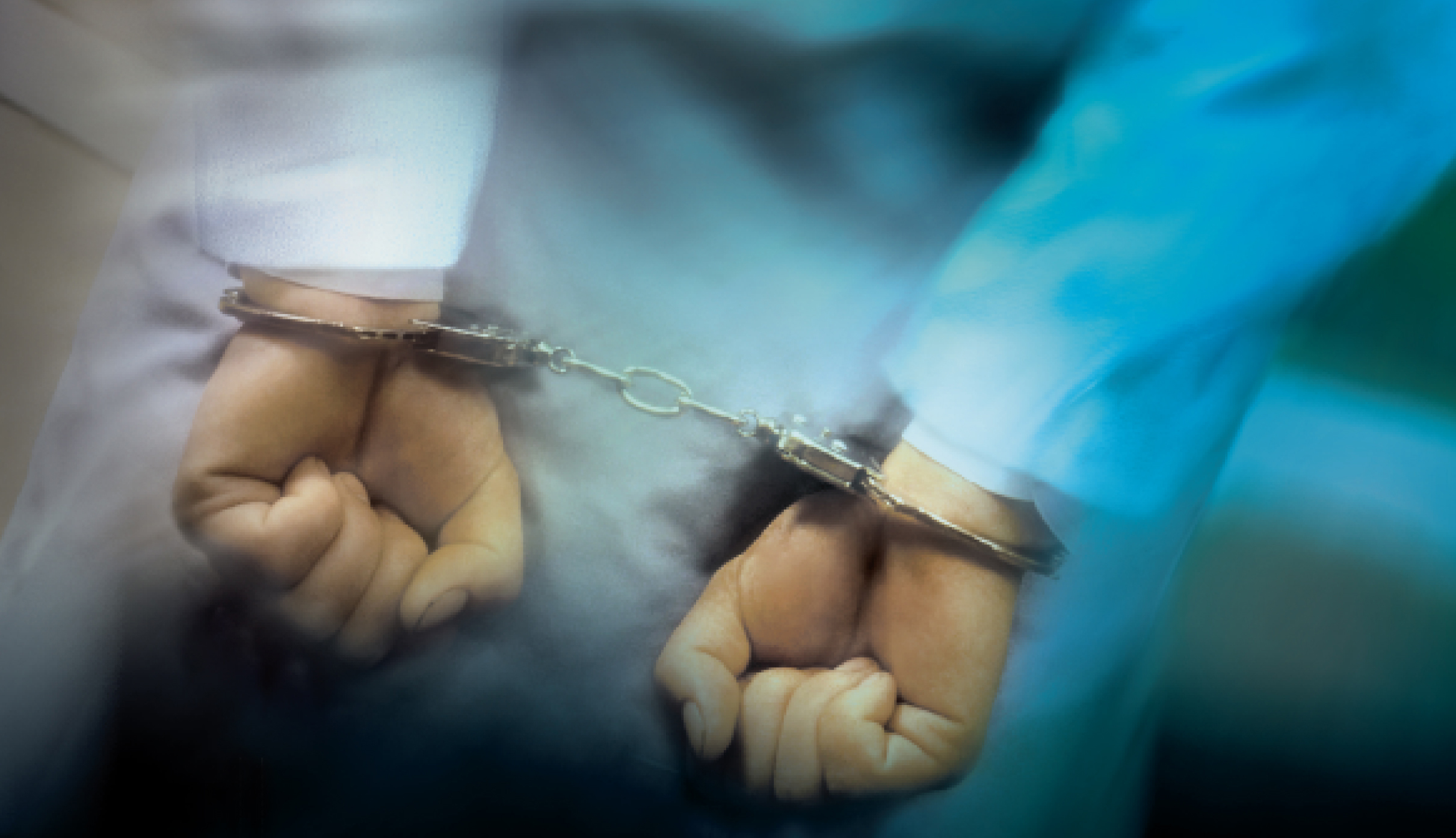 "When factoring in that reckless endangerment, also known as criminal endangerment, consists of acts that create a substantial risk of serious physical injury to another person, acted in a way that shows a disregard for the foreseeable consequences of the actions, far more prosecutions should be occurring where individual lives are put at risk or even ended because of dangerous psychiatric prescribing practices."
By CCHR International
The Mental Health Industry Watchdog
March 21, 2017
Psychiatrists involved in prescribing psychotropic drugs or illicitly selling such drugs that lead to patient overdoses or deaths should be held criminally accountable, a 48-year mental health watchdog, Citizens Commission on Human Rights International (CCHR) reports.  In reviewing a sample of 36 psychiatrists and psychologists in the past two years that are under investigation, arrested or convicted of serious crimes, CCHR found more than 33 percent (12) were for drug-related offenses. CCHR's report on its findings, which is to be provided to state and federal regulators, recommends tougher criminal penalties for such abuse.
Georgia psychiatrist, Narendra Nagareddy, 57, known as "Dr. Death," was arrested in March 2016 after 36 of his patients died, 12 of whom passed away due to overdose on his prescription drugs.[1]
Clayton County Police Chief Mike Register told media that the psychiatrist had been "overprescribing opiates and benzodiazepines" and there had been "a multitude of overdoses and overdose deaths."[2] The case involves three victims aged between 29 and 49. One, Audrey Austin, 29, filled several prescriptions from Nagareddy on February 20, 2014, for alprazolam, a generic version of the sedative hypnotic, Xanax and methadone tablets. The next day, she filled a prescription issued from Nagareddy for amphetamine and died later that day from a prescription overdose, according to a warrant.[3] The psychiatrist is currently under house arrest, pending his trial, tracked via an ankle monitor.[4]
CCHR says that negligent prescribing and illegal trafficking to patients should include any psychiatrist who treats a patient, especially a child and foster care child, with drugs that have adverse effects that endanger the health and life of the patient, or leads to death. CCHR says that psychiatrists who prescribe massive doses of mind-altering drugs for behavioral control should face criminal consequences if the patient dies.
In a precedent decision in February 2016, a California general practitioner, Hsiu-Ying "Lisa" Tseng, was sentenced to 30 years to life in prison for the second-degree murder of three patients, after overprescribing them painkillers that killed them. It was the first time a doctor had been convicted of murder in the United States for overprescribing drugs, the district attorney's office said. One of her victims, Joey Rovero, died after mixing alcohol with Xanax and oxycodone he had obtained from Tseng.[5]
The Los Angeles Times noted that some medical experts said the landmark decision could reshape how doctors nationwide handle prescriptions.[6] But there is an apparent inequity in the law when a psychiatrist is doing the prescribing.
For example, Chicago psychiatrist Michael Reinstein pleaded guilty in February 2015 to a felony charge of taking nearly $600,000 in kickbacks and other benefits from a pharmaceutical company to prescribe its highly dangerous antipsychotic clozapine (Clozaril) to thousands of his patients. At least three of his patients died of clozapine intoxication between 1999 and 2007. He was the largest prescriber of the drug to Medicaid recipients in the nation. Reinstein had to pay more than $3.7 million in penalties to the U.S. government and the state of Illinois.[7] Yet despite the dangerous prescribing and patient deaths, Reinstein was only sentenced to nine months in prison and only on the kickback charges.[8]
In January 2017, David J. Houlihan, psychiatrist and former chief of staff and acting medical director at the Tomah Veterans Affairs Medical Center in Wisconsin agreed to permanently surrender his medical license in the wake of an opioid scandal at the center. A report by the Center for Investigative Reporting in 2015 detailed high levels of opioid prescriptions at the facility, with Houlihan nicknamed the "candy man" by some vets because of his alleged widespread distribution of painkillers.[9] The state medical licensing board found probable cause that Houlihan engaged in unprofessional conduct in his treatment of marine, Jason Simcakoski, who died at Tomah in 2014 after being prescribed 13 drugs at the facility, including the antipsychotic quetiapine, addiction drug, Suboxone,[10] a potentially addictive drug prescribed to treat opioid and other drug abuse.
Another of Houlihan patients was marine Brian Witkus, who was stoned on painkillers and tranquilizers from the psychiatrist when he was driving and swerved, knocking a horse drawn carriage of an Amish family. Willam Miller and his son, John, survived, but his wife, Elizabeth, was cradling their 6-week-old Ada Mae, and was thrown from the carriage and landed on top of her daughter. The driver pleaded guilty to homicide.[11] Apart from surrendering his license, no other action was taken against the psychiatrist.
This is in stark contrast to the 2012 conviction of French psychiatrist, Danielle Canarelli, found guilty of manslaughter and sentenced to a one year suspended prison term after her patient, Joël Gaillard, killed a man with an axe.[12] Charges outlined in the court judgment said the four years of the psychiatrist's treatment of Gaillard were marked "beyond any doubt" with "a succession of failures" and her attitude "resembled blindness." She "did not question her methodology or change her approach, thus creating or helping to create the situation that led to the realization of the crime."[13]
It's unknown what psychotropic drugs Gaillard may have been taking, but considering the well-documented and known serious side effects of these drugs, there should be accountability for dangerous prescribing practices resulting in either the patients' death or their killing others under the influence of prescribed psychoactive substances.
There are 27 international drug regulatory warnings on psychiatric drugs being linked to hostility, violence, mania or homicidal ideation.[14] At least 20 psychotropic drugs have been linked to violent behavior, with reports of homicide, physical assaults, and homicidal ideation.[15]
The U.S. Food and Drug Administration (FDA) adverse drug database between 2004 and 2008 reported 4,895 suicides and 2,452 additional deaths reported in association with psychiatric drugs.[16]
However, expert Peter C. Gøtzsche, MD, from the Nordic Cochrane Centre, Rigshospitalet, Copenhagen, Denmark, estimates that there have been 15 times more suicides among people taking antidepressants than reported by the FDA. He says psychotropic drugs could be causing half a million deaths per year in the U.S. and Europe.[17]
High Prescribing Psychiatrists Need Closer Monitoring
Long before he was dubbed "Dr. Death," years of state and federal data had raised red flags showing that Dr. Nagareddy was among the state Medicaid program's top prescribers of one of the most abused prescription drugs, according to the Atlanta Journal-Constitution.[18] In 2013, the Medicare Part D program received more claims from his patients for the highly addictive alprazolam and clonazepam, generic of Klonopin, which was more than those of any other Georgia psychiatrist.[19]
In 2014, his Medicare Part D prescription costs were $1.53 million.[20] He was again the top state prescriber of alprazolam and clonazepam and clonidine;[21] the second top prescriber of the antipsychotic olanzapine, generic of Zyprexa, and its 8th highest prescriber nationally; the third top prescriber of the antipsychotic risperidone, generic of Risperdal, and ninth highest prescriber of another antipsychotic quetiapine, generic of Seroquel.[22]
Another Nagareddy victim, not related to the charges against him, was a mother treated by him in 2013. Her husband, Mike Jones, said after his wife's death, postmortem results revealed that her liver had been damaged by the drugs prescribed her.[23]
Psychotropic drugs have serious adverse effects including: stroke,[24] pancreatitis[25], cardiac side effects, including arrhythmia and sudden death.[26] Life-threatening Type 2 diabetes is associated with atypical antipsychotics.[27] Symptoms of psychosis or mania, particularly hallucinations, are linked to ADHD drugs[28] and suicidality,[29] violent behavior[30], agitation, hostility are associated with antidepressants.[31] Neuroleptic malignant syndrome (NMS) is a severe iatrogenic and potentially fatal complication of antipsychotics.[32]
When factoring in that reckless endangerment, also known as criminal endangerment, consists of acts that create a substantial risk of serious physical injury to another person, acted in a way that shows a disregard for the foreseeable consequences of the actions,[33] far more prosecutions should be occurring where individual lives are put at risk or even ended because of dangerous psychiatric prescribing practices.
CCHR is calling on anyone whose family member or friend has been the victim of dangerous psychiatric drug prescription practices, including children, the elderly and veterans, to contact CCHR.
Psychiatrists: The Drug Dealers
Clayton County police chief Mike Register referred to Georgia psychiatrist, Narendra Nagareddy, 57, (detailed above) indicted for felony murder, as a "drug dealer."[34] U.S. Attorney Deirdre Daly described Ljudmil Kljusev, a Milford, Connecticut psychiatrist (below) as a doctor who "sold controlled substances out of his office for cash, like a common drug dealer."[35] But while they may be prosecuted for drug dealing, where their victims lethally overdose or their prescription habits lead to patient deaths, the charges should also reflect responsibility for such deaths.
In January 2017, psychiatrist Kenneth Stanko, 67, waived indictment by grand jury and pleaded guilty to one count each of possession of oxycodone with intent to distribute and health care fraud. Stanko admitted to improperly writing medically unnecessary oxycodone prescriptions for known drug abusers and fraudulently billing insurers for the prescriptions.[36]
In November 2016, Ljudmil Kljusev, a Milford, Connecticut-based psychiatrist was convicted through a plea agreement in federal court of selling prescription drugs to those who did not medically require them. Kljusev sold excessive prescriptions for the "ADHD" stimulant Adderall and addictive sedative-hypnotic, Xanax for cash. "This doctor sold controlled substances out of his office for cash, like a common drug dealer," said U.S. Attorney Deirdre Daly. "We are finding with increasing frequency that the types of pills he distributed are contributing to drug overdose deaths. They are incredibly dangerous if taken inappropriately and particularly toxic if combined with an opioid. We in law enforcement are committed to prosecuting medical professionals who recklessly and illegally put these and other prescription pills on the street." On March 22, 2017, Kljusev was sentenced by U.S. District Judge Alvin W. Thompson to 26 months of imprisonment and three years of supervised release. He was also ordered to pay a $17,500 fine and $31,081.50 to two victim health insurers. As part of the resolution of this case, the psychiatrist agreed to forfeit a property located in Milford, where his practice was based, $173,095.20 in cash that was seized from his office on the day of his arrest, and $117,431.13 that was contained in his business checking account.[37]
On August 17, 2016, psychiatrist Clarence Verdell, 67, of Voorhees, New Jersey, was indicted on charges of conspiracy to distribute controlled substances, distribution of controlled substances, and health care fraud. Dr. Verdell opened his own clinic in Philadelphia and set up illegal practices, selling over $1 million in prescriptions, including for Suboxone and Klonopin in exchange for cash payments.[38]
Also in August 2016, Craig Charles Krause, from Gainesville, Virginia, was arrested with 27 others as part of "Operation Breaking Bars," an investigation into the import and distribution of high volumes of illicit Xanax pills. Police were eventually led to the psychiatrist after one of their suspects sold the drug prescribed by Krause to other people.[39]
Dr. Keyhosrow Parsia, 79, a psychiatrist of Ridley Park, Pennsylvania was among three doctors indicted in May 2016 for selling prescriptions for Suboxone and Klonopin in exchange for cash.[40] Prosecutors alleged the three doctors at the now-defunct National Association for Substance Abuse-Prevention Treatment clinic in Philadelphia sold addicts $5 million worth of prescription drugs. The indictment says nearly 1,000 patients visited the clinic every month.[41]
In June 2016, Dr. Thomas Radecki, 70, a Clarion, Pennsylvania-based psychiatrist, convicted of multiple counts of distributing controlled substances and having inappropriate relationships with patients, was sentenced to 11-22 years in prison. He was also sentenced to pay out the $430,000 in liquid assets associated with his practice as fines for the charges against him. He was found guilty on nine counts including administering controlled substances by a practitioner, conspiracy, dealing in proceeds of unlawful activity, and corrupt organizations. Towards the end of 2011 and into 2012, the doctor's practice was ramping up the amount of buprenorphine (Subutex and Suboxone) being sold on the streets, becoming as commonplace as marijuana during the time Radecki's practice was open. Clarion County District Attorney Mark Aaron said the majority of criminal drug related activity for several years was a result of the drugs Radecki was prescribing. Attorney General Kathleen Kane identified Radecki as the largest purchaser and distributor of Subutex in the United States.[42]
References:
[1] Victoria Kim, "Georgia Doctor Accused of  Running Pill Mill After Being Linked To 36 Deaths," The Fix, 4 Feb., 2016, https://www.thefix.com/georgia-doctor-accused-running-pill-mill-after-being-linked-36-deaths; "Psychiatrist Arrested: 'Dr. Death' Charged After 36 Of His Patients Die, Police Say Narendra Nagareddy Over-Prescribed Prescription Medication," Inquisitr, 16 Jan. 2016, http://www.inquisitr.com/2713257/psychiatrist-arrested-dr-death-charged-after-36-of-his-patients-die-police-say-narendra-nagareddy-over-prescribed-prescription-medication-186098/
[2] Laurie Hanna, "Georgia doctor arrested after 36 patients die, at least 12 from overdose on prescribed meds," New York Daily News, 16 Jan. 2016, http://www.nydailynews.com/news/national/georgia-doctor-arrested-36-patients-die-article-1.2498832
[3] "Former Jonesboro psychiatrist pleads not guilty to murder charges," Henry Herald, 5 Aug. 2016, http://www.henryherald.com/news/former-jonesboro-psychiatrist-pleads-not-guilty-to-murder-charges/article_fc0e66d8-bba1-578a-b436-363a773b34f0.html
[4] http://www.wsbtv.com/news/local/clayton-county/dr-death-asks-to-modify-bond-conditions-to-attend-mothers-funeral/473632105; "Former Jonesboro psychiatrist pleads not guilty to murder charges," Henry Herald, 5 Aug. 2016, http://www.henryherald.com/news/former-jonesboro-psychiatrist-pleads-not-guilty-to-murder-charges/article_fc0e66d8-bba1-578a-b436-363a773b34f0.html
[5] Marisa Gerber, "Doctor convicted of murder for patients' drug overdoses gets 30 years to life in prison," Los Angeles Times, 2 Feb. 2016, http://www.latimes.com/local/lanow/la-me-ln-doctor-murder-overdose-drugs-sentencing-20160205-story.html
[6] Marisa Gerber, "Doctor convicted of murder for patients' drug overdoses gets 30 years to life in prison," Los Angeles Times, 2 Feb. 2016, http://www.latimes.com/local/lanow/la-me-ln-doctor-murder-overdose-drugs-sentencing-20160205-story.html
[7] "Doctor admits taking kickbacks for prescribing risky drug," Chicago Tribune, 13 Feb. 2015; http://www.chicagotribune.com/news/local/breaking/chi-reinstein-kickback-plea-20150213-story.html
[8] "Doctor given prison for taking kickbacks to prescribe risky drug," Chicago Tribune, 11 Mar. 2016, http://www.chicagotribune.com/news/local/breaking/ct-medicare-fraud-kickbacks-sentencing-met-20160311-story.html
[9] Bill Glauber and Daniel Bice, "Fired Tomah VA chief to surrender medical license," Milwaukee Journal Sentinel, 18 Jan. 2017
[10] "Former Tomah VA doctor known as "Candy Man" agrees to surrender medical license," Fox 6 News, 18 Jan. 2017, http://fox6now.com/2017/01/18/former-tomah-va-doctor-known-as-candy-man-agrees-to-surrender-medical-license/; http://www.militarytimes.com/story/veterans/2015/08/19/va-hospital-fault-marine-veterans-death/32001365/
[11] Aaron Glantz, The death of baby Ada Mae and the tragic effects of addicted veterans," Reveal, 14 Mar. 2015, https://www.revealnews.org/article/the-death-of-baby-ada-mae-and-the-tragic-effects-of-addicted-veterans/
[12] "French psychiatrist sentenced to prison after patient commits murder," Fox News, 19 Dec. 2012, http://www.foxnews.com/world/2012/12/19/french-psychiatrist-sentenced-to-prison-after-patient-commits-murder.html
[13] "Carol Jonas, MD, JD and Nidal Nabhan Abou, M., "Psychiatric liability: A French psychiatrist sentenced after a murder committed by her patient," Psychiatric Times, 10 Apr. 2013, http://www.psychcrime.org/news/index.php?vd=1961
[14] https://www.cchrint.org/psychiatric-drugs/drug_warnings_on_violence/
[15] Thomas J. Moore, Joseph Glenmullen, Curt D. Furbert, "Prescription Drugs Associated with Reports of Violence Towards Others," Public Library of Science ONE, Vol. 5, Iss. 12, December 2010.
[16] http://www.prweb.com/releases/cchr-psychiatric-drug/effects-search-engine/prweb2714464.htm
[17] "'Stop Almost All Psychiatric Meds to Prevent Harm,' Expert Says," Medscape, 1 June 2015, http://www.medscape.com/viewarticle/845699
[18] "How drug warnings slipped by in the 'Dr. Death' case," Atlanta Journal-Constitution,  29 Feb. 2016, http://www.myajc.com/news/crime–law/how-drug-warnings-slipped-the-death-case/NIotstzvi8zJyEQBfoUxmO/
[19] http://www.myajc.com/public-service/2013-medicare-part-d-top-benzodiazepine-claims-georgia/
[20] http://projects.propublica.org/checkup/providers/1598859498
[21] http://projects.propublica.org/checkup/drugs/3282/states/georgia; http://projects.propublica.org/checkup/drugs/391/states/georgia; http://projects.propublica.org/checkup/drugs/6872/states/georgia; http://projects.propublica.org/checkup/drugs/6872/; http://projects.propublica.org/checkup/drugs/4101/states/georgia; http://projects.propublica.org/checkup/drugs/4085/states/georgia; http://projects.propublica.org/checkup/drugs/4101/states/georgia
[22] http://projects.propublica.org/checkup/drugs/7224/states/georgia
[23] "Georgia Psychiatrist Guilty of Murdering 3 Clients," Politics Gone Mad, http://politicsgonemad.com/legal/georgia-psychiatrist-guilty-of-murdering-3-clients.html
[24] http://www.lawyersandsettlements.com/lawsuit/adderall.html#.UzJJqs7Xlqw
[25] "Pancreatitis Risk Seen in Schizophrenia Drugs," The New York Times, 2 Sept. 2003, http://www.nytimes.com/2003/09/02/health/pancreatitis-risk-seen-in-schizophrenia-drugs.html
[26] http://www.aafp.org/afp/2010/0301/p617.html;  "Psychotropic Drugs, Cardiac Arrhythmia, and Sudden Death," J Clin Psychopharmacol, 2003;23: 58–77; http://resources.childhealthcare.org/resources/Psychotropic_Meds__
Arrhythmia_and_Sudden_Death.pdf
[27] http://www.medsafe.govt.nz/profs/PUarticles/antipsychdiabetes.htm; http://www.jabfm.org/content/16/3/251.full.pdf
[28] https://www.fda.gov/ohrms/dockets/ac/06/briefing/2006-4210b_11_01_AdverseEvents.pdf
[29] https://www.fda.gov/downloads/Drugs/DrugSafety/InformationbyDrugClass/
UCM173233.pdf; https://www.fda.gov/ohrms/dockets/ac/06/briefing/2006-4210b_11_01_AdverseEvents.pdf
[30] https://www.fda.gov/ohrms/dockets/ac/06/briefing/2006-4210b_11_01_AdverseEvents.pdf
[31] "Worsening Depression and Suicidality in Patients Being Treated with Antidepressants Medications," US Food and Drug Administration Public Health Advisory, 22 Mar. 2004, https://www.fda.gov/Drugs/DrugSafety/PostmarketDrugSafetyInformationfor
PatientsandProviders/ucm161696.htm; Lorie Johnson, "Medication Madness: The Dark Side of Anti-Depressants," CBN News, Jul 2014, http://www1.cbn.com/cbnnews/healthscience/2014/May/Medication-Madness-The-Dark-Side-of-Anti-Depressants
[32]"Neuroleptic Malignant Syndrome in Children and Adolescents on Atypical Antipsychotic Medication: A Review," J Child Adolesc Psychopharmacol. 2009 Aug; 19(4): 415–422, https://www.ncbi.nlm.nih.gov/pmc/articles/PMC2861947/
[33] "Reckless Endangerment Law and Legal Definition," https://definitions.uslegal.com/r/reckless-endangerment/
[34] "Psychiatrist Arrested: 'Dr. Death' Charged After 36 Of His Patients Die, Police Say Narendra Nagareddy Over-Prescribed Prescription Medication," Inquisitr, 16 Jan. 2016, http://www.inquisitr.com/2713257/psychiatrist-arrested-dr-death-charged-after-36-of-his-patients-die-police-say-narendra-nagareddy-over-prescribed-prescription-medication-186098/
[35] "Milford psychiatrist pleads guilty to federal narcotics charges,"New Hampshire Register, 20 Nov. 2016, http://www.nhregister.com/general-news/20161130/milford-psychiatrist-pleads-guilty-to-federal-narcotics-charges
[36] Torsten Ove,  "Shadyside psychiatrist pleads guilty to drug distribution, fraud,"  Pittsburgh Post-Gazette, 20 Jan. 2017, http://www.post-gazette.com/business/healthcare-business/2017/01/20/Shadyside-psychiatrist-pleads-guilty-to-drug-distribution-fraud-pittsburgh/stories/201701200206
[37] "Milford psychiatrist pleads guilty to federal narcotics charges,"New Hampshire Register, 20 Nov. 2016, http://www.nhregister.com/general-news/20161130/milford-psychiatrist-pleads-guilty-to-federal-narcotics-charges; "Milford Psychiatrist Sentenced to 26 Months for Illegal Drug Distribution, Health Care Fraud Offenses," U.S. Justice Dept. release, 22 Mar. 2017, https://www.justice.gov/usao-ct/pr/milford-psychiatrist-sentenced-26-months-illegal-drug-distribution-health-care-fraud
[38] "Fourth Suboxone Doctor and Office Manager Indicted For Illegally Selling Prescriptions Of Suboxone And Klonopin," U.S. Attorney's Office, Eastern District of Pennsylvannia, 17 Aug. 2016, https://www.justice.gov/usao-edpa/pr/fourth-suboxone-doctor-and-office-manager-indicted-illegally-selling-prescriptions
[39] "Virginia Psychiatrist, Others Arrested in Xanax Pill Distribution Investigation ," NBC4 Washington, 15 Aug. 2016,  http://www.nbcwashington.com/news/local/27-Arrested-in-Prince-William-County-Narcotics-Investigation-390205791.html#ixzz4b8AprJMx
[40]" Three Doctors Indicted For Illegally Selling Prescriptions Of Suboxone And Klonopin," U.S. Attorney's Office, Eastern District of Pennsylvannia, 11 May 2016, https://www.justice.gov/usao-edpa/pr/three-doctors-indicted-illegally-selling-prescriptions-suboxone-and-klonopin
[41] "3 doctors accused of selling $5M in prescription drugs," Fox News Health, 12 May 2016,  http://www.foxnews.com/health/2016/05/12/3-doctors-accused-selling-5m-in-prescription-drugs.html
[42] "Clarion doctor sentenced to over one decade in prison for cash & sex for scripts scheme," Courier Express, 2 June 2016, http://www.thecourierexpress.com/news/crime/clarion-doctor-sentenced-to-over-one-decade-in-prison-for/article_fa321d3e-7ebf-5ada-81d6-2f51ae226f4d.html