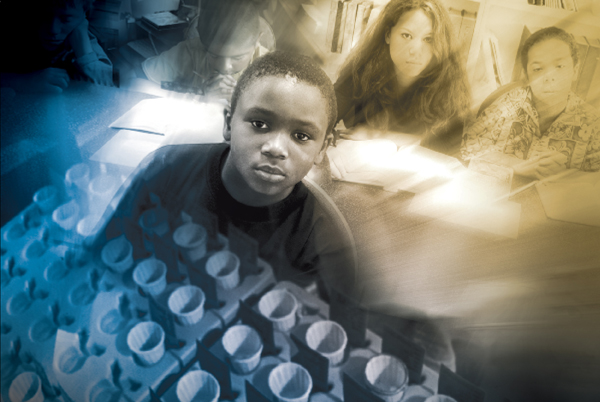 "Citizens Commission on Human Rights International is opposing the world-first study that could lead to millions of Australian and American teens being doped with prescribed marijuana."
By CCHR International
The Mental Health Industry Watchdog
March 15, 2017
Australian psychiatrist Patrick McGorry, renowned for his debunked and dangerous theory that pre-drugging adolescents with antipsychotics can prevent psychosis, now plans to prescribe medical cannabis to treat "anxious" 12 year olds. His Australian study will give the drug to 12 to 25 year olds to treat anxiety and other "mental health issues." Mental health watchdog, Citizens Commission on Human Rights International, is opposing the world-first study being given final approval by the Australian federal ethics committee later this month.[1] Prof. McGorry's study could lead to millions of Australian and also American teens being doped up with prescribed marijuana, although it is argued that it is without psychoactive properties.[2] McGorry has strong ties to leading American psychiatrists and the U.S. National Institute of Mental Health (NIMH).
McGorry's study will use children and adolescents that attend his youth mental health network in Australia called headspace,[3] fuelling concerns that the program is a gigantic experimental lab being funded $37.5 million (AUS$50 million) in taxpayer dollars each year. In fact, a research application by McGorry for "early intervention" treatments obtained by Citizens Commission on Human Rights through the Freedom of Information Act in Australia refers to headspace centers as "clinical laboratories" to find subjects and says, "Our ability to conduct these trials has been enhanced by the advent of headspace."[4]
Now, the youth program is to be used for medical cannabis and antidepressant experiments, including one funded by the NIMH.[5] The prospect of using youths for drug trials sparks additional concerns given that a 2016 study of headspace determined it was only providing a "small" benefit to clients, while the well-being of about one in 10 of its youth patients was going significantly backwards.[6]
The cannabis study is funded by The Lambert Initiative for Cannabinoid Therapeutics, part of the University of Sydney's Brain and Mind Centre headed by McGorry cohort, pharmaceutical-company funded psychiatrist Ian Hickie.[7] Cannabidiol, or CBD, does not contain the main psychoactive ingredient, THC that is found in marijuana and produces the "high."
McGorry plans studying the use of CBD to also treat psychosis, to which he gives a disclaimer: "We're definitely not saying smoke dope to treat psychosis," he said.[8]
Put aside the argument on whether or not the THC mind-altering aspect of CBD is removed in his experiments, illicit cannabis with THC can induce psychosis in youths. For example, a Swedish study found that heavy cannabis use at age 18 increased the risk of later "schizophrenia" symptoms six-fold.[9] And an Australian study published in BJPsych in March 2010 concluded: "Those using cannabis at least weekly either during adolescence or at age 20 were at highest risk of drug use problems in young adulthood."[10]
CBD-rich marijuana extracts can increase the risk of serious psychiatric disorders and long-term cognitive problems.[11] Adding to that, the CBD is to be administered to 12 year olds whose brains are still maturing.
In January 2016, Medical News Today reported that in teens, marijuana affects brain systems that are still maturing, potentially leading to a negative and long-lasting effect on cognitive development.[12]
The full effects of CBD on children is unknown, especially when dealing prescribing for mental "disorders" which are not physically based and are based on subjective opinion only. In fact, even in treatment of epilepsy, it has not been clinically evaluated, according to one report.[13]
McGorry was earlier criticized by his peers for the invented "Psychosis Risk Syndrome" (PRS, also known as attenuated psychotic syndrome or ultra high-risk syndrome[14])—a subjective checklist of symptoms that claimed to be predictors of early onset psychosis.  These include "suspiciousness," "odd beliefs or magical thinking" and "going off track while speaking."[15]
Based on such arbitrary symptoms, youths could be drugged with antipsychotics for a mental disorder they didn't have in order to "prevent" it.[16] The arguments against PRS were overwhelming. Allen Frances, the former Chairman of the Task Force for the Diagnostic and Statistical Manual of Mental Disorders (DSM-IV) wrote that the proposal to include PRS or APS in the DSM-5 was a "risky, scientifically unsupported idea," an "ill–conceived and potentially harmful" suggestion that "could turn into a public health nightmare."[17]
Frances said the false positive rate in predicting psychosis was between 70-90%, meaning that between two and nine youths out of 10 would be misidentified. Further, the antipsychotics McGorry recommended to treat it had "no proven efficacy in preventing psychosis, but most definitely have terrible side effects, especially enormous weight gain and its life-threatening complications."[18]
Despite this, McGorry currently has a collaborative project with NIMH which has allocated $902,000 (AUS$1.19 million) in 2015 and another $1.6 million (AUS $2.1 million) in 2016 to develop "the evidence" for "adaptive treatment strategies" for patients at high risk for psychosis.
Some of the youths will be given either antipsychotics or Omega 3 fatty acids if they don't respond well to fluoxetine, the generic of Prozac. This is despite the fact that antidepressants are documented to cause suicidal thoughts and suicide in those younger than 24.[19] McGorry's study proposes fluoxetine be used as an "intervention" treatment for psychotic or personality disorders in children as young as 12.
NIMH's Project Officer for the McGorry grant is Matthew Rudorfer,[xx] a psychiatrist who wants the electroshock (ECT) device in the U.S. to be reduced in risk classification to broaden its use, arguing that clinical tests would be too expensive for the device manufacturers to prove ECT's safety and efficacy.[21] He's also excused the serious dangers of SSRI antidepressants' as an "over-interpretation."[22]
McGorry reports receiving unrestricted research funding from AstraZeneca, Eli Lilly, Janssen-Cilag, Pfizer, and Novartis; and honoraria for educational activities with AstraZeneca, Eli Lilly, Janssen-Cilag, Pfizer, Bristol-Myers Squibb, Roche, and the Lundbeck Institute.[23]
Professor Hickie has served on the professional advisory boards convened by drug industry in relation to specific antidepressants made by Bristol-Myers Squibb (BMS) and Eli Lilly and has led projects funded in part by BMS, Pfizer, Eli Lilly, Wyeth and Servier.[24]
In Australia, Novartis Pharmaceuticals Australia Pty Limited makes the medical cannabis drug, Sativex® (nabiximols).[25] British-based GW Pharmaceuticals is developing Sativex in the U.S. in collaboration with Otsuka Pharmaceutical Co. Ltd.[26] Sativex is an oral cannabis extract spray, where the active ingredients are absorbed in the lining of the mouth, either under the tongue or inside the cheek.  It is not recommended for use in children or adolescents below 18 years of age due to lack of safety and efficacy data.[27]
The most common side effects with Sativex are dizziness and tiredness. Some people may also feel depressed or confused, over-excited or lose touch with reality, may have difficulties with memory or trouble concentrating and may feel sleepy or giddy.[28]
It has been approved in some countries outside the U.S. for treatment of certain physical illnesses and pain[29] and has been studied for cannabis dependence.[30] Psychiatrists jumped on the band wagon wanting to develop cannabis compounds to treat schizophrenia, psychosis and now anxiety.
CCHR opposes the ethics committee approval of this study, adding that this, along with McGorry's still evident belief that adolescents can be drugged with antipsychotics to prevent psychosis, is dangerous to Australian children. Given his links to the U.S., this could potentially extend to American children being put at risk in the future.
References:
[1] http://ireadculture.com/australian-based-study-treat-mental-disorders-cannabis/
[2] About 30% of girls and 20% of boys–totaling 6.3 million teens–have had an anxiety disorder, according to data from the National Institute of Mental Health, "Teen Depression and Anxiety: Why the Kids Are Not Alright," Time Magazine, 27 Oct. 2016, http://time.com/magazine/us/4547305/november-7th-2016-vol-188-no-19-u-s/
[3] http://www.dailytelegraph.com.au/lifestyle/health/young-children-with-mental-health-issues-could-be-treated-with-medicinal-cannabis/news-story/549498782aee6182b4a1aede87608b6b
[4] "Report to the United Nations Committee on the Rights of the Child Regarding the Convention on the Rights of the Child – Australia," CCHR Australia, 2012, p. 40.
[5] http://grantome.com/grant/NIH/U01-MH105258-01
[6] "Headspace only provides 'small' benefit for youth mental health, report shows," ABC News, 15 Dec. 2016, http://www.abc.net.au/news/2016-12-16/headspace-only-small-benefit-for-youth-mental-health/8125698
[7] http://sydney.edu.au/science/lambert/objectives/; "Message from the Co-Directors," Brain and Mind Center, Dec. 2015 Newsletter, https://wordvine.sydney.edu.au/files/1663/10719/
[8] "Marijuana compound could be used to treat psychosis in young people," The Sydney Morning Herald, 27 Aug. 2014, http://www.smh.com.au/national/health/marijuana-compound-could-be-used-to-treat-psychosis-in-young-people-20140826-108p12.html
[9] "Cannabis use in adolescence and risk for adult psychosis: longitudinal prospective study," BMJ, 2002; 325 doi: https://doi.org/10.1136/bmj.325.7374.1212 (Published 23 November 2002) Cite this as: BMJ 2002;325:1212, http://www.bmj.com/content/325/7374/1212
[10] Louisa Degenhardt, Carolyn Coffey, John B. Carlin, Wendy Swift, Elya Moore, George C. Patton; "Outcomes of occasional cannabis use in adolescence: 10-year follow-up study in Victoria, Australia," The British Journal of Psychiatry, Mar 2010, 196 (4) 290-295; DOI: 10.1192/bjp.bp.108.056952, http://bjp.rcpsych.org/content/196/4/290
[11] "CURE Promotes Research on CBD-Rich Marijuana," http://www.cureepilepsy.org/research/cbd-and-epilepsy.asp
[12] Yvette Brazier, "Teens who use cannabis at risk of schizophrenia," Medical News Today, 17 Jan. 2016, http://www.medicalnewstoday.com/articles/305151.php
[13] http://www.cureepilepsy.org/research/cbd-and-epilepsy.asp
[14] http://www.theaustralian.com.au/news/inquirer/schism-opens-over-ills-of-the-mind/news-story/7d9b4717404ff875fd2b9747e17817d8
[15] http://www.cedarclinic.org/index.php/understanding-early-psychosis/early-signs-of-psychosis
[16] "The Brave New World of Pre-Drugging Kids: Patrick McGorry & Psychosis Risk Syndrome," New Dawn, 8 July 2010, http://www.newdawnmagazine.com/articles/the-brave-new-world-of-pre-drugging-kids-patrick-mcgorry-psychosis-risk-syndrome; Daniel Williams, "Drugs Before Diagnosis?" TIME Magazine, 18 Jun 2006, http://content.time.com/time/magazine/article/0,9171,1205408,00.html.
[17] http://dxsummit.org/archives/1728
[18] "DSM5 in Distress," Psychology Today, 30 June 2010, http://www.psychologytoday.com/blog/dsm5-in-distress/201007/psychosis-risk-syndrome-just-risky-new-name
[19] NIH Project numbers 1U01MH105258-01 and 5U01MH105258-02, "BUILDING THE EVIDENCE BASE FOR ADAPTIVE TREATMENT SEQUENCES IN CLINICAL HIGH RISK," Project Leader Patrick McGorry, https://projectreporter.nih.gov/project_info_description.cfm?aid=9115249&icde=33424351; https://clinicaltrials.gov/ct2/show/NCT02751632?term=McGorry&rank=1 (referred to as "The Staged Treatment in Early Psychosis Study (STEP)" recommending fluoxetine, subjects 12 Years to 25 Years, Clinicaltrials.gov # is NCT02751632; NIMH # is 1U01MH105258-01.
[20] http://grantome.com/grant/NIH/U01-MH105258-01
[21] "F.D.A. is Studying the Risk of Electroshock Devices," The New York Times, 23 Jan. 2011, http://www.nytimes.com/2011/01/24/business/24shock.html; http://www.karger.com/article/pdf/328943.
[22] Erica Goode, "Once Again, Prozac Takes Center Stage, in Furor," The New York Times, 18 July 2000, https://partners.nytimes.com/library/national/science/health/071800hth-behavior-prozac.html
[23] http://www.healio.com/psychiatry/schizophrenia/news/online/%7B708040e2-af20-4e63-a222-3db53eef973f%7D/omega-3-fatty-acids-ineffective-for-psychosis-in-ultra-high-risk-adults
[24] Ian Hickie, "Is depression over diagnosed? No," British Medical Journal, 18 Aug. 2007, https://www.ncbi.nlm.nih.gov/pmc/articles/PMC1949449/.
[25] http://theconversation.com/full-response-from-tga-50017; https://www.tga.gov.au/auspar/auspar-nabiximols
[26] http://nationalpainreport.com/marijuana-spray-gets-fast-track-review-from-fda-8823763.html
[27] https://www.medicines.org.uk/emc/medicine/23262
[28] http://sativex.co.uk/patients-and-carers/sativex/possible-side-effects/
[29] https://www.gwpharm.com/products-pipeline; http://nationalpainreport.com/marijuana-spray-gets-fast-track-review-from-fda-8823763.html
[30] Richard C. KevinDavid J. AllsopNicholas LintzerisAdrian J. DunlopJessica BoothIain S. McGregor, "Urinary cannabinoid levels during nabiximols (Sativex®)-medicated inpatient cannabis withdrawal," Forensic Psychiatry, Jan 2017, https://link.springer.com/article/10.1007%2Fs11419-016-0330-0