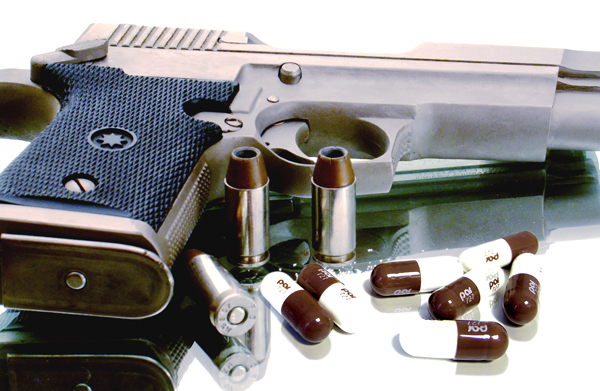 "Law enforcement must finally acknowledge the very real threat of violence that is unquestionably associated with psychiatric treatment and drugging, making mental health/psychiatric drug treatment information a mandatory element of all criminal investigations."
By Kelly Patricia O'Meara
Published by CCHR International
The Mental Health Industry Watchdog
September 30, 2016
According to the Federal Bureau of Investigation's (FBI) recently released report, Crime in the United States, the number of murders committed nationally increased by 11%, the largest percentage in decades, yet overall crimes showed little change.  While an increase in homicides is usually associated with an overall increase in minor crimes, this was not the case in the most recent FBI report, which is baffling experts.[1] The fact that many of the mass murderers recently featured in the media have reportedly had a history of mental health treatment and/or been under the influence of psychiatric drugs documented to cause mania, psychosis and even homicidal reactions, there has been no federal investigation into the link between psychiatric drugs and rising murder rates. The mental health industry watchdog, Citizens Commission on Human Rights is calling on law enforcement to formally investigate the role of psychiatric drugs in homicides.
Such as twenty year-old Arcan Cetin, who walked into a Mall in Cascade Washington and mercilessly shot and killed five people. Cetin, whom police described as "zombie-like" when he was arrested, and like so many shooters, has a long history of mental health treatment and, according to records obtained by NBC,  had been diagnosed with anxiety, autism, depression and ADHD and had been treated with drugs "like Prozac" in the months leading up to the shooting.[2] Prozac alone carries 8 drug regulatory agency warnings and studies citing side effects of violence, aggression, mania, or hostility.
In May 2016, FBI Director, James Comey, commented on the spike in homicides saying "I don't know what the answer is, but holy cow, do we have a problem…a whole lot of more people are dying this year than last year, and last year than the year before, and I don't know why for sure."[3]
Perhaps it is time that federal law enforcement take psychiatric drug regulatory warnings into account; 27 international drug regulatory warnings on psychiatric drugs, cite effects of mania, hostility, violence and even homicidal ideation. The list of homicides perpetrated by those receiving mental health treatment and/or under, or suspected to be under, the influence of psychiatric drugs keeps growing.
For example, in 2015 and 2016, including the recent Cascade shooting,  there have been eleven attacks of note where psychiatric drugs and/or mental health treatment have been reported, including, Munich, Germany – 10 killed (including the shooter) and 27 wounded; Baton Rouge, Louisiana – 4 killed (including shooter) and three wounded; Nice, France – 84 killed (including perpetrator) and 202 wounded; San Diego, California – 3 killed, 2 wounded; Washington, D.C. , U.S. Capitol complex – perpetrator shot; Coeur D'Alene, Idaho – one wounded; Roseburg, Oregon – 10 killed (including shooter) and 7 wounded; London, England – one attempted beheading; LeRoy, New York – one dead; Chiang Mai, Thailand – 5 dead, one wounded; and Southern France – Andreas Lubitz deliberately crashes aircraft in remote mountain area killing all 150 on board. (See full details at the end of the article.)
Along with the known adverse effects associated with psychiatric drugs is the 2015 study published in the respected medical journal, PLOS Medicine, which found that young adults between the ages of 15 and 24 were nearly 50 percent more likely to be convicted of a homicide, assault, robbery, arson, kidnapping, sexual offense and other violent crime when taking antidepressants than when they weren't taking the psychiatric drug.[4]
With one-in-four Americans taking at least one psychiatric drug, and 183 million worldwide, it seems irresponsible to continue to ignore the possible connection between psychiatric drugs and/or mental health treatment and increased violence.
In the case of Arcan Cetin, one has to wonder what other psychiatric drugs had been prescribed beyond antidepressants "like Prozac," which is documented to cause violent and suicidal behavior. Further helpful information to consider would include: when was Cetin first diagnosed with an alleged mental disorder, what psychiatric drugs were prescribed as treatment and had Cetin reported to his family or mental health practitioners any of the known adverse side effects, like hallucinations, mania, psychosis and suicidality, associated with psychiatric drugs.
The common denominator among the above listed acts of violence is their mental health and/or psychiatric drug treatment. Law enforcement must finally acknowledge the very real threat of violence that is unquestionably associated with psychiatric treatment and drugging, making mental health/psychiatric drug treatment information a mandatory element of all criminal investigations.
MAJOR VIOLENT ACTS IN THE LAST YEAR DONE BY THOSE WHO HAD A HISTORY OF MENTAL ILLNESS/MENTAL TREATMENT AND/OR WERE REPORTEDLY PRESCRIBED OR TAKING PSYCH DRUGS
Munich, Germany – July 22, 2016: 18-year-old Ali David Sonboly shot and killed 9 people, injured 27 others, then killed himself. According to CNN, he had a history of psychiatric care at a hospital for two months in 2015 and was suffering from depression and anxiety.[5] The Guardian reported that after leaving the hospital, Sonboly "continued to receive outpatient treatment for social anxiety disorder and depression for which he was receiving medication." [6]
Baton Rouge, Louisiana – July 17, 2016: Former Marine Gavin Long, age 29, went on a shooting rampage, killing three law officers and wounding three others before being shot dead by a SWAT team officer.[7] He told friends he had post-traumatic stress disorder. CNN reported that Long had filled a prescription for Ativan, an anti-anxiety drug, as recently as June, and also had prescriptions for Valium (also an anti-anxiety drug) and the sedative Lunesta.[8]
Nice, France – July 14, 2016: Mohamed Lahouaiej-Bouhlel, 31, ran a large truck through crowds of people killing 84 people, including children. Mohamed Lahouaiej Bouhlel had a long history of violence and mental illness, his family back in his homeland of Tunisia said. "My brother had psychological problems, and we have given the police documents showing that he had been seeing psychologists for several years," Rabeb Bouhlel, his sister, told Reuters.[9] His father, Mathir Bouhlel, told reporters that he brought his son to a mental hospital in Tuisia in 2004 because he suffered fits during which he would "break everything." He was released with a list of prescriptions to take. One of the drugs was Haldol.[10] Daily Mail also reported that Bouhlel was on a cocktail of drugs for schizophrenia, alcoholism and depression. The 31-year-old had been on medication since the age of 12 – a year before he left his hometown in Tunisia to move to Nice. Aged 19, he was on Haldol, used to control schizophrenia, Tranxene for alcoholism and anxiety, and Elavil for depression. He also allegedly used cannabis and "illegal pills."[11]
San Diego, California – July 3, 2016: Jon David Guerrero, 39, over 3 days (July 3, 4, and 6) attacked five homeless men, killing three of them. The homeless men were beaten or stabbed in their sleep, and two of them set on fire.[12] Guerrero had a history of mental illness. According to Reuters, a check of the Superior Court case index showed five mental health matters filed under his name since 2008, all of them sealed. Dameon Ditto, a friend of Guerrero who taught him art at Alpha Square (a "supportive-housing" project in downtown San Diego for former homeless men and women and other individuals with special needs), told Reuters he had not seen Guerrero since June 12, 2016. "He had expressed to me that he was taking psychiatric medications he didn't like," Ditto recalled of their last encounter.[13]
Washington, DC – March 28, 2016: Larry Russel Dawson, 66, entered the visitor's center at the U.S. Capitol Complex, set off the metal detector and started shooting with a realistic looking pistol-type pellet gun. The suspect was shot (but not killed) by police. No one was injured except a female bystander who suffered minor injuries and was treated at the scene. The Tennessean reported that Dawson was committed in 2005 to psych facility Middle Tennessee Mental Health Institute (Nashville, TN) after writing harassing letters to a teenage girl, whom he claimed God had chosen to be his wife.[14]
Coeur D'Alene, Idaho – March 6, 2016: Kyle Andrew Odom, 30, shot Pastor Tim Remington multiple times in the Altar Church parking lot after Sunday services. Remington survived the attack. Odom was arrested two days later in Washington D.C. The Guardian and The Washington Times reported Odom, a former Marine, had no criminal record but a history of mental illness.[15]
Roseburg, Oregon – October 1, 2015: Chris Harper-Mercer, 26, opened fire at Umpqua Community College, killing nine people and wounding seven others, before killing himself. CNN reported: "Two officials said that after the shooting, the gunman's family told investigators that he suffered from mental health issues and had sought treatment."[16] According to The New York Times: "Alexis Jefferson, who worked with Ms. Harper [Harper-Mercer's mother] at a Southern California sub-acute care center around 2010, said the gunman's mother sometimes confided the difficulties she had in raising her son, including that she had placed Mr. Harper-Mercer in a psychiatric hospital when he did not take his medication. "She said that 'my son is a real big problem of mine,'" Ms. Jefferson said in a telephone interview. "She said: 'He has some psychological problems. Sometimes he takes his medication, sometimes he doesn't. And that's where the big problem is, when he doesn't take his medication.'" Ms. Jefferson said Ms. Harper had described bringing her son to the Del Amo Behavioral Health System in Torrance, Calif., near where they had lived before moving to Oregon. "He calls and says, 'Take me out, take me out,'" Ms. Jefferson said, recalling her conversations with Ms. Harper. "She didn't take him out until the doctor said he was ready to get out."[17]
London, UK – December 5, 2015: Muhiddin Mire, 30, armed with a knife he attacked people at random at Leytonstone subway station. Mire eventually grabbed musician Lyle Zimmerman, 57, and attempted to murder him in the ticket hall by cutting his throat. Mire held the knife to a number of people's throats when the police arrived and tasered him. BBC reported that during Mire's court case, the court had heard the 30-year-old had a history of mental illness and suffered his first episode of psychosis in 2006.[18] The Independent reported that Mire had been diagnosed with paranoid schizophrenia. Also he had been referred to mental health services by his GP a month before the attack but was not taking medication.[19]
Le Roy, New York – December 1, 2015: Kyle Johnson, 53, entered the home of his neighbor, Don Ball, shot him to death, then set his house on fire and taunted firefighters with a gun, firing shots at them. Genesee County Sheriff Gary Maha said Johnson has a history of mental illness, but would not elaborate.[20]
Chiang Mai, Thailand – September 27, 2015: Azapa Sriwua, 24, entered a neighbor's house with a kitchen knife and hacked five young children (from five months to eight years old) to death and stabbed a pregnant woman (who survived). According to Yahoo News, Police Lieutenant Colonel Sombut Kalasuk said the attacker "had previously been treated in hospital for an undisclosed mental health problem. He has since been arrested and taken to hospital. A doctor at Suanprung Hospital in Chiang Mai confirmed that the man had recently been released after receiving treatment. 'He had been treated here for two weeks before he went home because he felt better,' said Paritat Silpakit, the hospital director."[21] Another media source reported, "Police said the 24-year-old man, who had a history of mental illness and received regular treatment for depression…".[22]
Southern France – March 24, 2015: According to medical records, Andreas Lubitz, the pilot who deliberately crashed a Germanwings plane in a remote, mountainous area of Southern France killing all 150 people on board, was on drugs for depression, anxiety and panic attacks, including lorazepam and an antidepressant.[23] He also spent a year and a half in "psychiatric treatment" six years prior to the crash.[24]
Kelly Patricia O'Meara is an award-winning former investigative reporter for the Washington Times' Insight Magazine, penning dozens of articles exposing the fraud of psychiatric diagnosis and the dangers of the psychiatric drugs—including her ground-breaking 1999 cover story, "Guns & Doses," exposing the link between psychiatric drugs and acts of senseless violence. She is also the author of the highly acclaimed book, Psyched Out: How Psychiatry Sells Mental Illness and Pushes Pills that Kill. Prior to working as an investigative journalist, O'Meara spent sixteen years on Capitol Hill as a congressional staffer to four Members of Congress. She holds a B.S. in Political Science from the University of Maryland.
References:
[1] Max Ehrenfreund, "Violent crime is rising. But that's not the most provocative finding in the FBI's big new report," Washington Post, 26 Sep 2016, https://www.washingtonpost.com/news/wonk/wp/2016/09/26/violent-crime-is-rising-but-thats-not-the-most-provocative-finding-in-the-fbis-big-new-report/; "FBI Releases 2015 Crime Statistics," FBI National Press Office, 26 Sep 2016, https://www.fbi.gov/news/pressrel/press-releases/fbi-releases-2015-crime-statistics.
[2] Andrew Blankstein and Corky Siemaszko, "Arcan Cetin, Accused Cascade Mall Shooter, Faces Five Counts of Murder," NBC News, 27 Sep 2016, http://www.nbcnews.com/news/us-news/arcan-cetin-accused-cascade-mall-shooter-charged-five-counts-murder-n654586; "Hospital tried to commit suspected Cascade Mall shooter," KING5, 27 Sep 2016, http://www.king5.com/news/crime/cascade-mall-shooting-suspect-says-he-did-it-say-court-records/326243270.
[3] Eric Lichtblau, "F.B.I. Director Says 'Viral Video Effect' Blunts Police Work," The New York Times, 11 May 2016, http://www.nytimes.com/2016/05/12/us/comey-ferguson-effect-police-videos-fbi.html.
[4] Karen Kaplan, "Rx for violence? Crime risk rises for young people on antidepressants, study says," Los Angeles Times, 15 Sep 2015, http://www.latimes.com/science/sciencenow/la-sci-sn-antidepressant-ssri-violent-crime-risk-20150915-story.html; Yasmina Molero, et al., "Selective Serotonin Reuptake Inhibitors and Violent Crime: A Cohort Study," PLoS Med, 15 Sep 2015, http://journals.plos.org/plosmedicine/article/asset?id=10.1371/journal.pmed.1001875.PDF.
[5] Tim Hume, "Munich gunman planned attack for a year, official say," CNN July 24, 2016, http://www.cnn.com/2016/07/24/europe/germanymunichshooting/.
[6] Kate Lyons, Janek Schmidt and agencies, "Afghan, 16, arrested in connection with Munich Shootings," The Guardian, July  24, 2016, https://www.theguardian.com/world/2016/jul/24/munichgunman
alisonbolyplannedattackformorethanayearsayinvestigators
[7] Steve, Visser, "Baton Rouge shooting: 3 officers dead; shooter was Missouri man, sources say," CNN, July 18, 2016, http://www.cnn.com/2016/07/17/us/baton-route-police-shooting/
[8] Joshua Berlinger and Jason Hanna, "Gavin Long said he suffered from PTSD, source tells CNN," CNN, July 20, 2016, http://www.cnn.com/2016/07/20/health/gavin-long-ptsd-baton-rouge/
[9] "'He would break everything around him': Family detail Nice attacker's mental health issues," RT, July 16, 2016, https://www.rt.com/news/351637niceattackerfamilypsychiatric/
[10] Tom O'Connor and Linda Massarella, "Unlikely Bastille Day jihadist 'was not a Muslim, he was a s- -t'," New York Post, July 16, 2016, http://nypost.com/2016/07/16/unlikely-bastille-day-jihadist-was-not-a-muslim-he-was-a-s-%E2%80%8A-t/
[11] Fiddelma Cook, Abe Hawken, "'Bring more weapons… It's good. I have the equipment': Terrifying final text messages of Bastille Day killer sent minutes before he murdered 84 people," Daily Mail, July 18, 2016, http://www.dailymail.co.uk/news/article-3694282/Brought-weapons-s-good-equipment-Terrifying-final-text-messages-Bastille-Day-killer-sent-minutes-murdered-84-people.html
[12] "The Moment cops arrested wealthy San Diego 'serial killer who murdered three homeless people and burned two of his victims alive,'" Daily Mail, July 20, 2016, http://www.dailymail.co.uk/news/article-3692245/Person-detained-probe-San-Diego-homeless-attacks.html
[13] Marty Graham, "Man charged with deadly attacks on homeless in San Diego," Reuters, July 19, 2016, http://www.reuters.com/article/uscaliforniacrimeserialkilleridUSKCN10002D
[14] Natalie Neysa Alund and Holly Meyer, "US Capitol shooting suspect was committed in 2005," The Tennessean, March 29, 2016, http://www.tennessean.com/story/news/crime/2016/03/29/suspected-us-capitol-gunman-larry-dawson-committed-mental-institution-2005/82380310/; Pete Williams, Tracy Connor and Corky Siemaszko, "Suspected Gunman Charged After Chaos at U.S. Capitol," NBC News, March 29, 2016, http://www.nbcnews.com/news/us-news/u-s-capitol-building-lockdown-n546776
[15] Pastor Tim Remington shooting: Kyle Odom arrested in Washington," The Guardian, March 8, 2016, https://www.theguardian.com/usnews/2016/mar/09/kyleodomarrested
inwashingtonforpastortimremingtonshooting; Victor Morton, "Suspect in shooting of Ted Cruz rally pastor arrested at White House," The Washington Times, March 8, 2016, http://www.washingtontimes.com/news/2016/mar/8/kyleodom
suspectshootingtedcruzrallypastora/
[16] Sara Sidner, Kyung Lah, Faith Karimi and Ryan Young, "Oregon shooting: Medical examiner rules gunman killed self, sheriff says," CNN, October 4, 2015, http://www.cnn.com/2015/10/03/us/oregon-umpqua-community-college-shooting/
[17] Jack Healy, Mike Mcintire and Julie Turkewitz, "Oregon Killer's Mother Wrote of Troubled Son and Gun Rights," The New York Times, October 5, 2015, http://www.nytimes.com/2015/10/06/us/motheroforegongunmanwroteofkeepingfirearms.html?_r=0
[18] "Leytonstone Tube attacker Muhiddin Mire jailed for life," BBC News, August 1, 2016, http://www.bbc.com/news/ukengland36942245
[19] Lizzie Dearden, "Leytonstone Tube stabbing: Isis-inspired attacker Muhiddin Mire 'thought Tony Blair was his guardian angel'," Independent, July 27, 2016, http://www.independent.co.uk/news/uk/crime/leytonstone-tube-stabbing-attack-isis-news-latest-sentencing-muhiddin-mire-attempted-murder-tony-a7158841.html
[20] Jon Hand, "Police: Le Roy gunman shot neighbor in head, set fire," Democrat & Chronicle, December 1, 2015, http://www.democratandchronicle.com/story/news/2015/12/01/police-investigation-ongoing-leroy/76598220/
[21] "Man in Thailand hacks five children to death," Yahoo News, September 28, 2015, https://www.yahoo.com/news/man-thailand-hacks-five-children-death-100550421.html?ref=gs
[22] "Man hacks five kids to death," Emirates 24/7, September 26, 2015, http://www.emirates247.com/crime/world/manhacksfivekidstodeath201509281.604853
[23] Elizabeth Whitman, "What Drugs Was Andreas Lubitz On? Lorazepam, Antidepressants Could Have Affected Germanwings Pilot," International Business Times, April 2, 2015, http://www.ibtimes.com/what-drugs-was-andreas-lubitz-lorazepam-antidepressants-could-have-affected-1867744
[24] "Germanwings co-pilot had serious depressive episode – Bild newspaper," Reuters, March 27, 1015, http://www.reuters.com/article/france-crash-co-pilot-idUSL6N0WT0DL20150327