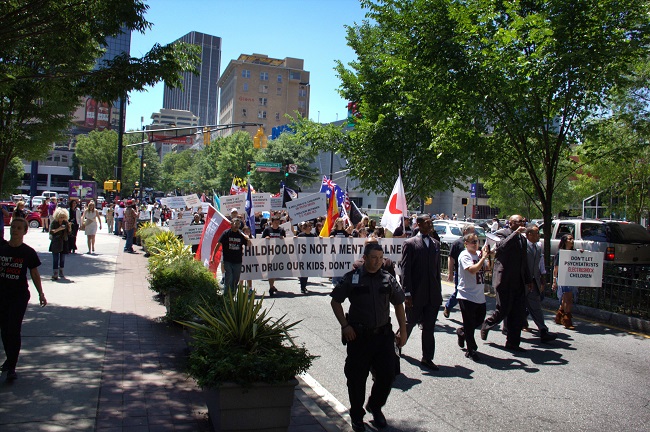 "There are no indications for the use of ECT on minors, and hence this should be prohibited through legislation." — Donzella James, Georgia State Senator
State Senator Calls for Law to Ban ECT on Children in Georgia
CCHR Atlanta, May 14, 2016
Hundreds of marchers for children's rights were out in force today against an American Psychiatric Association (APA) meeting being held in Atlanta. Protesters from the NAACP, Nation of Islam, and Concerned Black Clergy joined Citizens Commission on Human on Rights and survivors of psychiatric abuse to oppose the APA's recent proposal to the FDA to reclassify electroshock (ECT) devices—that deliver up to 460 volts of electricity through the brain—into the same risk category as powered wheelchairs and hearing aids and to include their use on children.
Shock survivor Evelyn Scogin spoke about devastating memory loss and the end of her teaching career after receiving roughly 35 ECT treatments over a 6 month period. I experienced much more than "slight memory loss," Scogin said. "I didn't recognize my best friends." Not having a strong support network, and trusting her doctors, Scogin said she "lacked the insight to stop the treatments."
While many Americans are unaware that 100,000 people in the country are electroshocked every year, Citizens Commission on Human Rights (CCHR), the mental health watchdog that organized the march, says reducing the ECT device risk category could put tens of thousands of children at risk of being damaged from electroshock.
ECT device manufacturers have never provided the FDA the required clinical trials to prove its safety and effectiveness. Despite this, the American Psychiatric Association claims that ECT should be given to children who are "treatment resistant" (drugs failed to work). Antidepressants are still widely prescribed for children and adolescents despite the FDA warning that they may cause suicide in children. Eight million American children are on psychotropic drugs, many of whom will get worse and be labelled "treatment resistant." The idea that they may be electroshocked as an alternative is abhorrent to the parents and others marching in today's protest.
"This is unconscionable to even consider doing this to a child," says Dr. Linda Lagemann, a clinical psychologist who retired after 23 years in practice. "Someone's getting rich and someone's getting hurt. This really must be stopped."
According to the FDA, ECT can cause physical trauma (including fractures, contusions, injury from falls, dental and oral injury), prolonged seizures or delayed onset seizures and complications, including heart attack and even death.  Other significant risks include temporary or permanent memory loss, confusion and cognitive dysfunction.
Georgia State Senator Donzella James, speaking at the press conference following the march, called for state legislation to ban the use of ECT on children. She said Georgia's provisions to protect children and others from ECT were grossly insufficient and cited a World Health Organization recommendation to governments that: "There are no indications for the use of ECT on minors, and hence this should be prohibited through legislation."[1]
Joining Senator James was Congressman Dan Burton (IN) who said the risk of children being electroshocked was of such concern that he came to Atlanta to speak out about this and his opposition to the APA's push to reduce the risk classification of the ECT device.  Burton has long fought for parental and children's rights, helping spearhead the passage of the Federal 2004 "Prohibition on Mandatory Medication Amendment" prohibiting children being forced onto psychotropic drugs as a requisite for their schooling.  He said: "State and Federal governments need to intervene and prevent this current FDA and APA initiative to make the ECT device low risk and available as a treatment for children. This is already a $1.2 billion a year industry and it is incumbent upon the FDA to protect consumers and families from making it a more profitable one at the expense of people's safety."
In a candid and emotional presentation at the conference, both legislators spoke of the devastating effects of ECT on their own family members.  They were joined by a gentleman named Ken (last name withheld), who was given 30 ECT treatments in one year at the age of 21. "People talk about the memory loss, which is a problem," he said, "But it also hurts your ability to build relationships, to trust, because you've been betrayed."
Senator James and Congressman Burton plan to participate in a public hearing on the issue to be held by CCHR on Sunday, May 15, 2 pm at the Hyatt House Atlanta, 431 Marietta St.
[1] Benedetto Saraceno, MD, "WHO RESOURCE BOOK ON MENTAL HEALTH, HUMAN RIGHTS AND LEGISLATION WHO 2005," p. 64.