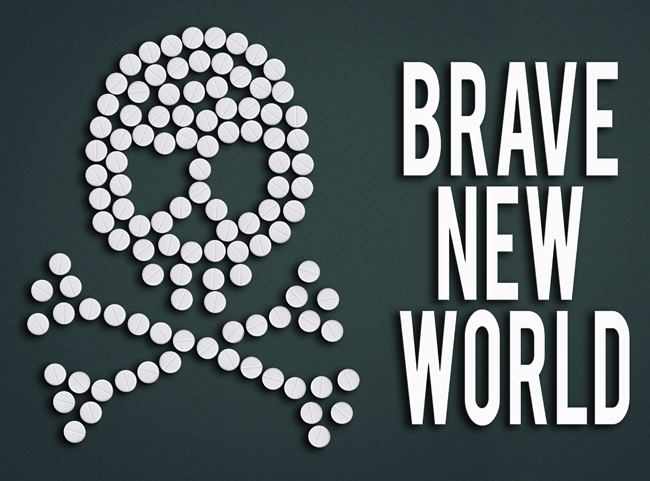 "There will be, in the next generation or so, a pharmacological method of making people love their servitude, and producing dictatorship without tears, so to speak, producing a kind of painless concentration camp for entire societies, so that people will in fact have their liberties taken away from them, but will rather enjoy it, because they will be distracted from any desire to rebel by propaganda or brainwashing, or brainwashing enhanced by pharmacological methods." — Aldous Huxley, 1962
By Kelly Patricia O'Meara
March 21, 2016
Comparisons periodically have been made between Aldous Huxley's 1932 novel, Brave New World and the epidemic of psychiatric drugging of America. But when the Journal of American Physicians and Surgeons publishes an article, effectively warning that the drugging has hit such outrageous levels that any remaining lines that separate fact from fiction no longer exist, it is of note.[1]
Author of the article "Soma-tizing America," Marilyn Singleton, M.D., explains that the use of psychoactive drugs have become the "new normal," and says "scores of undeniable facts confirm that pharmaceuticals have become woven into the fabric of our lives…," and that purveyors of pharmaceuticals "have convinced many basically healthy people that an unchanging affect is preferable to experiencing life's bumps in the road."[2]
In Huxley's Brave New World, the population is controlled and prevented from free speech and thinking from very young ages, having been supplied with the mind-altering drug, soma—a kind of happy pill—ensuring passiveness and, ultimately, forced-stability within society. Not too unlike what the nation now is experiencing with the ever-increasing dependence on psychiatric drugs for, lack of any science to the contrary, alleged mental disorders.
Dr. Singleton's article is chock-full of examples of a nation that is becoming eerily similar to Huxley's soma-drugged fictional utopian world, largely focusing on the data of the drugging of America's children. Dr. Singleton specifically points out that, "Psychotropic drugs affect the brain activity associated with both mental processes and behavior. This can lead to indifference and apathy, and of course the medications make troubled children easier to manage."[3]
Among the astonishing facts supplied by Dr. Singleton are the following:
39 percent of foster children are being prescribed psychiatric medications in contrast to 10 percent of non-foster children. Shockingly this number includes children under age five and infants.
The Centers for Disease Control and Prevention (CDC) reported in 2014 that as many as 10,000 toddlers may be receiving psychostimulant medication such as methylphenidate (Ritalin).
Foster children were on average 25 times more likely than non-foster children to be prescribed five or more (psychiatric) medications, despite increased medical risk for children.
Foster children were nine times more likely than non-foster children to be prescribed psychiatric drugs in doses exceeding FDA-approved maximum levels.
According to the CDC, 11 percent of U.S. children aged 4-17 had been diagnosed with ADHD, half of these were diagnosed by age 6 and of the children with current ADHD, 69 percent were taking medications, including amphetamine and dextroamophetamine (Adderall), methylphenidate (Concerta), lisdexamfetamine (Vyvanse), modafinil (Provigil), or armodafinil (Nuvigil).
About one in 10 Americans aged 12 and over and nearly one-quarter of women between ages 50 and 64 take antidepressants.
85 percent of the world's methylphenidate (Ritalin) is consumed by the U.S.[4]
How strange, indeed, the similarities between today's less fortunate and Huxley's Brave New World lower classes—the "epsilons, deltas and gammas"—who were forced to take doses of soma every day for behavior control, while the upper classes were given the option of taking, or opting out, of soma.
Dr. Singleton's apparent concern about the future of the nation, due to the dependence on psychoactive drugs, is so strong that she adds a "Footnote for Physicians," an opinion offered by Huxley years after the publication of his book: "There will be, in the next generation or so, a pharmacological method of making people love their servitude, and producing dictatorship without tears, so to speak, producing a kind of painless concentration camp for entire societies, so that people will in fact have their liberties taken away from them, but will rather enjoy it, because they will be distracted from any desire to rebel by propaganda or brainwashing, or brainwashing enhanced by pharmacological methods."[5]
Huxley offered this opinion fifty years ago. Does it seem farfetched? Apparently Dr. Singleton thought it an important anecdote. And the data used in support certainly offer ample evidence, especially when one considers that nearly 79 million Americans are taking at least one mind-altering psychiatric drug, which includes 7.5 million children ages 6-17, and 41 million people are taking antidepressants.[6]
It's hard to argue with the numbers when the CDC reports that in 2010, alone, doctors wrote more than 250 million prescriptions for antidepressants and that prescription drug abuse is the fastest growing drug problem in the U.S.[7]
An important difference that cannot be ignored between Huxley's Brave New World, soma, and the psychiatric drugs prescribed today, is that all is not happy and calm. The psychiatric drugs prescribed today are capable of creating more Mad Max than utopia, as they come with numerous adverse, even deadly, reactions, causing mania, psychosis, hallucinations, abnormal and violent behavior, suicidality and homicidality to name a few.
Given the epidemic levels of psychiatric drugs prescribed today, which Dr. Singleton thoroughly demonstrates, the article shows how normal human behavior has been redefined by psychiatry and "soma-tized" with drugs.   It appears Huxley's Brave New World is here.
Kelly Patricia O'Meara is an award-winning former investigative reporter for the Washington Times' Insight Magazine, penning dozens of articles exposing the fraud of psychiatric diagnosis and the dangers of the psychiatric drugs—including her ground-breaking 1999 cover story, "Guns & Doses," exposing the link between psychiatric drugs and acts of senseless violence. She is also the author of the highly acclaimed book, Psyched Out: How Psychiatry Sells Mental Illness and Pushes Pills that Kill. Prior to working as an investigative journalist, O'Meara spent sixteen years on Capitol Hill as a congressional staffer to four Members of Congress. She holds a B.S. in Political Science from the University of Maryland.
References:
[1] Marilyn Singleton, "Soma-tizing America," Journal of American Physicians and Surgeons, Vol. 21, No., Spring 2016, http://www.jpands.org/vol21no1/singleton.pdf.
[2] Association of American Physicians and Surgeons (AAPS), "Drugging of Americans Resembles Brave New World, Suggests Journal of American Physicians and Surgeons," PR Newswire, March 14, 2016, http://www.prnewswire.com/news-releases/drugging-of-americans-resembles-brave-new-world-suggests-journal-of-american-physicians-and-surgeons-300235535.html.
[3] Op. cit., Marilyn Singleton, http://www.jpands.org/vol21no1/singleton.pdf.
[4] Ibid.
[5] Ibid.
[6] IMS, Vector One: National (VONA) and Total Patient Tracker (TPT) Database, Years 2008-2013, Extracted 2014, https://www.cchrint.org/psychiatric-drugs/people-taking-psychiatric-drugs/.
[7] David Kupelian, "70 Million Americans Taking Mind-altering Drugs," World Net Daily, 02/09/2014, http://www.wnd.com/2014/02/70-million-americans-taking-mind-altering-drugs/; "Prescription Drug Abuse is Nation's Fastest Growing Drug Problem: DEA Report," Partnership for Drug Free Kids, Nov. 19, 2013, http://www.drugfree.org/join-together/prescription-drug-abuse-is-nations-fastest-growing-drug-problem-dea-report/.
[8] Aldous Leonard Huxley, Brave New World, (HarperCollins Publishers, Inc.), 1932, p. 163.