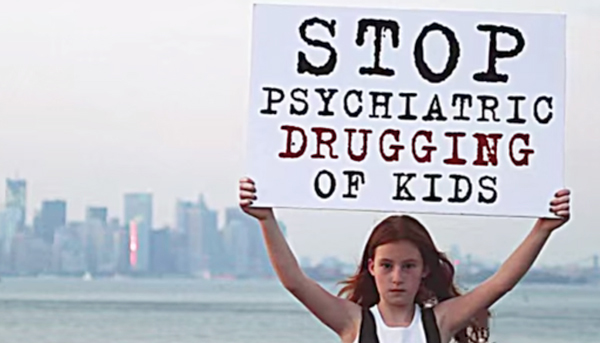 "I have seen children become ill and sobbing and frightened of their bodies' reactions to these drugs." — Sonya Muhammad, retired counselor with the Los Angeles County Office of Education/Foster Youth Services
By Kelly Patricia O'Meara
February 5, 2015
In response to the current child-drugging tragedy in California's foster care system, the Citizens Commission on Human Rights (CCHR) has launched a petition calling for State legislators and policymakers to enact protections that would provide foster children and youths certain rights relating to being prescribed dangerous psychotropic drugs—especially the right to object to taking such drugs.
The enormity of the drugging was first revealed in a San Jose Mercury News series last year titled, Drugging Our Kids, documenting the massive psychiatric drug use within the state's foster care to control behavior, the harm these drugs cause and the financial drain on taxpayers.
Sonya Muhammad, a retired counselor with the Los Angeles County Office of Education/Foster Youth Services, knows firsthand the effects of dangerous drugging within California's foster care system, calling it "a world of chemical doom." According to Muhammad, "I have seen children become ill and sobbing and frightened of their bodies' reactions to these drugs."
Further, "With little to no consideration of their emotional dilemma, behaviors displayed by a child that are deemed difficult, resistant, or incompliant, justifies a call to a child's social worker, seeking permission to have the child evaluated by a psychiatrist. As I see it, the main goal here is to shut the child up and shut the child down."
Muhammad said that children's files were taken to psychiatrists who wrote "diagnoses and prescriptions for children they have never seen and I have seen documents submitted by psychiatrists who did not bother to see the child, but wrote as a diagnosis, 'Psych Issues,' with subsequent multiple prescriptions. This is fraud."
In addition to CCHR's petition demands, Muhammad recommends changes to the State Child Abuse Laws to "add Chemical Child Abuse to the list of illegal offenses against children, and holding all involved perpetrators at every level, accountable and punishable according to the law."
The following scandalous data that the Mercury News uncovered supports the call for much-needed reforms:
Nearly 25% of adolescents in California's foster care system are prescribed mind-altering psychotropic drugs—sometimes two to four or more drugs at a time—and 3 1/2 times the rate for all adolescents nationwide.
In 2012-2013, 57% of foster children taking psychotropic drugs were prescribed antipsychotics, which can cause life-threatening diabetes, persistent tics, breast growth in male children and brain shrinkage.
Thirty percent of foster children taking psychotropic drugs were prescribed antidepressants that the Food and Drug Administration (FDA) has assigned a "Black Box Warning" for suicide in children and adolescents. Antidepressants also can cause agitation, hostility, hallucinations, akathisia [severe restlessness], impulsivity, mania, self-harm and withdrawal effects.
Foster children, aged 5 or younger are prescribed psychotropic drugs.
California spends more on psychiatric drugs for foster children than on any other kind of medication—more than $226 million in the last decade by Medi-Cal.
Psychiatrists and doctors with financial ties to pharmaceutical companies prescribe foster children psychotropic drugs. On average, the higher prescribers collected almost four times—or about $10,000 more—in pharmaceutical funding than the lower prescribers in 2013.
"[I]t is not unusual," says Muhammad, "for a child in foster care to be prescribed at least one, but usually two or more, psychotropic drugs after a so-called evaluation, simply because it is financially lucrative for the psychiatrist to do so, and with absolutely no regard for the well-being of the child.  And certainly no regard for squandering millions of taxpayer Medi-Cal dollars. This should be considered fraud."
"So many of these children," adds Muhammad, "are desperately afraid, frequently separated from their siblings, unable to understand why they have been taken away from their families, and not knowing if they will ever see their families again. These children… eat and sleep in a strange environment with other children whose stories may or may not be worse than their own. One can understand why a child may not be a happy camper and immediately prepared to comply with all that is being asked of them."
The data clearly show that rather than consider the terrifying and emotionally difficult circumstances of the child, psychiatric drugs are prescribed as the go-to remedy to "treat" behavior. CCHR does not believe this is an issue of "over-medicating" but, rather, no child should be prescribed such dangerous drugs in order to change or curb their behavior.
As such, CCHR's Petition calls on lawmakers to institute policies that provide rights to children, including the right to object to psychotropic drugs, to be protected from multiple psychiatric drugs at the same time, and the right to receive a complete physical examination and to exhaust all alternatives before a Psychotropic Medication Application can be made to the courts to approve such drug use.
—
Kelly Patricia O'Meara is an award-winning former investigative reporter for the Washington Times' Insight Magazine, penning dozens of articles exposing the fraud of psychiatric diagnosis and the dangers of the psychiatric drugs—including her ground-breaking 1999 cover story, "Guns & Doses," exposing the link between psychiatric drugs and acts of senseless violence. She is also the author of the highly acclaimed book, Psyched Out: How Psychiatry Sells Mental Illness and Pushes Pills that Kill. Prior to working as an investigative journalist, O'Meara spent sixteen years on Capitol Hill as a congressional staffer to four Members of Congress. She holds a B.S. in Political Science from the University of Maryland.