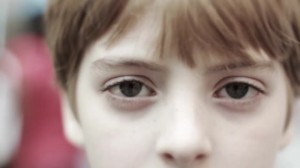 There are no "safe" levels of psychiatric drugs which can be administered to children, with psychiatric drugs carrying 286 Drug Regulatory Agency warnings. Click image for more information
"The Citizens Commission on Human Rights believes that drugging even one child with these dangerous and deadly drugs is one too many, and calls on lawmakers to hold hearings into the psychiatric diagnoses that must be made in order to prescribe to children these dangerous psychiatric drugs."
There are no "safe" levels of psychiatric drugs that can be prescribed for any child
By Kelly Patricia O'Meara
June 3, 2014
During a Congressional hearing last week lawmakers acknowledged that foster kids are being prescribed dangerous psychiatric drugs at disproportionately higher rates compared to other children. Rather than address the fraudulent psychiatric diagnoses behind the increased drugging of foster kids, lawmakers seem determined to merely institute "better" oversight of the over-drugging.
Many would argue that it's an oxymoron to suggest kids are "over-drugged." It's the equivalent of saying that nuclear waste is overly toxic. There is no safe level of toxicity and, given the serious adverse reactions associated with the psychiatric drugs being prescribed to children, intimating that there are safe levels of psychiatric drugs is not only misleading but blatantly false.
A number of federal and state programs have been instituted over recent years, intended to reign in the "over-drugging" problem. None of these programs have ever addressed the diagnoses that must occur in order to prescribe psychiatric drugs.  Nor have they addressed the fact
that there are virtually no medical or scientific test to confirm any diagnosis of mental disorder is a medical condition
.   And the problem only gets worse.
The most recent data provided by the Department of Health and Human Services, HHS, reveals that 18 percent of children in Foster Care were taking one or more psychotropic drugs, and the Government Accountability Office, GAO, estimates that number may be as high as 20 to 39 percent.
The Associate Commissioner for The Children's Bureau, Administration for Children, Youth and Families, (part of HHS), Joo Yeun Chang, testified last week before the Ways and Means Committee, Subcommittee on Human Resources, reporting that, "children in foster care are prescribed psychotropic medications at far higher rates than other children served by Medicaid, and often in amounts that exceed those indicated in Food and Drug Administration-approved labeling for such drugs."
The Congressional Research Service found that between 2008 and 2010, nearly one out of every four children in foster care was using a psychiatric drug—more than four times the rate among children overall.
Other studies come to the same conclusions. For example, information collected by the Medicaid Medical Directors Learning Network, MMDLN, encompasses data from nine states and examined the use of psychiatric drug use (including antipsychotics) of children and adolescents enrolled in Medicaid (including foster care). The following results of this nine-state review are stunning and provide a sobering glimpse into the severity of the problem on a national level.
The median percentage of foster care children and adolescents using four or more mental health drugs in the nine states increased from 16.2% in 2008 to 21.6% in 2011. In one state, nearly 30% of the children and adolescents in foster care were taking four or more drugs.
Over all (including all children and adolescents in Medicaid in the nine states) 18% of children and adolescents in the nine states who were on antipsychotics were taking more than one.
The median percentage of children and adolescents (also including all children and adolescents in Medicaid in the nine states) using four or more mental health drugs rose from 10.4% in 2008 to 12.2% in 2011.
The Children's Bureau Associate Commissioner Chang made it clear that "over-drugging" in, and of, itself wasn't the concern, but, rather, that HHS is "working with the state agencies that run child welfare systems to ensure that the vulnerable children in their care receive the proper medication."
Receive "proper medication?" The fraudulent psychiatric diagnoses have, apparently, so permeated the national healthcare mind-set that "proper care" now consists of receiving "proper medication."
But there is no "proper medication" without very real adverse health consequences for the children forced to take psychiatric drugs. There have been 72 warnings issued from eight countries warning that antipsychotic drugs cause harmful side effects, including heart problems, death and sudden death, extreme weight gain, involuntary movements, stroke, diabetes, agitation, mania and psychosis, to name a few.  There are an additional 214 drug regulatory agency warnings on antidepressants, anti-anxiety and ADHD drugs.
Additionally, several of these antipsychotic "medications" carry the Food and Drug Administration's, FDA, "Black box" warning, the federal drug agency's most serious warning, regarding the use of the drugs in children under 18, which are only issued when the FDA believes there is sufficient scientific data to support the warning.
There are one million kids age five and younger being drugged and 7.7 million 6-17 year olds, yet despite the overwhelming national and international medical data warning about the use of these psychiatric "medications," lawmakers continue down a dead-end path, pursuing better "over-sight" of the drug problem, rather than reviewing the diagnoses driving the epidemic of child drugging.
The Citizens Commission on Human Rights, CCHR, an international human rights organization, believes that drugging even one child with these dangerous and deadly drugs is one too many, and calls on lawmakers to hold hearings into the psychiatric diagnoses that must be made in order to prescribe to children these dangerous psychiatric drugs.


—
Kelly Patricia O'Meara is an award-winning former investigative reporter for the Washington Times' Insight Magazine, penning dozens of articles exposing the fraud of psychiatric diagnosis and the dangers of the psychiatric drugs—including her ground-breaking 1999 cover story, "Guns & Doses," exposing the link between psychiatric drugs and acts of senseless violence. She is also the author of the highly acclaimed book, Psyched Out: How Psychiatry Sells Mental Illness and Pushes Pills that Kill. Prior to working as an investigative journalist, O'Meara spent sixteen years on Capitol Hill as a congressional staffer to four Members of Congress. She holds a B.S. in Political Science from the University of Maryland.