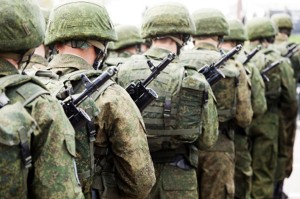 "In my 47 years of treating people, although I had access to using psychiatric medication, I never recommended a single psychiatric drug. In all these years, I can state unequivocally, I therefore never had a person commit suicide or a homicide while in my care." — Lt. Col. Bart Billings
Health Impact News – May 27, 2014
By Health Impact News Editor
One of the best ways we can honor our active military personnel and returning veterans is to call attention to the epidemic use of experimental vaccines and psychiatric drugs that are causing the highest rates of suicide among any group of Americans. More service members die by suicide than in combat, with 22 veterans killing themselves every single day.
Retired Army Colonel and psychologist, Bart Billings, is passionate about the harm being inflicted upon the nation's military. As one of the first professionals to disclose the link between psychotropic drug use and military suicides, Billings founded an annual International Military and Civilian Combat Stress Conference to promote effective, integrative, alternative, and individual treatment approaches without the use of harmful psychiatric drugs.
Today's military is being drugged at epidemic rates for Post Traumatic Stress Disorder (PTSD) which, according to Billings, is not a disorder at all. "PTSD isn't a disorder," said Billings. "Ninety-nine percent of anybody that goes into combat is experiencing Post Traumatic Stress. It's a normal reaction to being in an abnormal environment."
"You shouldn't really be medicating them," Billings stated, "because they have a normal brain and once you medicate these people, what happens is it's much, much harder to work with them because now you're working with somebody whose brain functioning is chemically, physiologically changed by the medications."
Billings believes that the best mental health is found in a strong sense of involvement and caring, which leads to trust. Billings said, "In my 47 years of treating people, although I had access to using psychiatric medication, I never recommended a single psychiatric drug. In all these years, I can state unequivocally, I therefore never had a person commit suicide or a homicide while in my care."
Recently, hundreds of impassioned protesters, including veterans, marched through the streets of New York protesting the American Psychiatric Association (APA) and how it is ignoring the psychotropic drug connection to hundreds of sudden deaths of soldiers and vets. This culminated in the opening of an exhibit that centers around The Hidden Enemy: Inside Psychiatry's Covert Agenda, a documentary which covers psychiatric drug abuse in the military and includes interviews with veterans brought to the brink of suicide after being prescribed cocktails of psychiatric drugs documented to cause violent and suicidal behavior. A petition was released at the opening of its exhibit at the Foxwoods Theater on 42nd Street in New York, May 3. Click here to sign the petition.
Watch Chapter 7, "Epidemic: Suicide," of the documentary here:
Speaking at the exhibit opening, former sergeant Hannis Latham, who served in the U.S. Army in the 1960s as a Green Beret on an "A" Team with the 10th Special Forces Group, stated: "Psychiatric drugs are that one thing that makes our modern warfare so much more deadly for our returning soldiers than any past war…. Instead of creating recovery programs for returning vets where they are recognized as normal people who have been through a very abnormal experience, our vets are often prescribed antipsychotics, tranquilizers, and antidepressants and told to suck it up and pull it together."
Retired Colonel John A. Henke, a clinical psychologist and highly decorated Air Force pilot who worked with the Pentagon, and was assigned to the Assistant Secretary of Defense Combat Readiness Study until his retirement in January 1982, echoed Latham's remarks, stating: "Instead of helping veterans recover from war, their pain has been masked with potent drugs. These, including opioid painkillers and mind-altering psychiatric drugs, are feeding addictions and contributing to the fatal overdose rate among VA patients that is nearly double the national average."[1]
Also watch the video on Former Navy SEAL being awarded for non-drug solutions for vets:
Read the entire article here: http://healthimpactnews.com/2014/lets-stop-using-experimental-vaccines-and-psych-drugs-that-are-destroying-our-veterans-and-military-personnel/
References:
[1] Aaron Glantz, "VA's opiate overload feeds veterans' addictions, leading to overdose deaths," PBS Newshour, October 3, 2013, pbs.org/newshour/rundown/vas-opiate-overload-feeds-veterans-addictions-leading-to-overdose-deaths/