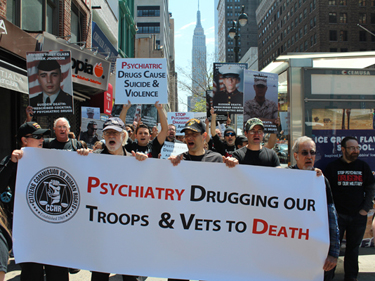 "Psychiatric drugs are that one thing that makes our modern warfare so much more deadly for our returning soldiers than any past war…." — Hannis Latham, Former Sergeant in the U.S. Army
By CCHR International
May 5, 2014
Hundreds of impassioned protesters, including veterans, marched against the American Psychiatric Association which held more than 65 sessions on psychiatric treatment of military personnel, veterans and their families. Citizens Commission on Human Rights launched a petition requesting the U.S. House of Representatives Veterans Affairs Committee to investigate with public hearings the role of psychiatric drugs in veteran suicides, sudden deaths and recent shootings at Fort Hood and the Washington Navy Yard.
The international mental health watchdog, Citizens Commission on Human Rights' (CCHR) organized a march through the streets of New York protesting the American Psychiatric Association (APA) and that it is ignoring the psychotropic drug connection to hundreds of sudden deaths of soldiers and vets. This culminated in the opening of an exhibit that centers around The Hidden Enemy: Inside Psychiatry's Covert Agenda, a documentary which covers psychiatric drug abuse in the military and includes interviews with veterans brought to the brink of suicide after being prescribed cocktails of psychiatric drugs documented to cause violent and suicidal behavior. (Watch Chapter 7, "Epidemic: Suicide," of the documentary here.) A petition was released at the opening of its exhibit at the Foxwoods Theater on 42nd Street in New York, May 3. Click here to sign the petition.

Speaking at the exhibit opening, former sergeant Hannis Latham, who served in the U.S. Army in the 1960s as a Green Beret on an "A" Team with the 10th Special Forces Group, stated: "Psychiatric drugs are that one thing that makes our modern warfare so much more deadly for our returning soldiers than any past war…. Instead of creating recovery programs for returning vets where they are recognized as normal people who have been through a very abnormal experience, our vets are often prescribed antipsychotics, tranquilizers, and antidepressants and told to suck it up and pull it together."
Retired Colonel John A. Henke, a clinical psychologist and highly decorated Air Force pilot who worked with the Pentagon, assigned to the Assistant Secretary of Defense Combat Readiness Study until his retirement in January 1982, echoed Latham's remarks, stating: "Instead of helping veterans recover from war, their pain has been masked with potent drugs. These, including opioid painkillers and mind-altering psychiatric drugs, are feeding addictions and contributing to the fatal overdose rate among VA patients that is nearly double the national average."[1]
Both Latham and Henke currently work with veterans to help them find better healthcare and other support.
CCHR International submitted a thorough report, "A Review of How Prescribed Psychiatric Medications could be Driving Members of the Armed Forces and Vets to Acts of Violence & Suicide" to a Senate VA Committee hearing into overmedication held April 30.
The report covers:
• There are 27 international drug-regulatory agency warnings about these medications causing violent behavior, mania, psychosis and homicidal ideation, and 49 warnings of the drugs causing suicidal ideation. [2]
• Between 2005 and 2011, the military increased its prescriptions of psychoactive drugs (antipsychotics, sedatives, stimulants and mood stabilizers) by almost 700 percent. Prescriptions written specifically for antipsychotic drugs for active-duty troops increased 1,083 percent from 2005 to 2011, compared to prescriptions in the civilian population increasing just 22 percent.[3]
• California neurologist Dr. Fred Baughman Jr. collected a list of 395 questionable soldier and veteran deaths, which he says are "probable sudden cardiac deaths" caused by a cocktail of psychiatric drugs, especially antipsychotics.[4]
• Dr. Audrey Uy-Evanado reported at the annual meeting of the Heart Rhythm Society in 2013, that antipsychotic drugs were associated with a greater than threefold increased risk of sudden cardiac deaths.[5]
• The Department of Defense Suicide Event Reports (DoDSERs) for 2012 reported that the Armed Forces Medical Examiner System (AFMES) found that as of 31 March 2013, there were 319 suicides among Active component Service members and 203 among Reserve component Services members; 39.6 percent were aged between 17 and 24.[6] This is part of the age group most at risk of having antidepressant-induced suicidal thoughts, according to the Food and Drug Administration "black box" warning.[7]
• The DoDSERs indicated 29.2 percent of those committing suicide had at some time taken psychotropic drugs and nearly 20 percent had used such drugs within 90 days prior to suicide. However, because of the lack of adequate reporting, potentially up to 50 percent of those committing suicide had at some point taken psychiatric drugs and nearly 41 percent had taken them within 90 days of suicide.[8]
• Researchers have also identified 25 psychiatric drugs disproportionately associated with violence, including physical assault and homicide.[9] Both the Fort Hood and DC Navy Yard shooters were taking prescribed psychiatric drugs.
Watch CCHR's Hidden Enemy documentary here.
About Citizens Commission on Human Rights: CCHR is a nonprofit mental health watchdog established in 1969 by the Church of Scientology and the late Dr. Thomas Szasz, professor emeritus of psychiatry at SUNY Health Science Center, Syracuse. Its mission is to eradicate abuses committed under the guise of mental health and enact patient and consumer protections. CCHR has helped to enact more than 150 laws protecting individuals from abusive or coercive mental health practices.
—
[1] Aaron Glantz, "VA's opiate overload feeds veterans' addictions, leading to overdose deaths," PBS Newshour, October 3, 2013, pbs.org/newshour/rundown/vas-opiate-overload-feeds-veterans-addictions-leading-to-overdose-deaths/
[2] 27 international warnings compiled from the US FDA, fda.gov/Safety/MedWatch; US DEA, justice.gov/dea/‎; Health Canada, hc-sc.gc.ca/index-eng.php; Japan Ministry of Health, Labour and Welfare, mhlw.go.jp/english/; European Medicines Agency, ema.europa.eu/ema/; Australia's Therapeutic Goods Administration, tga.gov.au; UK's Medicines and Healthcare products Regulatory Agency, mhra.gov.uk/‎
[3] Richard A. Friedman, "War on Drugs," The New York Times, 6 Apr 2013, nytimes.com/2013/04/07/opinion/sunday/wars-on-drugs.html?ref=opinion&_r=0&gwh=7E028A441FC225E6745B9904CFDA2A92&gwt=pay
[4] Jussi Honkola, Eeva Hookana, Sanna Malinen, et al., "Psychotropic medications and the risk of sudden cardiac death during an acute coronary event," European Heart Journal, September 14, 2011, eurheartj.oxfordjournals.org/content/early/2011/09/14/eurheartj.ehr368.full
[5] "Antipsychotics linked to sudden cardiac death risk," Clinical Psychiatry News, 24 Apr.2013, clinicalpsychiatrynews.com/cme/click-for-credit-articles/single-article/antipsychotics-linked-to-sudden-cardiac-death-risk/72b732346f34c5553e33532f7ba38914.html
[6] "Department of Defense Suicide Event Report Calendar Year 2012 Annual Report," National Center for Telehealth & Technology (T2), Department of Defense Suicide Event Reports, Generated on 12/20/13 RefID: 7-AF33A11
[7] "Antidepressant Use in Children, Adolescents, and Adults," Food and Drug Administration, May 2, 2007, fda.gov/drugs/drugsafety/informationbydrugclass/ucm096273
[8] "Department of Defense Suicide Event Report Calendar Year 2012 Annual Report," National Center for Telehealth & Technology (T2), Department of Defense Suicide Event Reports, Generated on 12/20/13 RefID: 7-AF33A11
[9] Thomas J. Moore, Joseph Glenmullen, Curt D. Furbert, "Prescription Drugs Associated with Reports of Violence Towards Others," Public Library of Science ONE, Vol. 5, Iss. 12, Dec. 2010, plosone.org/article/info%3Adoi%2F10.1371%2Fjournal.pone.0015337