Common Ground
By Alan Cassels
March 1, 2013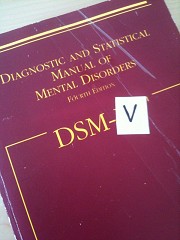 Towards the end of May, the fifth version of the Diagnostic and Statistical Manual of Mental Disorders (DSM-V), the iconic bible of psychiatry, is coming off the presses after much revision and delay. It's bound to keep people asking, "Am I normal or do I have a mental illness?"
If you think most diseases are established with objective criteria and rigorous debate, you'd be somewhat wrong. The DSM has a strong track record of taking clusters of symptoms and wrapping labels around them, which lead to the accelerated use of some of the most toxic medications on the planet. How does this happen?
The DSM is owned and operated by the American Psychiatric Association (APA), an organization that many feel is itself owned and operated by the pharmaceutical industry. Seventy percent of the authors of the DSM-V have declared ties to pharmaceutical manufacturers and in some disease categories it's 100%. This is the bizarre situation we've shamelessly come to accept: Big Pharma is allowed to put their own people on the committees to define what is and isn't illness.
Many people agree that the old DSM-IV has been responsible for widening disease definitions and accelerating the medicalization of many diseases such as autism, ADHD and bipolar disorder. The principle here is that the broader you define a disease, the more people can be defined as having it and the bigger the market for drugs for the condition. The new bible will have more disease labels constructed from personality quirks, mood upheavals, normal bouts with sadness or common signs of aging, inevitably leading to even more prescribing.
A new category of mental illness known as "mild cognitive impairment" is the first time the label of 'pre-dementia' will apply to whole populations. Let me ask (most gently) who among us is not 'pre-demented? In addition to the worries around our aging tendency to forget names, words and where we put the keys, we now have a name for it. As one ad for Alzheimer's medications asks, "Is it just forgetfulness? Or maybe it's "Pre-Alzheimer's?" What better way to get perfectly healthy people to start shuffling down the cattle ramp towards a good jolt of the yet-to-be-launched pre-dementia medicines that the drug industry will soon be zapping us with? There are none yet, but trust me; those drugs are in the pipeline.
Right now, there is no cure or treatment for Alzheimer's disease and unfortunately the drugs that do exist are next to useless. They are promoted as "slowing the rate of decline," but there is little evidence to support that claim and they make many patients miserable with vomiting and severe nausea. Alzheimer's is devastating for families but no one can explain how much anyone would benefit from adding "pre-dementia" to the burgeoning list of categories of mental illness.
How about grieving? According to a recent medical journal article, about 280,000 Canadians die every year and many of us are deeply affected by the death of loved ones. We experience profound grief and, for some, dealing with loss is very difficult. But here's the hitch: What used to be considered a normal response to loss is now in the gambit of being considered a mental disorder.
Psychiatrist Dr. Allen Frances, who led the creation of the DSM-IV and lists its many sins, says the new DSM-V is going to be a disaster on the bereavement issue, adding that changing the definition of what is considered depressed (by including bereavement) "inflates estimates of the current incidence of depression in epidemiological studies" and will automatically ramp up even more demands for medical services and antidepressant medication. Should people who experience severe grief be tossed a pill that will, in effect, eclipse the many social and familial ways we have of dealing with loss? The makers of the new DSM-V think so.
Another new definition in the DSM-V suggests that being worried about disease and searching for information about it on the Internet is now worthy of a mental diagnosis. Last December, Dr. Frances blogged on the Psychology Today website about the DSM-V, stating, "One in six people suffering from cancer, heart and other serious diseases risks being saddled with a psychiatric diagnosis just because they are worried about their illness or spending more time on the internet researching their symptoms than the American Psychiatric Association (APA) thinks good for them."
Add the word 'Cyberchondria' to the list of new mental health diagnoses.
Read full article here:  http://commonground.ca/2013/03/disordering-normal-5-0/