Jan. 24 (Bloomberg)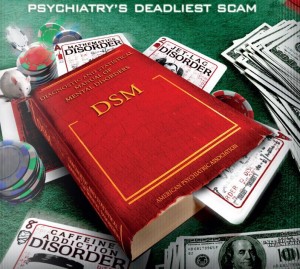 An effort that promises to broaden the definitions of mental illnesses is spurring a revolt among health-care professionals in the U.S. and the U.K.
A panel appointed by the American Psychiatric Association is proposing changes to the industry's guide for mental illnesses, which determines how patients are diagnosed and treated, and whether insurers pay for care. The new edition of the Diagnostic and Statistical Manual of Mental Disorders is scheduled to be published next year.
The draft is sparking a backlash among practitioners concerned the expanding mandate will increase the number of patients treated with drugs. The guide would loosen diagnostic criteria on some existing ailments and brand as mental disorders some common behaviors, including having temper tantrums three times a week or a lack of sexual arousal. The changes may spur unneeded and dangerous treatment of the healthy, said Allen Frances, a psychiatrist who helped write the current guidelines.
"Everyday disappointments, sufferings and eccentricities are being redefined as psychiatric disorders, and that could lead to medication treatment," said Frances, a professor emeritus at Duke University who lives in San Diego, California. "This is expanding the boundaries of psychiatry."
In many cases, family doctors will use the new definitions to treat patients, Frances said by telephone. Pressure from drugmakers to use medications can combine with media representations to create "an epidemic," he said. "Once primary care doctors and patients have the idea that they saw a certain condition on TV, it becomes real."
'Medicalizing Normality'
Darrel Regier, the psychiatric group's research director, characterized critics as being unconvinced medical treatment is better than counseling. The idea of "medicalizing normality comes from a perspective that there are no psychiatric disorders, and you need to avoid stigmatizing people by giving them one," he said in a telephone interview.
An Oct. 22 letter critical of the changes, sponsored by units of the American Psychological Association in Washington, was signed by more than 10,800 people, including psychologists, psychiatrists, counselors, and community activists. The British Psychological Association, based in Leicester, England, sent a similar letter in June 2011.
The letters identify changes such as the one affecting ADHD, or Attention Deficit Hyperactivity Disorder, a long- identified illness that involves hyperactive people who have difficulty staying focused and controlling behavior, according to the National Institutes of Health in Bethesda, Maryland.
ADHD Changes
In the present manual, a diagnosis for ADHD requires six symptoms to be identified in adults, including some present before age 7. The new manual requires only four to be identified and the disorder no longer must present itself in childhood.
The changes consider research findings that impairment persists after age 18 as symptoms decline, basically allowing lesser issues to be addressed, according to the website set up by the Arlington, Virginia-based Psychiatric Association to describe the update. www.dsm5.org
"The definitions of mental illness are becoming so porous, they're losing meaning," Frances said. "You overtreat labeled patients, and take resources away from the severely ill."
The new guide also creates a malady it calls Sexual Interest/Arousal Disorder in Women, though no field trials are being done to support the diagnosis, according to the DSM5 website. This illness should be diagnosed when there is an absence or reduced interest in sex and erotic fantasies tied to distress, the proposal suggests.
Temper Outbursts
Disruptive Mood Dysregulation Disorder, also new, is listed as being characterized by temper outbursts that occur at least three times a week that are out of proportion to a provocation. This disorder is being studied in trials, according to the site.
One in 5 Americans experienced some form of mental illness this year, according to a report this month by the U.S. Substance Abuse and Mental Health Services Administration, using the manual's current criteria to develop the data. According to the National Institutes of Mental Health, costs in this area rose 63 percent to $57.5 billion in 2006 from a decade earlier.
Critics say those figures may rise quickly if the new manual is approved as proposed.
by Elizabeth Lopatto
Read the rest of the article here: http://www.sfgate.com/cgi-bin/article.cgi?f=/g/a/2012/01/24/bloomberg_articlesLY8B1S0UQVI901-LYB5B.DTL