Natural News – September 15, 2011
by M.K. Tyler
(NaturalNews) If you have ever seen a commercial for a pharmaceutical drug, you are probably familiar with the long list of dangerous side effects that are rattled off in the last five seconds of the advertisement, just after viewers are told how Drug "X" is going to save their lives, improve their memories or give them unlimited energy. What was that? Did he just say that pill might cause bleeding out of my eyes?
Drug companies do a great job – and spend a lot of money – to ensure that most consumers aren't aware of the harmful side effects of common drugs prescribed for conditions like depression, heart disease, arthritis, ADHD or high blood pressure. Unfortunately, the result of this has created a society where the average person with a health problem is captivated by the promises delivered in clever advertising. There is a drug for everything? All I have to do is talk to my doctor? How convenient.
But what if there was a way to take back control of our lives and our health? What if, despite talking to your doctor, you still have questions or concerns about the safety of a drug?
The Citizens Commission on Human Rights International (CCHR) has a database that allows you to do just that. It's called the Psychiatric Drug Database, and it allows consumers to research the potential side effects of common psychiatric drugs, such as Ritalin or Wellbutrin.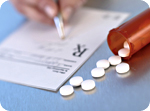 While the database is limited to psychiatric drugs, this type of public information portal represents a significant step in the right direction to help patients find unbiased information and make informed decisions about their health.
The database allows you to search by drug and will retrieve information about adverse reactions reported by patients who have taken the drug, international warnings and studies that have been done on the drug and what side effects different age groups or genders have experienced. For example, a search of the effects of Ritalin on 18-30 year old women retrieved 89 reported cases of adverse side effects.
These effects including anxiety, fatigue, hypertension, tremors, chest discomfort, nausea, panic attacks, cardiac murmurs, aggression, suicide attempts and completed suicides. The results are broken down by case and list specific symptoms and reactions caused by the drug in each reported case.
Another search of Zoloft and its effects on young children included cases of cerebral disorders, upper respiratory tract infections, sleep disorders, vertigo, hallucinations, psychomotor hyperactivity and suicidal ideation.
The database only includes information on cases that were actually reported to the FDA's Adverse Event Reporting System between 2004 and 2008. Based on the FDA's own estimates, only about 1 to 10 percent of adverse drug side effects are even reported to the FDA. The CCHR's database, therefore, represents only a small margin of the population that has been affected by adverse side effects of pharmaceutical psychiatric drugs.
Visitors to the site will also notice an interesting anecdote that describes how the definition of poison – a substance that causes death or harm when consumed by a living organism – clearly characterizes the drugs listed in the database. Consumers are encouraged to research potential problems of a drug before agreeing with their doctors to start a course of therapy.
To find more information about a particular drug, visit www.cchrint.org/psychdrugdangers
Sources for this article include