NaturalNews – September 7, 2011
by Mike Adams
If you're looking for a way to make sense of the world, look no further than the book, The Trillion Dollar Conspiracy (by Jim Marrs). It reveals a hard-hitting, big-picture overview of how things really work behind the scenes of our modern world (and who's pulling the levers).
The title of the book is actually a bit of a misnomer. Jim's original title was going to be "Zombie Nation" which I think is actually a better title because the book talks about "zombie banks" that are steeped in debt, "zombie politicians" who are totally controlled by a corporate agenda, and even "zombie people" who are drugged up on psychiatric medications. The publisher, however, insisted on the current name, and that's why it isn't called Zombie Nation.
Listen to my interview with Jim about his book at:
http://snd.sc/nrGd3P
How things really work behind the curtain
If you want t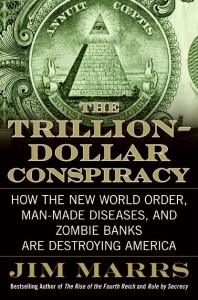 o know why the world seems to be so crazy these days, just read this book and you'll gain a keen understanding of the zombification of modern civilization and why it's taking place. The Trillion Dollar Conspiracy touches on all the big issues and industries of our modern world: War and defense contractors, Big Pharma and the FDA, the fluoridation of the water supply, GMOs and the genetic pollution of our planet, the criminal banking industry and the Federal Reserve, stolen elections, corrupt politicians and a whole lot more.
It is, without question, the best book I've read all year. And that's why I'm giving this book the NaturalNews Book of the Year Award. I've never actually given out this award before, but I'm planning on giving this out once a year to the most important book of each year. Of course, 2011 isn't over yet, so there could still be some amazing books in 2011 that deserve consideration. It's possible I may give out the award more than once if there's another deserving book that comes along.
The next book for consideration of this award, in fact, is Bill Faloon's upcoming book called Pharmacracy, scheduled to be released later this month. That's a hard-hitting book on the tyranny of the FDA and the outrageous damage that has been caused by chemical medications. (www.LEF.org)
Getting back to Jim Marrs' book, his website can be found at www.JimMarrs.com and there, you'll find details on some of his other books. You can also just search Amazon.com for "Jim Marrs" or follow this link:
Click here for the Jim Marrs section on Amazon.com.
Jim Marrs is an award-winning journalist and his book is a shining example of the great lost art of factual journalism in America. He honestly deserves to win a Pulitzer prize for this latest book — it's really that good. It's also extremely well researched and cited. This isn't some loose compilation of conjecture or conspiracy ranting; rather, it's a coherent, well-organized presentation of the shocking details of how the world really operates (it's far stranger than you might suppose).
Jim Marrs is also widely recognized as a top researcher of 9/11 truth and the Kennedy Assassination.
Listen to the interview with Jim Marrs
I recently interviewed Jim Marrs to discuss the financial chaos happening in our world, the coming debt collapse, and details about the growing "zombie nation" in which many of us live. You can hear that interview through SoundCloud at:
Through this interview, you'll learn a wealth of information about where our world is really headed. I might also mention that you can buy Jim's latest book, The Trillion Dollars Conspiracy, as a downloadable audio book through Audible.com, which is of course owned by Amazon.com. Here's the audio book link at Audible.com:
http://www.audible.com/pd/ref=sr_1_…
Enjoy!