PMLive
August 30, 2011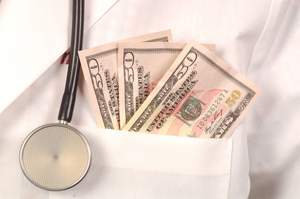 A report by the Financial Times has claimed a group of pharmaceutical companies has paid doctors in the US almost $150m so far during 2011.
Prepared in conjunction with the data provider, PharmaShine, the figures show the money was paid by pharmaceutical firms, including Eli Lilly, AstraZeneca (AZ) and Pfizer, for doctors' travel and entertainment expenses as well as education and consultancy fees.
Of those companies who have released data, Lilly is reported to have paid $48m and Pfizer to have paid $42m.
AZ, who recently launched a database containing payments made to doctors and institutions, said $24.7m was paid out in associated compensation for the second quarter of 2011, with $8.1m going to individual physicians and $16.6m going to institutions.
In a post on the company's AZ Health Connections blog, US compliance officer, Marie Martino, gave reason as to why the company was releasing its data.
She said: "AstraZeneca believes it is important to be open about how we conduct our business, and this new reporting expands on a major initiative announced three years ago to provide greater public visibility into how we do business."
Around 165,000 doctors have received related payments in 2011 so far, compared to 262,000 doctors who received payment in 2010.
The report comes at a time when US government agencies are preparing guidelines to make the publication of industry support for medical professionals compulsory by 2013.
This is part of ongoing US healthcare reforms as an attempt to allow better, more consistent understanding of the pharmaceutical industry's relationship with healthcare professionals in the US.
In the UK, the Association of the British Pharmaceutical Industry (ABPI) changed its code of practice at the beginning of 2011 to help increase transparency of working practices between the pharmaceutical industry and healthcare professionals to help increase trust.
Companies will have to declare payments to healthcare professionals for services including speaker fees, advisory boards and consultancy, and sponsorship for attendance at meetings on an annual basis. The first declaration will be made in 2013 for payments made in 2012.
http://www.pmlive.com/find_an_article/allarticles/categories/General/2011/august_2011/news/big_pharma_pays_us_doctors_$150m_in_2011