Salem-News.com
By Marianne Skolek
March 28, 2011
In 1997, 5 million children were listed as using psychotropic drugs, Ritalin being among the most common.  Ritalin use has increased by 700% since 1990. By the year 2000, it was prescribed for approximately 7 million children.
Attention Deficit Hyperactivity Disorder (ADHD) is diagnosed eight times more often in boys than in girls.
Of these diagnosed children, 90% use a stimulant to help control the disorder. 70% of children with ADHD are prescribed Ritalin. 20% use its counterpart, the generic form known as methylphenidate and an amphetamine known as Dexedrine.
Beginning in the 1960s, it was used to treat children with ADHD, or Attention Deficit Disorder (ADD), known at the time as hyperactivity or minimal brain dysfunction (MBD).
Production and prescription of methylphenidate rose significantly in the 1990s, especially in the United States, as the ADHD diagnosis came to be better understood and more generally accepted within the medical and mental health communities.
The benefits and cost effectiveness of methylphenidate, i.e. Ritalin long term are unknown due to a lack of research.
There is a lack of evidence of the effectiveness in the long term of beneficial effects of methylphenidate (Ritalin) with regard to learning and academic performance.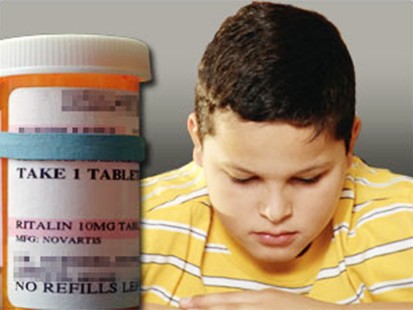 An analysis of the literature concluded that methylphenidate quickly and effectively reduces the signs and symptoms of ADHD in children under the age of 18 in the short term but found that this conclusion may be biased due to the high number of low quality clinical trials in the literature.
Some adverse effects of stimulant therapy may emerge during long-term therapy, but there is very little research of the long-term effects of stimulants.
The United States produces 90% of the world's Ritalin. It produces, sells and distributes more methylphenidate than any other country worldwide. In addition to the United States, methylphenidate is frequently used in the United Kingdom and Germany.
It is used in many European countries, but in much smaller percentages than in the United States. Some countries don't use the drug at all, such as Sweden, which has banned its use.
The FDA approved "Intuniv" – the first non-stimulant extended release medication for the treatment of ADHD in children.  This means it can be administered in one daily dose and given in the morning or at night as a stand-alone medication or in conjunction with another ADHD drug to boost overall effectiveness. Because Intuniv is not a stimulant, parents can feel better knowing that their child is being treated with a medication that does not have addictive properties and is less likely to be abused since it is not a controlled substance.
In clinical trials, Intuniv has been shown to boost the effectiveness of treatment when combined with a stimulant, resulting in greater attention span and reduced levels of impulsivity and hyperactivity.  One possible drawback, however, is that it has not been tested for extended use, beyond  that of 8 to 10 weeks.  For this reason, physicians who prescribe Intuniv must closely monitor patients to determine whether it continues to be a successful protocol for longer term management of ADHD symptoms.
At the present time, Intuniv's longer term efficacy is unknown and will be determined by physicians who carefully monitor patients being treated and report associated outcomes.  Shire, Intuniv's biopharmaceutical developer, continues to focus their research on this drug's long term use potential for maintenance of children with ADHD who need drug treatment in order to succeed academically — as well as socially.
Dr. Ann Blake Tracy, executive director of the International Coalition for Drug Awareness and author of Prozac: Panacea or Pandora? – Our Serotonin Nightmare is an expert consultant in cases like Columbine in which anti-depressant medications are involved.
Tracy says the Columbine killers' brains were awash in serotonin, the chemical which causes violence and aggression and triggers a sleep-walking disorder in which a person literally acts out their worst nightmare.
Shortly before the Columbine shooting, Eric Harris (one of the shooters) had been rejected by Marine Corps recruiters because he was under a doctor's care and had been prescribed an anti-depressant medication.  Harris was taking Luvox, an anti-depressant commonly used to treat patients with obsessive-compulsive disorder.
Luvox is in a class of drugs called selective serotonin reuptake inhibitors (SSRI).  Other SSRIs include Prozac, Paxil and Zoloft.  An estimated 10 million Americans take anti-depressant medications.
Mark Taylor, the first student shot at Columbine, brought a lawsuit against Solvay, the international pharmaceutical company that produces Luvox.  Taylor's 2001 lawsuit said Luvox had caused Harris to become manic, psychotic, and homicidal/suicidal and had brought about "emotional blunting," or a lack of inhibition.
Tayor's lawsuit also faulted Solvay for failing to warn of the "risks and dangers" associated with the drug. *
(*Taylor told American Free Press two years after the Columbine shooting, as a 17-year old recovering victim, he had been taken alone, without counsel, into a room with lawyers representing Solvay and threatened with court costs and counter suits.  The fear of financial ruin led Taylor and others to withdraw the lawsuit.  Solvay Pharmaceuticals was able to silence disclosure of exactly what had happened at Columbine — and why — even after its product had played ab obvious role in slaughtering 13 people).
In early 1998, according to Taylor's lawsuit, Harris had taken Zoloft for two months, but soon became "obsessional."  Harris became obsessed with homicidal and suicidal thoughts "within weeks" after he began taking Zoloft, according to Dr. Tracy.  Due to his obsession with killing, Harris was switched to Luvox, which was in his system at the time of the shooting, according to his autopsy.  The change from Zoloft to Luvox is like switching from Pepsi to Coke, Dr. Tracy said.
Read entire article here:  http://www.salem-news.com/articles/march282011/child-addicts-ms.php