FoodConsumer, November 12, 2010
by Martha Rosenberg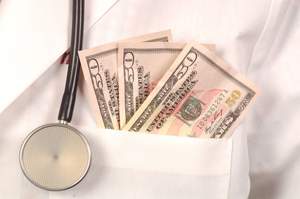 "Trust me" used to be the punch line about how a certain obscenity is uttered by Hollywood agents.
It also used to govern the conflicts of interest policies at hospitals, universities, medical schools and scientific journals about doctors' and researchers' financial links.
But conflicts of interest (COI) at Harvard and other universities, medical journals, professional groups and at the FDA itself have ushered in a kind of disclosure fever. In addition to the Physician Payment Sunshine Act which requires drug and device makers to report physician payments yearly, medical schools are starting to reject industry money that traditionally funded Continuing Medical Education (CMEs).
Individual doctors' COIs have also been a problem for medical groups and journals.
The American Psychiatric Association,  in its 240 page guide to its May annual meeting, "forgot" to mention the conflicts of interest of its own president Alan Schatzberg, MD. It had to print them on the newsletter circulated the third day of the meeting. Nor were names even alphabetized for easy information retrieval. (Schatzberg is financially linked to Eli Lilly, GSK, Merck, Pfizer, Forest, Takeda, Sanofi-Aventis and eight other companies.)
Joan Luby, MD, a pediatric depression expert says in the Archives of General Psychiatry in March she didn't disclosure lectures she gave for AstraZeneca and other pharma ties "because they were not relevant to the subject of the article." Maybe that's why the New York Times magazine didn't disclose Luby's links in the August "Can Preschoolders be Depressed?" and five Wyeth links in April's "The Estrogen Dilemma."
And statin investigator, Harvard's Paul Ridker, MD, apologized to JAMA readers in 2006 for an incomplete financial disclosure for an article about cardiovascular clinical trials. He thought he only had to report funding for the "study at hand" and had omitted mentioning funding from AstraZeneca, Bayer, Novartis, Roche, Sanofi-Aventis and five other pharmaceutical companies.
Disclosure is especially tricky for medical journals whose lifeblood is often drug ads and reprints of article for drug companies to pass out to physicians.
Here are some of the ways conflicts of interest are finessed.
1) Omnibus disclosure. All of a study's authors are listed with all the pharma links in one block of solid type. Who goes with whom? You'll never know — but the author with no links sure isn't happy about shared guilt.
2) Initials. "R.L.T. has consulted for Merck" is set in 8 point type at the end of the article. Will readers return to the study's start, five pages ago where there are eight authors, four with first names that begin with R?
3) Disclosures You Have To Work For. COIs of CME faculty are often given online but the information is tucked away in a pull-down, scroll menu. It is user-unfriendly like the drug side-effects found on the scrolling ads on the same site.
4) One Disclosure is Enough. When a previous article is cited in journal letters sections, the author disclosures are said to "be found with the original article." Surely you have that issue, published four months ago, on your desk.
5) Protective Coloring. Disclosures of drug company links are embedded between government grants and charitable foundations. Government grants and charitable foundations are not conflicts of interest — though some say taking government money along with industry should be.
6) Paying Customers Only. 20 million citations of medical literature appear on the US National Library of Medicine web site. Many have author's institutions and email. But do the abstracts show COIs? Not unless you're a paid subscriber. Password please.
7) Paying Customers Only…Even When You Are Reading A Hard Copy. In hard copies of the August 5 New England Journal of Medicine, the disclosures of authors of "Suicide-Related Events in Patients Treated with Antiepileptic Drugs" are absent and said to be found with the "full text" of the article at NEJM.org.
When we asked Karen Pedersen Buckley, NEJM manager of media relations, why  disclosure information about doctors who challenge an 2008 FDA warning* were not available in the journal's hard copy, she said the web site was being redesigned. "We hope that many of our readers will have access to the full text and disclosure forms through an institutional subscription at their hospital, university or library," she added.
And for those who don't? Trust us.
*FDA warned about seizure drugs' suicide side effects. The authors largely find the drugs safe.
http://www.foodconsumer.org/newsite/Non-food/Healthcare/seven_ways_medical_conflicts_of_interest_are_disguised_111110061.html
See also CCHR's expose, Shrinks For Sale: The Corrupt Alliance of the Psychiatric Pharmaceutical Industry

Pharma Poster Boy, Psychiatrist Joseph Biederman https://www.cchrint.org/cchr-issues/the-corrupt-alliance-of-the-psychiatric-pharmaceutical-industry/