Agents raid chain of mental health clinics accused of filing false claims
Miami Herald
By Jay Weaver
October 22, 2010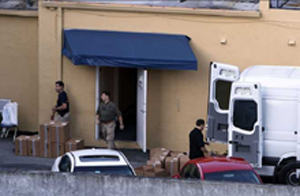 Even by Miami-Dade's reputation for Medicare fraud, the indictment was a shocker:
American Therapeutic's patients could not feed themselves or control their own bodily waste.
Many lacked the mental capacity to respond to counseling; instead they simply stared at walls or watched TV.
An employee complained that those patients should be ineligible for Medicare since they could not benefit from treatment.
She got fired.
That launched whistle-blower and criminal investigations that led to the Justice Department's takedown Thursday of Miami-based American Therapeutic Corp., the nation's largest chain of mental health clinics.
Federal prosecutors charged the company and four top executives with scheming to fleece $200 million from the taxpayer-funded healthcare program.
"Some of the patients were not even cognizant of where they were or what was going on around them," said Lanny A. Breuer, assistant attorney general of Justice's criminal division.
"Other patients were simply there to make money, through kickbacks," said Breuer, who flew to Miami for a news conference at the U.S. attorney's office.
At the crack of dawn Thursday, federal agents arrested Lawrence S. Duran, 48, of North Miami, the owner of American Therapeutic; Marianella Valera, 39, the company's CEO; Margarita Acevedo, 40, the firm's marketing director; and Judith Negron, 39, vice president of a subsidiary.
Since 2003, Medicare paid the chain a total of $84 million — taxpayer money that authorities say was mostly blown on luxury items, including Duran's 2009 Maserati Quattroporte and Valera's bayfront condo at the Opera Towers. Duran and Valera also spent the money on trips to Switzerland, Dominican Republic and Cuba.
The feds obtained court orders to freeze the employees' personal and corporate bank accounts in an attempt to salvage possibly a few million dollars of the Medicare payments.
The indictment charged American Therapeutic, a seven-clinic chain, and its subsidiary, Medlink Professional Management Group, Inc., and the four employees with conspiring to defraud Medicare for group therapy sessions that were either unnecessary or not provided to patients, many suffering from Alzheimer's or dementia.
The ring is also accused of paying bribes to recruiters who tapped into an endless supply of patients from assisted-living facilities and halfway houses, who also received kickbacks for the referrals.
The accused ringleaders, Duran and Valera, instructed doctors and employees to alter patient charts, medical diagnoses, therapy session notes and drug medications to make American Therapeutic's thousands of claims look legitimate to Medicare, according to court documents.
Whether they harmed any patients is the subject of "an ongoing investigation," Breuer and other Justice Department officials said.
On Thursday morning, 160 agents from the FBI and Health and Human Services raided American Therapeutic's clinics at 1801 NE Second Ave. and other South Florida locations. They carried out boxes of records, computers and other evidence and loaded them into vans. Patients who showed up for their daily mental health sessions were asked to leave.
IN COURT
Later Thursday, in federal court, the four defendants had their first appearance. They were dressed in Euro-style T-shirts and pants — though they were cuffed at the wrists and ankles.
Jennifer Saulino, a Justice Department attorney, recommended no bond for Duran and Valera and $1 million bail for Negron and Acevedo.
"This was the largest Medicare fraud scheme in this district, and, as you know, Your Honor, that's saying quite a lot," she told Magistrate Judge Edwin Torres. "This was a big fraud, and these were big players."
Acevedo was granted a $350,000 bond. The other three will have pretrial detention hearings on Tuesday.
The scope of South Florida's alleged $200 million case surpassed that of a vast network of Armenian gangsters and their associates charged last week with operating phantom healthcare clinics to try to cheat the federal program out of $163 million.
U.S. authorities touted that case as "the largest Medicare fraud scheme ever perpetrated by a single criminal enterprise," with 73 people charged in New York, Los Angeles and other cities.
The Miami indictment signaled the Justice Department's latest assault against rampant Medicare fraud in South Florida.
U.S. Attorney Wifredo Ferrer called mental health fraud the latest scam in a series involving medical equipment, HIV infusion and home diabetic services.
Authorities said the magnitude of such fraud is eye-opening: More than 100 Florida mental health centers, mostly in Miami-Dade, submitted $425 million in bills to the Medicare program last year.
In turn, Medicare paid $171 million to the Florida clinics, with almost all of that money going to mental health operators — such as American Therapeutic — in Miami-Dade, Broward and Palm Beach counties.
Indeed, reimbursements to South Florida clinics alone accounted for 56 percent of Medicare's entire payments to mental health centers nationwide last year, according to the agency's records.
American Therapeutic is not only Medicare's highest biller of mental health services in the country, but Duran also has been active in a Washington, D.C., lobbying group called The National Association for Behavioral Health.
A video of Duran's visit in January to the congressional office of U.S. Rep. Ileana Ros-Lehtinen, R-Miami, was posted on You Tube, in which he talked about protecting mental health services under the healthcare reform legislation passed by Congress this year.
Also, Duran and two other South Florida healthcare businessmen were pictured with the congresswoman in a photo posted on the Behavioral Health's website.
Confronted with an onslaught of suspicious claims, Medicare administrators began placing many suspect Miami-Dade mental health clinics on what is known as "prepayment review."
That means payments are frozen until Medicare can verify that doctors prescribed the services, the clinics provided the counseling sessions, and patients received and benefited from them.
Without confirmation, the clinics aren't paid, which has led to some shutting down.
Read the entire article here:  http://www.miamiherald.com/2010/10/22/v-fullstory/1885571/mental-health-clinics-targeted.html