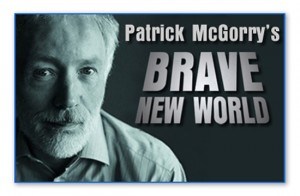 By CCHR International
June 16, 2010
A Public Service Announcement on Australian TV features Australian of the Year, psychiatrist  Patrick McGorry,  claiming that nearly half the population will experience mental ill-health during their lifetime. Considering that after World War II, psychiatrists claimed that one in 20 people had a mental disorder, and now it's every second one of us, that's a damning 1000 percent failure rate for psychiatrists in reducing "mental illness." Let's get real; the reason psychiatrists claim more people are mentally ill is because they can keep  inventing new ways to label them mentally ill—but the press and governments are  starting to catch on, evidenced by all the controversy surrounding psychiatry's upcoming edition of their Diagnostic and Statistical Manual of Mental Disorders (DSM)—better known as psychiatry's billing bible. Yet of all the proposed "mental disorders" ranging from overeating to kids throwing tantrums, no proposed model of mental disorder is more  insidious and dangerous than that of Patrick McGorry, who promotes diagnosing people before they develop a so-called mental disorder—drugging them before they become "mentally ill." Yet the Australian government has bought into it hook, line and sinker—despite the fact McGorry's plan is so outrageous, even his peers, such as psychiatrist Allen Frances, former Chair of the DSM task force, have called it "the most ill-conceived and potentially harmful."
Make no mistake, the pre-drugging agenda is Patrick McGorry's baby—his dream for a new paradigm in mental health, one that has the power to diagnose and drug people before they become mentally ill—welcome to the Brave New World of Patrick McGorry. And he isn't stopping with Australia; his plan is to go global. As he recently stated, "Australia is a place that can actually change the world in mental health, provided we get the right government support to do so."[1]
The fact that McGorry's agenda is so controversial—it even has other psychiatrists protesting it—has not deterred the Australian government from funding this "ill-conceived" plan. A recent letter to Citizens Commission on Human Rights states, "The Australian Government is providing $25.5 million over four years from 2010-2011 to expand Early Psychosis Prevention and Intervention Centre (EPPIC) model," developed by McGorry who founded EPPIC and the Orygen Youth Health in Victoria, Australia.
The Australian Government has already been criticized for massive expenditure on psychotropic drugs increasing more than 660 percent during the last decade—with a whopping 3,100 percent increase on antipsychotic drugs (with at least 15 Australian deaths in the under 19 year olds as a tragic consequence of this).  This can only get worse when under McGorry's plan, with an enormous client base that can be prescribed drugs despite the fact they are not yet  "mentally ill." It's called prodrome (prodromos meaning the forerunner of an event)—referring to "a period of prepsychotic disturbance" that may or may not develop into psychosis or "schizophrenia"[2]—in other words, the crystal ball theory.
Australia Meets the US in Pre-Drug Scam
McGorry's plan for Australia to "lead the change" in world mental health is happening—to the detriment of those who may be forced to undergo drug treatment based on a psychiatrist's hunch that they might, one day, become ill. In the U.S., on May 13, 2009, the Department of Health and Human Services convened a Technical Expert Panel (TEP) discussed "emerging evidence around psychopharmacological interventions for first episode schizophrenia" citing the research efforts of McGorry and others.[3]
The push for pre-diagnosing and pre-drugging has even those within the psychiatric profession calling foul; Dr. Richard Warner, professor of psychiatry at the University of Colorado, counters the idea that science drives McGorry's pre-disorder assessment, stating, "Given the expected number of false positives, the potential for harm is significant."[4]
However, as Anthony Pelosi, honorary professor, Department of Psychiatry, Hairmyres Hospital, wrote in a counter to McGorry in the British Medical Journal last year, "this has not stopped their skillful lobbying of politicians, journalists, patients, and carers with upbeat messages about the prevention."
"Skillful lobbying" is right.
In 2006 McGorry and other researchers, including psychiatrist Michael Berk, Karen Hallam, Craig McNeil, Linda Kaler and psychologist Melissa Hasty reported in the Medical Journal of Australia, "Evidence increasingly indicates that earlier identification may allow for appropriate pharmacological and psychosocial treatments…."[5]
Could they have a Pharma incentive behind this agenda? Berk is financially linked to AstraZeneca, Bristol-Myers Squibb, Eli Lilly, GlaxoSmithKline, Janssen-Cilag, Lundbeck, Organon, Novartis, Mayne Pharma, Servier, Sanofi-Synthelabo, Solvay, and Wyeth and Pfizer.[6] Hallam disclosed received speaker fees from Janssen-Cilag; McNeil received consultancy fees, speaker fees and travel assistance from Eli Lilly, Janssen-Cilag and Sanofi-Aventis; and Hasty and Linda received financial assistance to attend conferences from or Janssen-Cilag, maker of the antipsychotic Risperdal (resperidone).[7]
McGorry has received grant support from Eli Lilly, Janssen-Cilag, Bristol Myers Squibb,Astra-Zeneca, Pfizer, and Novartis.[8] He is a paid consultantfor, and has received speaker's fees from all or most of these companies.[9] Studies published in the British Medical Journal in 2005 and 2008 declared McGorry's "early interventionstudies have received partial support in the form of investigator-initiatedunrestricted research grants from Janssen-Cilag."[10]
The U.S. has already begun adopting the "early intervention" fad, which looks more like a trade in children's lives and a business opportunity for increased pharmaceutical sales. In March 2010, the Department of Health & Human Services Substance Abuse & Mental Health Service Administration Center for Mental Health Services announced $16.5 million in funding for "Mental Health Transformation Grants," including the "Early Detection and Intervention for the Prevention of Psychosis Program (EDIPPP)."[11]
EDIPP is the American sister of McGorry's EPPIC.  It was originally bankrolled by a $14.4 million grant from the Robert Wood Johnson Foundation. According to investigative journalist Evelyn Pringle, "The founder of RWJF, Robert Wood Johnson, was chairman of Johnson & Johnson for over 30 years, from 1932 to 1963, as a member of the drug maker's founding family. Throughout the years, the majority of the Foundation's money has come from investments in J&J stock."
In an article in Behavioral Healthcare, in 2008, the Mid-Valley Behavioral Care Network (MVBCN), an intergovernmental Medicaid government insurance-managed healthcare organization situated in Oregon, was recommended to study EPPIC used at Orygen and EDIPPP.
Based on EDIPP and EPPIC, the MVBCN developed the Early Assessment and Support Team (EAST) in 2001.  In 2003, the Oregon state legislature allocated $4.3 million to disseminate early psychosis intervention statewide.  By March the following year, new programs had begun in 12 counties.[12]
EDIPPP also replicates the "Portland Identification and Early Referral," or "PIER," a treatment research program at the Main Medical Center, in Portland, Maine.[13] People typically are referred to PIER by high school guidance counselors, pediatricians, or other clinicians who attended presentations about PIER's work, says Pringle. "Virtually every person entering the PIER program is prescribed antipsychotics, such as Risperdal or Invega, marketed by Johnson & Johnson," she added.
Both PIER and EDIPPP are promoted in McGorry's 2002 book, Implementing Early Intervention in Psychosis: A Guide to Establishing Early Psychosis Services."[14] The book's foreword is written by Dr. Jeffrey Lieberman, Professor of Psychiatry, Chairman Department of Psychiatry, Columbia University College of Physicians and Surgeons.[15] Lieberman has taken consulting fees and research grant support from AstraZeneca, Bristol-Myers Squibb, Upjohn Pharmacia, Novartis, Eli Lilly, Janssen, Pfizer, Hoechst AG, & AstraZeneca. He's on the Speakers Bureaus for Astra Zeneca, Janssen, Eli Lilly and Pfizer.[16]
Lieberman is also the Vice President (North America) of the McGorry instigated group International Early Psychosis Association (IEPA), which was officially incorporated in Victoria in 1998.[17] McGorry is currently Treasurer of the Association.[18] Lieberman is a member of the psychiatric-pharmaceutical company front groups, National Alliance for the Mentally Ill (NAMI) and National Alliance for Research on Schizophrenia and Depression (NARSAD).
Between 1999 and 2003 IEPA received unrestricted education grants from Janssen-Cilag and AstraZeneca.[19] EIPA's conferences are supported by Janssen-Cilag, AstraZeneca, Eli Lilly, and Bristol-Myers Squibb.[20]
The IEPA lists the "who's who" of Pre-Psychosis Risk Syndrome (the official label given pre-psychotic symptoms) and many of its board or members disclose manufacturers of antipsychotics as companies they've received financing from.
On July 29-30, the First international Youth Mental Health Conference is being held in Melbourne, with keynote speakers, including McGorry. The conference is described by one advocate as an "important and innovative event, attracting the best in the business/industry to discuss the emerging issues of youth mental health."[21]
It couldn't have been more adequately stated: business and industry. Herein you see McGorry's pitch again that Australia is a global leader in this latest psychiatric fad. His invitation online states, "This is an important event for Australia and the mental health field. We expect this to be the first of many similar conferences, bringing together innovators, practitioners, researchers, young people and families to showcase the best of youth mental health innovation from around the globe."[22] [Emphasis added]
There's no doubt that this conference, like his Australian award, will be used to demand more funding to increase the business stakes and drive more income into psychiatry's pre-drugging efforts.  Despite the government already allocating $103 million to McGorry, including the $25 million to further research EPPIC, he continues to call for another $800 million in funding for programs for youth mental health over the next four years.[23]
McGorry recently stated, "You have to be able to give something of yourself to people, if you are going to help them."[24] McGorry's brand of "helping" entails stigmatizing children with psychiatric labels that have no basis in science or medicine and then drugging them. That does not qualify as "help." It's betrayal. If this agenda to pre-diagnose, and pre-drug is allowed to take hold, we will truly have entered a Brave New World; Patrick McGorry's.
---
[1] http://sydney.edu.au/medicine/museum/mwmuseum/index.php/McGorry,_Patrick
[2] http://www.mentalhealth.com/mag1/scz/sb-prod.html
[3] U.S. Department of Health and Human Services, "ASPE Technical Expert Panel on Earlier Intervention for Serious Mental Illness: Summary of Major Themes," The Lewin Group, 13 May, 2009.
[4] Richard Warner, MB, DPM, is director of Colorado Recovery in Boulder, Colorado, and professor of psychiatry at the University of Colorado, "Early intervention in psychosis: Future or fad?" Centre for Addiction and Mental Health website, http://www.camh.net/Publications/Cross_Currents/Winter_2007-08/futureorfad_crcuwinter0708.html.
[5] http://www.mja.com.au/public/issues/187_07_011007/ber10341_fm.pdf
[6] http://www.mja.com.au/public/issues/187_07_011007/ber10341_fm.pdf
[7] http://www.mja.com.au/public/issues/187_07_011007/ber10341_fm.pdf
[8] http://www.mhanet.ca/documents/2008/Research-Colloquium/0920%20-%20Keynote%20MCGORRY.pdf
[9] http://www.bmj.com/cgi/content/full/337/aug04_1/a695
[10] http://bjp.rcpsych.org/cgi/content/full/187/48/s108; http://www.bmj.com/cgi/content/full/337/aug04_1/a695
[11] http://www.opednews.com/articles/Tracking-the-American-Epid-by-Evelyn-Pringle-100602-668.html
[12] http://www.behavioral.net/ME2/dirmod.asp?sid=9B6FFC446FF7486981EA3C0C3CCE4943&nm=Archives&type=Publishing&mod=Publications%3A%3AArticle&mid=64D490AC6A7D4FE1AEB453627F1A4A32&id=BFCD36BFD75E447CA63F662A633F41FB&tier=4
[13] http://www.opednews.com/articles/Tracking-the-American-Epid-by-Evelyn-Pringle-100602-668.html
[14] http://books.google.com.au/books?id=lyLfMPsnvJ0C&pg=PA136&lpg=PA136&dq=Portland+Identification+and+Early+Referral+McGorry&source=bl&ots=lEp9tdT8ZV&sig=_zlnHeFk8oqxTHSjbvLf0XQmlY4&hl=en&ei=lP0RTKThLMWPcMnSzNAH&sa=X&oi=book_result&ct=result&resnum=1&ved=0CBQQ6AEwAA#v=onepage&q&f=false
[15] http://69.5.18.33/ahrp/cms/index2.php?option=com_content&do_pdf=1&id=345
[16] http://69.5.18.33/ahrp/cms/index2.php?option=com_content&do_pdf=1&id=345
[17] http://www.iepa.org.au/ContentPage.aspx?pageID=10
[18] http://www.headspace.org.au/about/headspace-board/
[19] http://www.iepa.org.au/ContentPage.aspx?pageID=59
[20] http://www.iepa.org.au/ContentPage.aspx?pageID=59
[21] http://www.iymhconference.com.au/why-attend/
[22] http://www.iymhconference.com.au/
[23] Mental Health Update, GetUp! Action for Australia, 21 Apr. 2010, http://www.getup.org.au/blogs/view.php?id=1936&dc=1086,21560,1
[24] http://sydney.edu.au/medicine/museum/mwmuseum/index.php/McGorry,_Patrick