ADHD Drugs—Side Effects
---

The risks of these drugs are provided so the public can make informed, educated decisions. The U.S. Drug Enforcement Administration classifies ADHD drugs as Schedule ll, in the same class of highly addictive drugs as morphine, opium and cocaine. Common brand name stimulants, also known as ADHD drugs, include Ritalin, Concerta, Adderall, Metadate, Vyvanse, Provigil.
---
Drug Agency Regulatory Warnings:
There have been 31 drug regulatory agency warnings issued from eight countries on ADHD drugs causing:
Aggression
Agitation
Anxiety
Convulsions
Depression
Disturbed sleep
Drug addiction/abuse
Hallucinations
Heart attack
Heart problems
Hostility
Mania/psychosis
Seizures
Stroke
Sudden death
Suicidal ideation/behavior
Violence
Weight changes
Drug Studies:
There have been 20 studies published from four countries on ADHD drugs causing:
Abnormal heart rate/rhythm
Birth defects
Blood pressure changes
Delinquency risk
Depression
Drug abuse/addiction
Emotional outbursts
Hallucinations
Heart problems
Homicidal ideation
Insomnia
Irritability
Mania/psychosis
Low academic performance
Stunted growth
Sudden death
Suicide risk
Violence
Weight changes
Documented Side Effects of ADHD Drugs:
Aggression/hostility
Agitation
Blood pressure changes
Changes in vision or blurred vision
Depression
Dizziness or faintness
Fever
Hallucinations
Heart attack
Hives
Hypersensitivity
Impotence
Increased irritability
Insomnia
Involuntary tics/twitching
Irregular heartbeat
Liver problems
Loss of appetite
Mania
Mental/mood changes
Muscle/joint tightness
Nausea
Nervousness
Painful menstruation
Psychosis
Restlessness
Seizures
Sexual dysfunction
Slow/difficult speech
Stomach pain
Stroke
Stunted growth
Sudden death
Suicidal thoughts
Swelling of face or throat
Tourette's Syndrome
Toxic psychosis
Unusual bleeding/bruising
Unusual sadness/crying
Violent behavior
Vomiting
Weight loss
"Zombie" demeanor

ADHD Drug Side Effects Reported to the FDA: There have been 14,158 Adverse Drug Reactions in connection with ADHD drugs/stimulants that have been reported to the FDA's Adverse Event Reporting System (MedWatch), between 2004 and 2011.
The FDA estimates that less than 1% of all serious events are ever reported to it, so the actual number of side effects occurring are most certainly higher.
These include: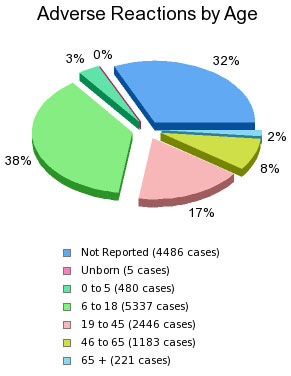 871 cases of suicidal ideation/behavior (completed suicides and suicide attempts)
636 cases of aggression
593 cases of hallucinations
499 cases of anxiety
495 cases of abnormal behavior
464 cases of depression
220 cases of death/sudden death
147 cases of mania
113 cases of withdrawal symptoms
52 cases of homicidal ideation
44 cases of diabetes
30 cases of hostility
25 cases of coma
23 cases of physical Assault
21 cases of birth defects
13 cases of violence-related symptoms
12 cases of psychosis
11 cases of homicide
9 cases of sexual dysfunction
For more details, including numbers of side effects reported, click here >>
ADHD Drug Warnings:
There have been 31 warnings from eight countries (United States, United Kingdom, Canada, Japan, Australia, New Zealand, France and Singapore) warning that ADHD drugs/stimulants cause harmful side effects. These include the following (note that some warnings cite more than one side effect, so the list below may not be equal to the total number of warnings):
12 warnings on stimulants causing heart problems
8 warnings on stimulants causing mania/psychosis
8 warnings on stimulants causing death
3 warnings on stimulants causing hallucinations
2 warnings on stimulants causing depression
2 warnings on stimulants causing violence, hostility or aggression
2 warnings on stimulants causing seizures
1 warning on stimulants causing suicide risk/attempts
1 warning on stimulants causing anxiety
ADHD Drug Studies:
There are 20 studies from four countries (United States, Australia, Denmark and Italy) showing that ADHD drugs/stimulants cause harmful side effects. These include the following (note that some studies cite more than one side effect, so the list below may not be equal to the total number of studies):
5 studies on stimulants causing medication abuse
3 studies on stimulants causing heart problems
2 studies on stimulants causing death
1 study on stimulants causing suicide risk/attempts
1 study on stimulants causing birth defects
1 study on stimulants causing violence
1 study on stimulants causing homicidal ideation
1 study on stimulants causing depression
1 study on stimulants causing mania, psychosis and hallucinations
Please note: No one should attempt to get off of psychiatric drugs without doctor's supervision. To help find medical practitioners in your area, click here
Comments
comments