Antipsychotic Drug Side Effects
---

The risks of these drugs are provided so the public can make informed, educated decisions. The U.S. Food and Drug Administration issued a black box warning about antipsychotics increasing the risk of death in elderly with dementia. Common brand name Antipsychotics include Abilify, Clozaril, Geodon, Invega, Risperdal, Seroquel, Zyprexa, Fanapt.
---
Drug Agency Regulatory Warnings:
There have been 55 drug regulatory agency warnings from seven countries and the European Union on antipsychotic drugs causing:
Agitation in newborns
Akathisia (severe restlessness)
Birth defects
Blood clots
Blood pressure changes
Blurred vision
Breathing difficulties in newborns
Cognitive and motor impairment
Convulsion
Death
Diabetes
Dizziness
Excessive sedation
Falls in the elderly
Gastrointestinal problems
Head shaking
Heart and lung depression
Heart problems
Hemorrhaging
High Cholesterol
Hypoglycemia (low blood sugar)
Hypothermia
Involuntary movement disorder
Lung/throat infection that may be fatal
Muscle rigidity in newborns
Nervous system disorders
Neuroleptic Malignant Syndrome
Obsessive compulsive symptoms
Pain in extremities
Pneumonia
Red blood cell decrease
Sedation
Seizures
Sexual dysfunction
Sleep apnea
Sleep disorder
Stroke
Taste sense impairment
Tremor in newborns
Urinary retention
Weight gain
White blood cell decrease
Withdrawal symptoms
Drug Studies:
There have been 77 studies published from twelve countries on antipsychotic drugs causing:
Birth defects
Blood clots
Blood sugar changes
Cardiovascular events
Cataracts
Cerebrovasular events
Cognitive decline/impairment
Coma
Confusion
Death
Delusional thinking
Diabetes
Drug toxicity
Falls in the elderly
Gastrointestinal symptoms
Heart problems
High pituitary hormone levels
Insulin resistance
Lack of efficacy
Loss of bone mass
Neuroleptic Malignant Syndrome
Parkinson's disease
Pneumonia
Psychosis
Respiratory problems
Risk of fractures
Seizures/tremors/convulsions
Sexual dysfunction
Sleep problems
Stroke
Tardive dyskinesia
Thyroid autoimmunity
Tooth decay
Tumors
Violence
Weight gain
Withdrawal symptoms


Documented Side Effects of Antipsychotics:
Agitation
Akathisia
Anxiety
Behavior changes
Birth defects
Blood disorders
Blurred vision
Cardiac arrest
Death from liver failure
Depression
Diabetes
Excessive weight gain
Fatal blood clots
Heart arrhythmia
Heart failure
Heart palpitation
Hemorrhage
Hostility
Hyperglycemia
Hypoglycemia
Insomnia
Involuntary movements
Manic reaction
Mood changes
Muscle spasms
Nausea
Neuroleptic Malignant Syndrome
Nightmares
Pancreatitis
Seizures/convulsions
Sexual dysfunction
Slow/difficult speech
Suicidal thoughts
Tardive Dyskinesia
Tremors
Violence
Weight gain
Yellowing of skin/eyes
Antipsychotics Side Effects Reported to the FDA: There have been 104,512 Adverse Drug Reactions in connection with antipsychotics that have been reported to the FDA's Adverse Event Reporting System (MedWatch), between 2004 and 2011.
The FDA estimates that less than 1% of all serious events are ever reported to it, so the actual number of side effects occurring are most certainly higher.
These include: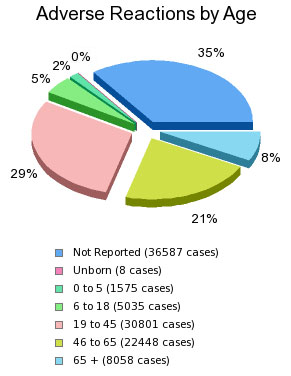 10,842 cases of diabetes
5,111 cases of death/sudden death
4,960 cases of suicide (completed suicides, suicide attempts)
2,239 cases of hallucinations
2,158 cases of anxiety
2,141 cases of depression/major depression
2,085 cases of coma
1,481 cases of aggression
894 cases of mania
830 cases of withdrawal symptoms
167 cases of homicidal ideation
167 cases of sexual dysfunction
101 cases of physical assault
99 cases of hostility
88 cases of birth defects
82 cases of psychosis
58 cases of homicide
34 cases of violence-related symptoms
14 cases of stillbirth
For more details, including numbers of side effects reported, click here >>
There have been 55 warnings from seven countries (United States, United Kingdom, Canada, Japan, Australia, New Zealand, Ireland and South Africa) and the European Union warning that antipsychotic drugs cause harmful side effects. These include the following (note that some warnings cite more than one side effect, so the list below may not be equal to the total number of warnings):
12 warnings on antipsychotics causing death/sudden death
11 warnings on antipsychotics causing causing heart problems
6 warnings on antipsychotics causing withdrawal symptoms
6 warnings on antipsychotics causing convulsions, seizures or tremors
5 warnings on antipsychotics causing causing diabetes
3 warnings on antipsychotics causing birth defects
3 warnings on antipsychotics causing agitation
1 warning on antipsychotics causing mania and psychosis
1 warning on antipsychotics causing sexual dysfunction
Antipsychotic Drug Studies:
There are 77 studies from twelve countries (United States, United Kingdom, Canada, Netherlands, Australia, Spain, Turkey, Italy, Israel, Ireland, Denmark and New Zealand) showing that antipsychotic drugs cause harmful side effects. These include the following (note that some studies cite more than one side effect, so the list below may not be equal to the total number of studies):
13 studies on antipsychotics causing death or increased mortality
10 studies on antipsychotics causing diabetes
6 studies on antipsychotics causing heart problems
2 studies on antipsychotics causing seizures or convulsions
1 studies on antipsychotics causing birth defects
1 study on antipsychotics causing violence and homicidal ideation
1 study on antipsychotics causing coma
1 study on antipsychotics causing psychosis and delusional thinking
1 study on antipsychotics causing sexual dysfunction
Please note: No one should attempt to get off of psychiatric drugs without doctor's supervision. To help find medical practitioners in your area, click here
Comments
comments