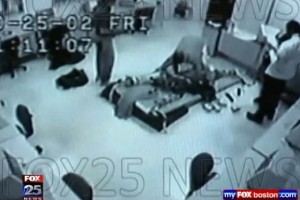 Video of a student restrained and shocked for hours at the Judge Rotenberg Center was played in court on Tuesday after a years-long battle by the center to keep it from the public eye.
The video, which shows former resident Andre McCollins screaming, writhing in pain, and begging for help, was played at the start of McCollins' trial against the Canton-based Judge Rotenberg Center.
"I never signed up for him to be tortured, terrorized and abused," Cheryl McCollins told the jury. "I had no idea, no idea, that they tortured the children in the school."
The Rotenberg Center convinced a judge eight years ago to seal the video, and the battle continued up until Tuesday morning when their attorneys asked Superior Court Judge Barbara Dortch-Okara to bar FOX Undercover's camera from recording the video as it was played.
Dortch-Okara denied the center's request, clearing the way to give the public the first look at how these controversial electric shocks are used. The video was taken by one of the center's classroom cameras.
McCollins, then 18 years old, was shocked 31 times that day in 2002. Lawyers for the center and its clinicians say it was part of the treatment he needed to quell his aggressive behavior.