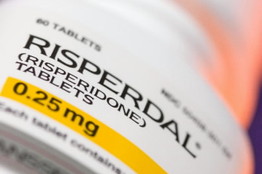 Johnson & Johnson will pay more than $1 billion to the U.S. and most states to resolve a civil investigation into marketing of the antipsychotic Risperdal, according to people familiar with the matter.
J&J, the world's largest health products company, reached an accord last week with the U.S. attorney in Philadelphia, according to the people, who weren't authorized to speak about the matter. It doesn't resolve negotiations over a possible criminal plea, they said.
The U.S. government has been investigating Risperdal sales practices since 2004, including allegations the company marketed the drug for unapproved uses, J&J has said in Securities and Exchange Commission filings. The company said it has been in negotiations with the U.S. to settle this investigation.
J&J, based in New Brunswick, New Jersey, disclosed in August that it reached an agreement to settle a misdemeanor criminal charge related to Risperdal marketing. The company is in negotiations to pay about $400 million more to settle this portion of the investigation, one of the people said.