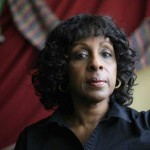 "I knew the system was broken, but I didn't know it was this broken, where anyone, literally anyone could come and take your child," said Maryanne Godboldo, who's 13-year-old daughter was taken temporarily by CPS last year.
Testimony under oath in the Godboldo case revealed that probation officers inside the court would routinely stamp Presiding Juvenile Court Judge Leslie Kim Smith's name onto the removal orders. By law, a judge must review the CPS workers allegations of abuse, and then sign the order.
After we reported on the rubber stamping that legal experts say is against the law – the court stopped doing it. But we still asked the court and DHS to tell us how long it had been going on, and how many children were taken from their parents illegally. Judge Smith was not interested in answering our questions.