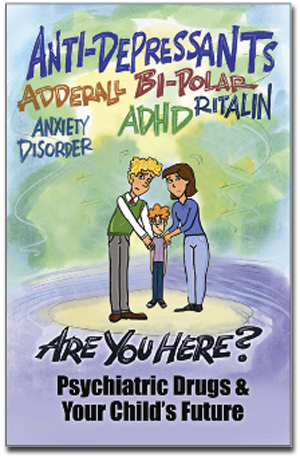 With over 8 million children on psychiatric drugs in the U.S., and 1 million of them between the ages of 0-5, odds are you know someone whose child has been targeted for "treatment" (drugs) by the psychiatric industry. The fact is, parents are not being accurately informed about the  risks of the psychiatric drugs or being informed there are non-harmful, non-drug options for their children. For this reason, we have created an illustrated, easy to read 16-page booklet to inform parents and give them options.
Give these booklets out to your friends, family, coworkers or anyone that you want to help and educate on this issue. 
Normally this booklet is available for $3.50 each in the main CCHR store. It is now available in special discounted packages of 10, 25, 50 and 100!
10 Pack of Child's Future Booklets – $30.00   Save $5!

25 Pack of Child's Future Booklets – $68.75   Save $19!

50 Pack of Child's Future Booklets – $125.00   Save $50!

100 Pack of Child's Future Booklets – $200.00   Save $150!
BEST VALUE