CCHR celebrated its 45th Anniversary and Human Rights Awards Banquet on February 1st, in Los Angeles, honoring courageous individuals who refused to sit idly by in the face of mental health abuses.
The awards ceremony highlighted each of the award winners' efforts in the field of mental health reform, embodying the mission of CCHR to bring about an atmosphere of safety and security in the field of mental health by eradicating its abuses and brutality. The 2014 award winners met that challenge head-on.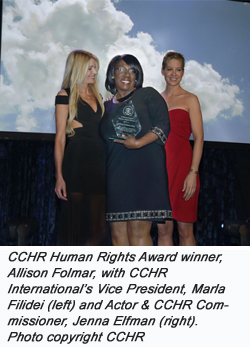 Another warrior, battling on the home front, is award recipient Allison Folmar, an attorney who has defended those who have faced the greatest injustice: children forcibly taken from their parents for refusing to give their child a dangerous, potentially life-threatening psychiatric drug under the fraudulent charge of "medical neglect."
Folmar's work in exposing the illegal seizure of Maryanne Godboldo's daughter prompted by Child Protective Services helped change state law – click here to watch her video.
Retired Chief Petty Officer, Navy SEAL and twice awarded the Bronze Star Medal with Valor, Mikal Vega, survived missions in Iraq, Haiti, Bosnia, Kosovo, Zaire and Albania. Vega was indestructible until, as he says, "After 22 years of kicking death's ass, it was a cocktail of pills that nearly took me out." Click here to watch Mikal Vega's video.
Award recipient, retired Army Colonel and military psychologist, Dr. Bart Billings, was honored for his decades-long devotion to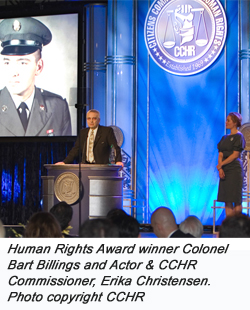 military personnel harmed by psychiatry's excessive drugging regimen. Col. Billings was one of the first professionals to disclose the link between psychotropic drug use and military suicides. Click here to watch Bart Billing's video.
Pat Mena, accepted her Human Rights Award for her efforts to expose the lethal dangers associated with the excessive drugging of our Armed Forces and veterans. Mena's son, Tony, survived two tours of duty in Afghanistan only to become a victim of psychiatry's multi-drug "treatments."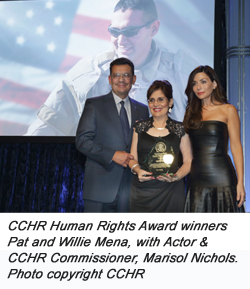 Determined to make other service personnel aware of the psychiatric drug dangers, Pat Mena wrote a book about Tony's struggles, You'll Be Fine, Darling: Struggling with PTSD after the Trauma of War. Pat told the audience that, "In writing this book about my son's struggles, I have become Tony's voice." Pat's heartfelt message is a wake-up call about the lethal dangers of chemically-overwhelming our Armed Forces. Pat Mena's video will be released soon.
Click here to read the full article online.
CCHR Human Rights Award Winner Videos
See award winner presentation for Attorney Allison Folmar below.

See award winner presentation for former Navy SEAL, Mikal Vega below.

See award winner presentation for Colonel Bart Billings.

Award winner presentation for Pat Mena will be released soon.
Thank You For Your Support & Dedication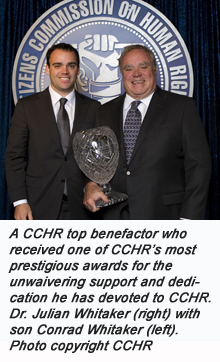 Without our supporters it would be almost impossible for CCHR to continue on its mission of informing, educating, and protecting people all over the world.
On behalf of the staff and executives of CCHR International we would like to thank you again for your outstanding contributions to CCHR.