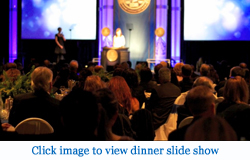 CCHR's 43rd Anniversary and Human Rights Awards Banquet, held on February 11th in Los Angeles was an outstanding success! Many in attendance said the event, which honors outstanding human rights achievements in the field of mental health reform, was the most powerful and hard-hitting they had seen yet. The event featured live entertainment, hard-hitting speeches, video presentations and awards given to CCHR's Human Rights Awardees.
To view the slide show of CCHR's Human Rights Awards banquet, click here.
This year's awardees included:
Maria Bradshaw, a New Zealand mother who has been spearheading an international grassroots movement against child drugging;
Lisa Cain, a California psychology professor who has blown the whistle on her own profession and psychiatry;
Chill E.B., a hip hop artist who has turned rap into a powerful vehicle for exposing psychiatric abuse.
Maryanne Godboldo, a Detroit mother who made international press for refusing to drug her daughter despite enormous pressure and force exerted by the state. CCHR Commissioners Ethan Suplee and Danny Masterson presented Maryanne with her Human Rights Award and in her acceptance speech, she said: "You all laid the groundwork so that I would be prepared to go into battle to save my child…. I knew I was not alone in this battle. I just had to do my part and Ariana had to do hers. I believe Ariana and I had to go through this to expose a dark, ugly, foul secret. The selling, kidnapping and holding hostage of our children. We parents must never stop fighting for our children." Watch the video of her acceptance speech below: