Exposing Italy's Asylums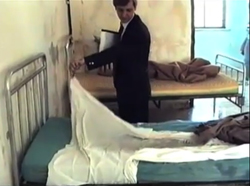 Along with officials and members of the Italian Parliament, CCHR Italy investigated concentration-camp-like conditions in the country's psychiatric asylums, leading to their closure.  Between 1992 and 1995, CCHR Italy conducted nearly thirty inspections in these asylums.  Hundreds of people were found living like animals, housed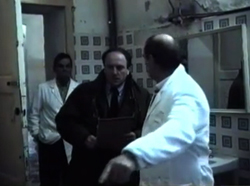 naked in locked rooms with peeling walls and old stained tables and chairs. Beds were covered with human feces and urine.  Staff had been pocketing government funds instead of spending it on patient care.
Once aware of the evidence, CCHR worked tenaciously to get these psychiatric facilities shut down. In 1996, the Italian government issued a Resolution ordering 97 psychiatric asylums closed and sold. The previously abused and neglected people had their dignity restored: many were taught how to read and write and can now work and care for themselves for the first time in their lives.  CCHR Italy was presented with a Mayoral medal for its humanitarian efforts.

Fighting Psychiatric Drugging of Children in Italy: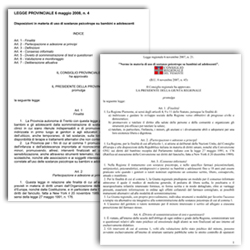 CCHR Italy worked with parliament members to obtain approval of two bills in Piemonte and Provincia di Trento, curbing the use of mental health screening in schools and drugging children. The points of these bill cover:
1. Schools are places of education—not hospitals. Therefore screening students for mental diseases is forbidden. Such activities belong to the Health System.
2. An "informed consent" module must be signed by parents before a psychiatric drug may be prescribed to a kid.
Protesting Human Rights Violations in Italy: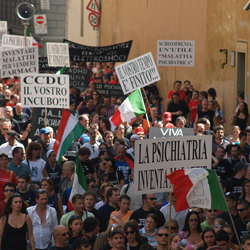 Whenever there are international psychiatric congresses happening in Italy, CCHR takes to the streets to protest human rights abuses being committed under the guise of mental health. Recent marches have been held in Verona, Florence and Milano.  The latest one was in June 2013, in opposition to the 4th Annual ADHD Congress in Milano.
Information booths are also often organized by the various Italian chapters to collect signatures on petitions or bills.