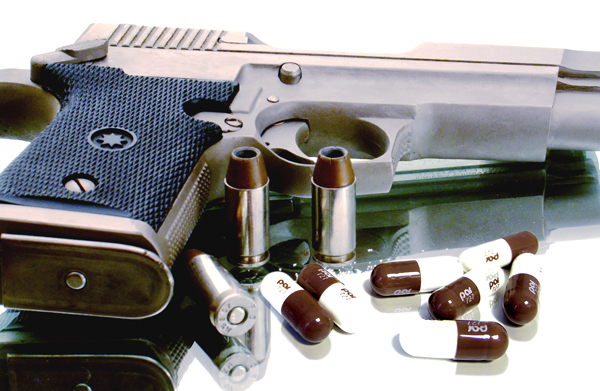 "According to a forensic study that the U.S. the National Institutes of Health posted, benzodiazepines can cause behavioral dis-inhibition, hostility, rage, 'serious crimes and sometimes homicides.'  Combined with alcohol, they can produce 'hazardous' states."
By Jan Eastgate
President CCHR International
The Mental Health Industry Watchdog
September 3, 2019
Montgomery County Coroner has confirmed that the alleged Dayton, Ohio shooter had the benzodiazepine alprazolam, in his system along with cocaine, alcohol and other substances.[1] In its report, Psychiatric Drugs Create Violence and Suicide, the mental health watchdog Citizens Commission on Human Rights (CCHR) details at least nine other prominent senseless acts of violence since 2008 where the person responsible was taking a benzodiazepine, sometimes with an antidepressant. Of these, four had taken alprazolam. Combined, they were responsible for nearly 260 deaths and about 650 wounded. When taken with other drugs and alcohol, benzodiazepines increase their effects. [2]
According to a forensic study that the U.S. the National Institutes of Health posted, benzodiazepines can cause behavioral dis-inhibition, hostility, rage, "serious crimes and sometimes homicides."  Combined with alcohol, they can produce "hazardous" states.[3]
Finnish researchers published the findings in their 2015 study that linked tranquilizers, which includes benzodiazepines, to violence. The drugs were found to increase the risk of a consumer committing a homicide by 45% and antidepressant by 31%.[4] A study published in the European Journal of Clinical Pharmacology also found that "…benzodiazepines and [SSRI antidepressants] are the main pharmacological classes able to induce aggressive behavior." [5]
A further study published in the Australian and New Zealand Journal of Psychiatry, examined 46 studies on the relationship between benzodiazepines and aggressive behaviors and found: "An association between benzodiazepine use and subsequent aggressive behavior was found in the majority of the more rigorous studies…" Diazepam and alprazolam received the most attention.[6]
Benzodiazepines are widely prescribed outside of "psychiatric" indications, including for insomnia, seizures, muscle spasms, alcohol withdrawal and can cause physical dependence and addiction.[7] They are also widely prescribed with opioids and such broad prescribing opens the door to withdrawal effects that with benzodiazepines can last weeks and sometimes months or years. Withdrawal symptoms include increased anxiety, perceptual distortions, depersonalization, paranoid thoughts, rage, aggression and irritability to name but a few.[8]
Add to the violence they can cause, there are also overdose deaths. According to the Centers for Disease Control and Prevention, National Vital Statistics Report from December 2018, among drug overdose deaths that mentioned at least one specific drug, the 10 most frequently mentioned drugs during 2011–2016 included alprazolam and diazepam.
Overdose Deaths of the top 15 reported drugs included:
Alprazolam (generic of benzodiazepine Xanax): 2011: 4,066; 2012: 3,803; 2013: 3,724; 2014: 4,237; 2015: 4,801; 2016: 6,209 = 26,840 deaths (53% increase between 2011 and 2016)
Diazepam (generic of benzodiazepine Valium): 2011: 1,698; 2012: 1,577; 2013: 1,618; 2014: 1,748; 2015: 1,796; 2016: 2,022 = 10,459 deaths (37,299 deaths for two benzodiazepines) 19% increase between 2011 and 2016)
Citalopram (generic of the antidepressant Celexa): 2011: 1,043; 2012: 1,042; 2013, 914; 2014: 1,014 (no report for 2015, 2016) = 4013 deaths
Amitriptyline (antidepressant: 2012: 835; 2013: 815= 1650 deaths[9]
Almost all drug overdose deaths involving alprazolam or diazepam (96%) mentioned involvement of other drugs. Alprazolam was mentioned in 25% of the deaths involving oxycodone and 26% of deaths from the painkiller, hydrocodone (Vicodin, for example).  The opioid oxycodone and the benzodiazepine alprazolam were mentioned concomitantly in more than 1,500 deaths. Under the top 10 drugs in drug overdoses with intent in 2016, alprazolam was recorded in 5,510 deaths and diazepam in 1,723 deaths.[10]
According to Pharmacy Times, it is estimated that more than 30% of opioid overdoses involve benzodiazepines. In 2017, benzodiazepines, in combination with an opioid, were involved in 11,537 deaths. Between 1996 and 2013, there was a 67% increase in benzodiazepine prescriptions filled, from 8.1 million to 13.5 million.[11]
Researchers took the Food and Drug Administration (FDA) Adverse Event Reporting System data and identified 25 psychotropic drugs associated with violence accounting for 60% of the violent incidents that were reported.[12] Their findings, published in Public Library of Science ONE, included 11 antidepressants, six sedative/hypnotics (including benzodiazepines) and three drugs for treatment of attention deficit hyperactivity disorder (ADHD). The specific cases of violence included: homicide, physical assaults, physical abuse, homicidal ideation, and cases described as violence-related symptoms.[13]
A 2015 Swedish study of their entire population aged 15 and older reported that 11,225 out of 856,493 (1.3%) teens and adults taking SSRI antidepressants were convicted of a violent crime compared to 40,384 out of 7.1 million individuals (0.6%) of the same age not taking SSRIs.[14]
There is enough evidence to warrant a federal investigation into the link between psychotropic drugs, and even other behavioral treatments, and acts of violence. A rough calculation of budgets and money authorized and/or used for mental health and violence prevention programs in schools and foster care is at least $3.4 billion since circa 2014 ($1 billion of this is a budget to be spread out until 2028). Despite investment in violence prevention programs, between 2014 and 2018, at least four acts of senseless violence in schools involving shootings or stabbings has left four dead and eight wounded where the children had been on or withdrawing from psychiatric drugs.
The violence is not limited to shootings. In August, a 20-year-old man went on a stabbing rampage in Sydney, Australia. The man allegedly murdered a 21-year-old woman inside an apartment and then attacked others in the street, including a 41-year-old woman he stabbed in the back. He had a bottle of the benzodiazepine, diazepam (Antenex in Australia[15]) with him and apparently had recently been in a mental health facility.[16]
In July, a man burst into a film and television animation studio in Japan and shouted "die" as he poured out a flammable liquid, setting fire to the premises and killing at least 33 and injuring 35.[17] The alleged arsonist, with a conviction of robbery, was released from jail in 2012 and had also been treated for "mental illness."[18]
Federal budgets have allocated millions of dollars to school violence prevention efforts, which include training for school personnel to better recognize the signs and symptoms of mental illness in students, such as Mental Health First Aid (MHFA).[19] Yet a study published in Studies in Social Justice in 2016 said the MHFA campaign "trains citizens to pathologize human suffering" and "produces new, more reachable psychiatric patients, presuming and thereby increasing citizen availability to psychiatric contact and life-long patienthood."[20]
Developed in Australia, MHFA is overseen in the U.S. by the National Council for Behavioral Health, a group that is heavily funded by at least 12 pharmaceutical companies. Patrick Hahn, a professor of biology at Loyola University, writing in The Baltimore Sun, said that MHFA is geared toward pushing more young people toward more psychiatric drugs, questioning whether parents knew the training was "an eight-hour infomercial bought and paid for by the drug makers?"[21]
Psychiatrists Whitewash Drug Link to Violence
Several psychiatrists argue there is no "scientific" evidence—clinical trials—that prove psychiatric drugs cause mass shootings. However, clinical trials are unlikely to be given approval to deliberately induce violence. Astoundingly, one professor of psychiatry dismissed any drug link, giving an analogy that a mind-altering drug impacting the behavior was as likely as wearing a pair of shoes. "Why not point to some other 'factor' that is common to 100% of mass shooters—wearing shoes, for example," he said. "Every mass shooter on record was wearing some type of shoes at the time, but it would be absurd to blame shoes for mass shootings."
The psychiatrist's conflicts of interest includes research funds and consulting fees from pharmaceutical companies, Eli Lilly and Novartis and addressing a seminar on violence and mental illness, sponsored by Pfizer—the manufacturer of three antidepressants (Effexor, Zoloft and Pristiq) and the benzodiazepine, Xanax and Xanax XR (alprazolam, extended release). The FDA lists the following side effects of Xanax XR: agitation, aggression, anger, homicidal ideation and suicidal ideation.[22]
The August 2019 article cited the Joseph Wesbecker shooting in 1989. While taking Prozac, manufactured by Eli Lilly & Co., Wesbecker went on a rampage in his place of employment, killing eight and wounding 12 others.  A criminologist quoted in the article suggested that Wesbecker had planned the attack before being put on the drug and therefore disputing any causal reaction.[23]
But he omitted the fact that Wesbecker planned for his suicide rampage nearly eight months beforehand but after he'd been released from a private psychiatric clinic, where he was treated, police said.[24] A year before the killing spree he had been prescribed "a number of different medications" for his "depression" and then the touted "miracle drug," Prozac, was prescribed in 1988.  Within two days Wesbecker stopped taking it saying it didn't suit him, but a year later his psychiatrist, Lee Coleman, recommended the drug again.[25]
According to Dr. David Healy, a psychiatrist and international expert on psychopharmacology, a month later, Coleman saw Wesbecker was agitated and volatile and wanted to stop the Prozac, but Wesbecker refused. Coleman later deposed testified: "I knew that Prozac in some people could cause nervousness, can cause agitation, can cause sleep problems, plus I had started him on it three or four weeks before. When you start a new medication and something different happens, you tend to suppose that it's the medication that is causing it within that period of time."[26]
Dr. Healy wrote, "There is now a mound of evidence that, in a minority of cases, [Prozac] induces a strange and disturbing state of mind that can lead to violence and suicide," a condition also known as "akathisia," which was identified in the manufacturer Eli Lilly's internal documents as early as 1978.[27] That was nearly a decade before it was approved for the U.S. market.
Healy further states: "The antidepressants now come with black box warnings of suicide and in some jurisdictions such as Canada they come with warnings of violence also. Exactly the same mechanisms that lead to suicides lead to violence. In one case you have violence directed inward and in the other directed outwards. These mechanisms are akathisia, emotional blunting and psychosis."[28]
As for negating the link to violent behavior, Healy points out: "The risk of violence on these drugs has been known for 50 years. It's known that even giving these drugs to healthy volunteers can cause them to become violent. The data has been out there in warnings in many countries for 10 years. It may be disputed but there is no doctor who can say that they simply couldn't have been aware of this issue. If there are, they are simply not professional."[29]
Conflicts of Interest: Final Report of the Federal Commission on School Safety
The Final Report of the Federal Commission on School Safety released in December 2018 claimed that psychotropic drugs "facilitate better outcomes, such as improved academic functioning, reduced anxiety, decreased impulsivity, and decreased symptoms of major depressive disorder."[30] No evidence was cited on the serious risks of these drugs, despite, for example, a comprehensive Australian study which found stimulant drugs prescribed for "ADHD" increased the odds of performing below age-level by a factor of 10.5 times (compared to never receiving stimulants).[31]
Yet, Dr. Mark Olfson, Department of Psychiatry, College of Physicians and Surgeons, Columbia University, told the school safety Commission, "There is compelling evidence that U.S. children and adolescents are undertreated with psychotropic medications."[32] Dr. Olfson has received research funding from AstraZeneca, Eli Lilly, Bristol-Myers Squibb, Ortho-McNeil Janssen Scientific Affairs, Janssen pharmaceutical companies and has worked as a paid consultant to AstraZeneca, Pfizer and McNeil Pharmaceuticals and Ortho-McNeil Janssen Scientific Affairs, LLC.[33]
Further, Alex Azar, Health and Human Services Secretary, who was part of the school safety Commission advised the White House: "We've got to get kids on psychosocial and psychotropic medications to treat them." The secretary is a past president of Eli Lilly whose Prozac (fluoxetine) was linked to seven high profile killings during his tenure with the company and which left 19 dead and 25 wounded. Two of the killers were aged 12 and 20 and four committed suicide.[34]
Involuntary Commitment is Not the Solution
Add to this, the false advice given to the White House that loosening involuntary commitment laws to identify "mentally disturbed individuals" would reduce mass shootings.[35] Psychiatrists and psychologists are terrible at predicting a danger to oneself and others—the usual requirement for involuntary commitment.  Accumulated research literature indicates that errors in predicting dangerousness range from 54% to 94%, averaging about 85%."[36] A Wayne State University Law School report states: "For nearly twenty years we have known that psychiatrists cannot predict whether a person who has committed a violent act will be violent in the future."[37]
Despite this, psychiatrists have been identified as a key "interest group" in the formation of mental health policy, including the content and provisions of civil commitment laws, according to a 2007 study in the Journal of the American Academy of Psychiatry and the Law.[38] As such, if they continue to insist upon involuntary commitment laws and the power to coercively "treat" individuals or to screen for potentially "mentally ill" students and citizens in order to protect the community from violence, they should be held accountable for their policies and decisions.
For example, in April 2003, a Superior Court jury in Santa Clara County, California, ruled that psychiatrist Cecil Bradley was civilly liable for failing to prevent a patient's violent crime after the patient told him repeatedly that he wanted to hurt others with his vehicle.  The patient drove his truck up on a sidewalk killing one man and injuring another.  Dr. Bradley was ordered to pay $8.6 million to the surviving victim.[39] [Please check that this was not appealed and overturned]
In 2012, Danièle Canarelli, a French psychiatrist was convicted of manslaughter and handed a one-year suspended prison sentence and ordered to pay damages by a Marseille court for her "blindness" and inability to properly assess the danger posed by her patient, Joel Gaillard, who went on to murder an elderly man with an ax. Gaillard was under Dr. Canarelli's care and treatment for four years and escaped and killed his grandmother's 83-year-old partner, Germain Trabuc. He had already been committed to a secure hospital on several occasions for a series of increasingly dangerous incidents, [40] which clearly didn't prevent any violent tendencies and, arguably, contributed to them.  Psychiatric Times reported, "Charges outlined in the judgment text stated that under her supervision, the 4 years of therapy were marked 'beyond any doubt' with 'a succession of failures' and her attitude 'resembled blindness.'"[41]
Hospitalization does not guarantee protections. In one mental health facility, less than one percent of patients recovered from treatment provided them.[42]
With 29 medical studies and 27 drug regulatory agency warnings showing that psychotropic drug adverse effects include mania, psychosis, hostility, aggression or homicidal ideation, it behooves governments to investigate this.
CCHR recommends an initial action to enact a law similar to a New York Assembly Bill introduced in 2000 that required police to report to the Department of Criminal Justice Services on certain crimes and suicides committed by a person who was using psychotropic drugs.[43] A report on psychiatric drug usage in such crimes could regularly be made public to identify which drugs are most associated with violence.
References:
[1] "Gunman in Dayton mass shooting had cocaine and other substances in his system," NBC News, 15 Aug. 2019, https://www.nbcnews.com/news/us-news/gunman-dayton-mass-shooting-had-cocaine-other-substances-his-system-n1042906
[2] https://www.rxlist.com/benzodiazepines/drugs-condition.htm; From CCHR's report, killers on benzos include: 1) Stephen Paddock, Las Vegas, NV, 59 dead, 546 wounded (2017); 2) Gavin Long, Baton Rouge, LA, 4 dead, 3 wounded (2016); 3) Andreas Lubitz, France, 150 dead (2015); 4) Elliot Rodgers, Santa Barbara, CA, 7 dead, 14 wounded (2014); 5) James Holmes, Aurora, CO, 12 dead, 70 wounded (2012); 6) Christopher Wood, Middletown, MA, 4 dead, committed suicide (2009); 7) Robert Kenneth Stewart, Carthage, NC, 8 dead, 3 wounded (2009); 8) Matti Saari, Kauhajoki, Finland, 10 dead, 1 wounded (2008); 9) Steven Kazmierczak, DeKalb, IL, 5 killed, 21 wounded (2008). Total: 259 dead; 658 wounded
[3] Michel L, Lang JP., "Benzodiazepines and forensic aspects," Encephale. 2003 Nov-Dec;29(6):479-85, https://www.ncbi.nlm.nih.gov/pubmed/15029082
[4]  David DiSalvo, "Common Painkillers And Sedatives Linked To Increased Risk Of Homicide, According To Study," Forbes, 4 June 2015, https://www.forbes.com/sites/daviddisalvo/2015/06/04/common-pain-killers-and-sedatives-linked-to-increased-risk-of-homicide-according-to-study/#1083a9581aef
[5] Nadege Rouve, Haleh Bagheri, et al., "Prescribed drugs and violence: a case/noncase study in the French PharmacoVigilance Database," European Journal of Clinical Pharmacology, 7 June, 2011, http://www.ncbi.nlm.nih.gov/pubmed/21655992
[6] Albrecht B, et al., "Benzodiazepine use and aggressive behaviour: A systematic review," Australian and New Zealand Journal of Psychiatry, 2 Sept. 2014, https://www.ncbi.nlm.nih.gov/books/NBK293296/
[7] "Benzodiazepine addiction," Semel Institute for Neuroscience and Human Behavior," https://www.semel.ucla.edu/dual-diagnosis-program/Conditions_Treated/Benzodiazepine_Addictions
[8] https://www.cchrint.org/pdfs/violence-report.pdf
[9]  "Drugs Most Frequently Involved in Drug Overdose Deaths: United States, 2011–2016," CDC National Vital Statistic Reports, 12 Dec. 2018
[10]  "Drugs Most Frequently Involved in Drug Overdose Deaths: United States, 2011–2016," CDC National Vital Statistic Reports, 12 Dec. 2018
[11] "Pharmacists Play an Important Role in Managing Patients Taking Opioids with Benzodiazepines," Pharmacy Times, 1 Apr. 2019, https://www.pharmacytimes.com/contributor/karen-berger/2019/04/pharmacists-play-an-important-role-in-managing-patients-taking-opioids-with-benzodiazepines
[12] Thomas J. Moore, Joseph Glenmullen, Curt D. Furbert, "Prescription Drugs Associated with Reports of Violence Towards Others," Public Library of Science ONE, Vol. 5, Iss. 12, Dec. 2010, http://www.plosone.org/article/info%3Adoi%2F10.1371%2Fjournal.pone.0015337
[13] Ibid.
[14] http://www.center4research.org/antidepressants-increase-suicide-attempts-risks/ citing, Molero Y, Lichtenstein P, et al. Selective Serotonin Reuptake Inhibitors and Violent Crime: A Cohort Study. PLoS Med 12(9): e1001875. doi:10.1371/ journal.pmed.1001875.
[15] https://www.google.com/search?client=firefox-b-1-d&channel=cus&q=Antenex
[16] "Man Goes On Stabbing Rampage In Sydney After Allegedly Slitting Woman's Throat," The Daily Wire, 13 Aug. 2019, https://www.dailywire.com/news/50555/man-goes-stabbing-rampage-sydney-after-allegedly-hank-berrien
[17] "Suspected Arson at Anime Studio In Japan Kills At Least 33 People," NPR, 18 July 2019, https://www.npr.org/2019/07/18/742981029/japanese-anime-studio-hit-with-suspected-arson-killing-at-least-16
[18] "Japan arson suspect a convicted robber treated for mental illness: NHK," Reuters, 19 Jul. 2019, https://www.reuters.com/article/us-japan-fire-convict/japan-arson-suspect-a-convicted-robber-treated-for-mental-illness-nhk-idUSKCN1UE1CV; https://www.thestar.com.my/news/world/2019/07/20/suspected-japan-arsonist-a-reclusive-quarrelsome-gamer-neighbour-says/
[19] "President Trump Releases FY 2020 Budget Proposal," 15 Mar. 2019, https://www.thenationalcouncil.org/capitol-connector/2019/03/president-trump-releases-fy-2020-budget-proposal/
[20] Jan Nadine DeFehr, Inventing Mental Health First Aid: The Problem of Psychocentrism," Studies in Social Justice, Vol 10, Issue 1, 2016, http://www.westernmassrlc.org/images/stories/Inventing_Mental_Health_First_Aid_The_Problem_of_P.pdf
[21] "Drug companies prey on children," The Baltimore Sun, 25 Dec. 2016, https://www.baltimoresun.com/opinion/op-ed/bs-ed-youth-overmedication-20161225-story.html
[22] https://www.accessdata.fda.gov/drugsatfda_docs/label/2016/021434s016lbl.pdf
[23] "VERIFY: In the past 20 years did the majority of mass shooters take psychotropic drugs before committing a crime?" 13 Aug. 2019,
WUSA9.com, https://www.wusa9.com/article/news/verify-in-the-past-20-years-did-the-majority-of-mass-shooters-take-psychotropic-drugs-before-committing-a-crime/65-60d0c48d-9dab-4129-9176-47d58e4a283a
[24] "Joseph Wesbecker planned for his suicide rampage, ending in…," UPI, 15 Sept. 1989, https://www.upi.com/Archives/1989/09/15/Joseph-Wesbecker-planned-for-his-suicide-rampage-ending-in/8729621835200/
[25] http://www.healyprozac.com/Trials/Fentress/background.htm
[26] http://www.healyprozac.com/Trials/Fentress/background.htm
[27] "They said it was safe," The Guardian, 29 Oct. 1999, https://www.theguardian.com/theguardian/1999/oct/30/weekend7.weekend1
[28] David Healy, M.D., "Prescription-only Homicide and Violence," Dr. Healy's website, 18 Feb. 2013, https://davidhealy.org/prescription-only-homicide-and-violence/
[29] David Healy, M.D., "Prescription-only Homicide and Violence," Dr. Healy's website, 18 Feb. 2013, https://davidhealy.org/prescription-only-homicide-and-violence/
[30] Final Report on the Federal Commission on School Safety, presented to the President of the U.S., 18 Dec. 2018, https://www2.ed.gov/documents/school-safety/school-safety-report.pdf, p. 76
[31]"Raine ADHD Study: Long-term outcomes associated with stimulant medication in the treatment of ADHD in children," Western Australian Government, Department of Health,  https://www.health.wa.gov.au/publications/documents/MICADHD_Raine_ADHD_Study_report_022010.pdf, p. 6
[32] Final Report on the Federal Commission on School Safety, presented to the President of the U.S., 18 Dec. 2018, https://www2.ed.gov/documents/school-safety/school-safety-report.pdf, p. 76
[33] https://www.cuimc.columbia.edu/news/psychiatrists-shift-away-providing-psychotherapy; https://jamanetwork.com/journals/jamapsychiatry/fullarticle/483159
[34] https://www.cchrint.org/pdfs/violence-report.pdf Between 2007 and 2017, Arcan Cetin (20), Jose Reyes (12); Jeff Weise (16); Steven Kazmierczak (27). The case that first questioned the role of Prozac in violence was Joseph Wesbecker in 1989, who killed 8 and wounded 12 in Kentucky.
[35] https://reason.com/2019/08/06/to-stop-mass-shooters-trump-says-we-should-make-involuntary-psychiatric-treatment-easier-no-we-shouldnt/
[36] Margaret Hagen, Whores of the Court, The Fraud of Psychiatric Testimony and the Rape of American Justice, (Harper Collins Publishers, Inc., New York, 1997), p. 165, citing Terrence W. Campbell, "Challenging Psychologists and Psychiatrists as Witnesses," Michigan Bar Journal, Jan. 1994.
[37] Erica Beecher-Monas , Edgar Garcia-Ril, "Danger at the Edge of Chaos: Predicting Violent Behavior in a Post-Daubert World," Law Faculty Research Publications, 1-1-2003, https://pdfs.semanticscholar.org/e1fe/bb1382d282dde06cc3e3707c2ffecab9c8ce.pdf
[38] Robert A. Brooks, "Psychiatrists' Opinions About Involuntary Civil Commitment: Results of a National Survey," Journal of the American Academy of Psychiatry and the Law, Online June 2007, 35 (2) 219-228; http://jaapl.org/content/35/2/219
[39] Howard Mintz, "Jury: Psychiatrist liable in patient's road rampage, "San Jose Mercury News (California), 6 Apr. 2003.
[40] "French psychiatrist convicted of manslaughter for failing to recognise danger of patient," The Telegraph, 20 Dec. 2012, https://www.telegraph.co.uk/news/worldnews/europe/france/9759428/French-psychiatrist-convicted-of-manslaughter-for-failing-to-recognise-danger-of-patient.html; "Anger as French psychiatristist found guilty after patient hacks man to death," The Guardian, 19 Dec. 2012, https://www.theguardian.com/world/2012/dec/19/french-psychiatrists-unions-doctors-sentence
[41] https://www.psychiatrictimes.com/forensic-psychiatry/psychiatric-liability-french-psychiatrist-sentenced-after-murder-committed-her-patient
[42] KING COUNTY DEPARTMENT OF COMMUNITY AND HUMAN SERVICES, Mental Health, Chemical Abuse and Dependency Services Division King County Ordinance # 13974Second Annual Report: Recovery Model, 2001, pp.3-5.
[43] https://www.cchrint.org/nybillpsychiatricdruguse/