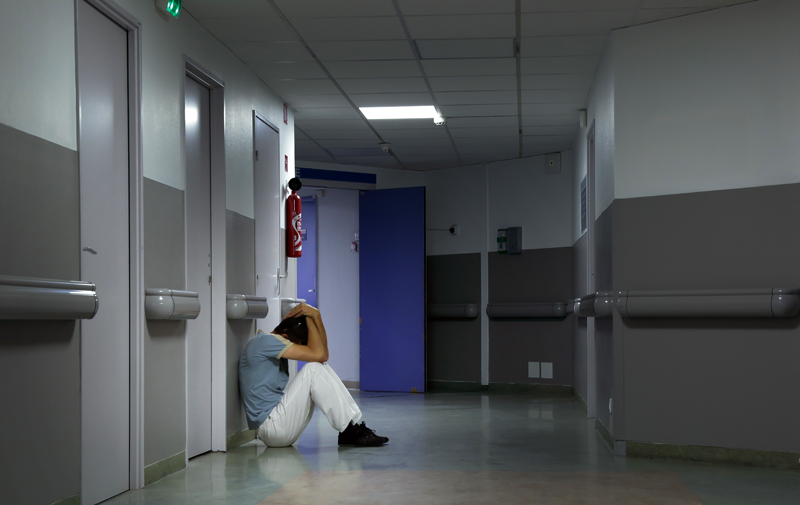 "Things were dangerous. There were broken vents that kids could cut themselves with. Nothing was locked up that could be broken and used for self-harm. Staff were hurting children. There was a child that was escorted to the hospital because he was punched in the face by a staff member. I directly observed a staff member screaming at a kid with severe trauma." – Former empolyee of Acadia's Oasis Behavioral Health
By CCHR International
The Mental Health Watchdog
February 13, 2019
On February 4, 2019, The Capitol Forum reported it had obtained 373 pages of Arizona Department of Health Services (ADHS) documents regarding investigations into Acadia's Oasis Behavioral Health near Phoenix, which accepts children, adolescents, and adults. The Capitol Forum found that between January 2014 and September 2018, the facility had been investigated dozens of times after reports of poor care and dangerous conditions. Complaints included physical and sexual assaults, forging of documents, short-staffing, runaway patients, and failures to prevent injuries and suicide attempts.
The issues at Oasis mirror conditions that The Capitol Forum said it has uncovered at other Acadia facilities: harm to patients caused by poor oversight and understaffing.[1]
Two years ago, Brown Consulting Behavioral Services warned that "with increased attention of the Department of Health and Human Services (DHS) and the Office of Inspector General (OIG), Behavioral Healthcare leaders, like other healthcare leaders, must re-examine their internal operations and practices to protect their organizations from fraud and abuse." The July 21, 2017 article spoke of an "Integrity Gap," referring to the "distance" between day-to-day conduct and the ethical standards of the organization. If an organization operates unethically, the organization moves further away from its ethical code and widens the "Integrity Gap."[2]  Clearly, this advice was not taken because for-profit behavioral hospital chains today have not just widened the "gap," they've created a gigantic chasm. And it will take external-to-the-industry government and law enforcement response to close that gap.
For example, its time the Federal Medicaid and Medicare Services (CMS) review the reliability of the Joint Commission, a non-profit tax exempt organization, giving accreditation to hospitals as a condition of licensure for the receipt of Medicare and Medicaid reimbursements.[3]
The information The Capitol Forum found further raises concerns about the Joint Commission. The Commission bases its accreditation on surveys paid for by the hospitals. According to The Capitol Forum, "All Joint Commission reports on Oasis that were included in the documents found the facility to be in compliance with state regulations." Yet each Joint Commission report stated that "no onsite survey was conducted."[4]
In 2017, Senator Charles Grassley criticized the Joint Commission over it designating a Universal Health Services (UHS) behavioral facility, Shadow Mountain in Oklahoma, with a "Gold Seal of Approval" when there were serious allegations of patient abuse and sexual misconduct against it.[5] The Senator wrote the Joint Commission, saying it "appears to be unable to aggressively enforce the necessary standards on all facilities." He also cited a Wall Street Journal story about Cooley Dickinson Hospital in Northamption, Massachusetts, which was given the "Gold Seal of Approval" by the Joint Commission even after CMS threatened to cut it off over safety problems which led to preventable patient deaths.[6]
"When allegations are substantiated, in most situations, the facility is required to submit an acceptable plan of correction to the Department," ADHS told The Capitol Forum. "In some cases, the Department may take additional action such as requiring immediate correction by the facility and may exercise other authority including license suspension, the issuance of civil money penalties, or license revocation."
Revocation seems rare and in the case of repeated allegations against facilities in the behavioral health industry questions whether this contributes to patients' health and lives being kept at risk. There appears to be an "acceptable" level of patient abuse and sexual abuse because that's the "norm" in the mental health industry. Not only government and Joint Commission oversight but also criminal prosecutions over patient restraint and other deaths and sexual abuse of patients are seriously lacking.
The ADHS website lists facility enforcement actions dating back three years.  Oasis had been the subject of five enforcement actions and fined a mere $7,000. "In many cases, the documents provided by ADHS show that when Oasis provided an 'acceptable' plan of correction, the department did not conduct an on-site follow up survey," according to The Capitol Forum.
The Capitol Forum also spoke to three former Oasis employees who worked at the facility during the time frame covered by the documents. They corroborated the accounts of problems and "spoke about a lack of executive interest in improving the situation."
"Things were dangerous," one former employee said. "There were broken vents that kids could cut themselves with. Nothing was locked up that could be broken and used for self-harm. Staff were hurting children. There was a child that was escorted to the hospital because he was punched in the face by a staff member. I directly observed a staff member screaming at a kid with severe trauma."[7]
Acadia Healthcare came under further scrutiny in Oklahoma where it owns Rolling Hills Hospital. Acadia bought the facility in 2012 and since them three families have sued over injuries to loved ones who were patients there. Government inspection documents reported allegations of sexual harassment and physical abuse. The hospital didn't investigate to determine if the reports were legitimate, according to inspection reports. The Oklahoman also points to the Oklahoma State Department of Health, which licenses hospitals and conducts inspections on behalf of CMS, rarely suspending or revoking hospital licenses.[8]
Myron Ballou, 70, was hospitalized at Rolling Hills in December 2017 after staff at the Oklahoma Veterans Center observed changes in his behavior, his wife, Marsha, said. Myron already had health problems and used a wheelchair, but he could stand for long enough to get into bed or onto the toilet, she said. At Rolling Hills, he suffered two fractured vertebrae, a dislocated shoulder and a broken foot and never recovered. He hasn't been able to stand since he left Rolling Hills in January 2018, Marsha said.
Penn Little, a healthcare-finance journalist, took this up on January 31, 2019, reporting that when The Daily Oklahoman published graphic photos and a report of allegations of elder abuse at Rolling Hills, including Myron Ballou's story, this could likely impact Acadia's revenue.[9]
"Things don't seem to be improving for the Franklin, TN-based healthcare provider; Acadia Healthcare Company, Inc. (ACHC). The company has seen a mass exodus of value, about a third of its market cap," since Little's first report on the behavioral healthcare company.
"Medicare/Medicaid payments are critical for these predominantly high-debt firms to meet rising interest expenses. Of course, for mental health; reimbursements get double-scrutiny thanks to fraud and broadly defined parameters of treatment. U.K. and U.S. government health contracts make up the bulk of the money paid to Acadia Healthcare. Presently, over 70% of the company's top-line is paid to Acadia by the British and American taxpayers," he reported.
Allegations of potential fraudulent billing and abuse are not limited to Acadia and UHS. Davis Group LLC, doing business as Caring Family Solutions, operates programs within Greater New Haven County in Connecticut, and on its website says it is a behavioral health agency dedicated to "improving the lives of youth and their families by providing responsive, accountable, and clinical, personal support for Youth."[10] In January 2019, the facility's owner agreed to pay $100,000 and was suspended from participating in the state's Medicaid program for 10 years for an alleged "long-term pattern of submitting false claims to the program," including psychotherapy services provided by unlicensed persons, in violation of program regulations and claims submitted for services never provided, authorities said.[11]
These are but an example of abuses that are prevalent in the for-profit psychiatric/behavioral system prompting CCHR's recent report, "Child Rapes, Suicides, Deaths and Hundreds of Millions of Dollars in Healthcare Fraud in the For-Profit Behavioral Industry," calling for greater government oversight and stronger penalties for violations of patient care, rights and insurance.
References:
[1]"Acadia Healthcare: ADHS Documents Reveal Violence and Understaffing at Oasis Behavioral Health," Capitol Forum, Vol. 7, No. 32, 4 Feb., 2019
[2] "Is the Integrity Gap Widening in Behavioral Health?," Brown Consulting Behavioral Services, 21 July 2017, http://www.danbrownconsulting.com/2017/07/21/integrity-gap-widening-behavioral-health/
[3] https://www.jointcommission.org/facts_about_the_joint_commission/; https://www.jointcommission.org/benefits_of_joint_commission_accreditation/.
[4]"Acadia Healthcare: ADHS Documents Reveal Violence and Understaffing at Oasis Behavioral Health," Capitol Forum, Vol. 7, No. 32, 4 Feb., 2019; https://www.jointcommission.org/assets/1/6/Accr-Tips-Email-Feb-2014.pdf.; https://www.jointcommission.org/about/jointcommissionfaqs.aspx#2323.
[5] "UHS in the hot seat: Senator calls for federal probe over patient care concerns at top-performing hospital" FierceHealthcare, 25 Apr. 2017, https://www.fiercehealthcare.com/healthcare/uhs-hot-seat-senator-calls-for-federal-probe-over-patient-care-concerns-at-top
[6] https://www.healthexec.com/topics/quality/joint-commissions-failure-has-senator-asking-how-make-its-inspections-public
[7]"Acadia Healthcare: ADHS Documents Reveal Violence and Understaffing at Oasis Behavioral Health," Capitol Forum, Vol. 7, No. 32, 4 Feb., 2019
[8] "Patients at Rolling Hills Hospital in Ada suffer broken bones, head injuries," NewsOK, 7 Jan 2019, https://newsok.com/article/5619558/patients-at-rolling-hills-hospital-suffer-broken-bones-head-injuries
[9] "New Allegations Of Elder/Veteran Abuse And Parliament's Autism Debate Could Further Jeopardize Top Line For Acadia Healthcare," Seeking Alpha, 31 Jan. 2019, https://seekingalpha.com/article/4237195-new-allegations-elder-veteran-abuse-parliaments-autism-debate-jeopardize-top-line-acadia
[10] http://www.caringfamilysolutions.org/; https://npidb.org/organizations/behavioral_health/clinical_1041c0700x/1548686322.aspx
[11] http://www.hartfordbusiness.com/article/20190118/NEWHAVENBIZ/190119899/behavioral-health-provider-to-pay-100k-over-false-claim-charges