"The pattern of conduct described by the report paints a picture of greed and raises serious questions about patient safety." — Senator Charles Grassley
By CCHR International
The Mental Health Industry Watchdog
December 13, 2016
In response to the recent BuzzFeed News exposé on Universal Health Services (UHS), Sen. Charles Grassley, Sen. Elizabeth Warren, and Rep. Joe Kennedy, III, are supporting the need for a Federal investigation into the BuzzFeed's allegations of patient abuse and fraud at psychiatric facilities owned by UHS. The largest psychiatric hospital chain in the U.S., one in ten of its behavioral facilities are currently under Federal Department of Justice investigation since 2013 but no charges have been filed to date. Senator Warren stated: "The Department of Justice must put an end to these shameful practices for the safety of patients both here in Massachusetts and across the country." (Read the latest BuzzFeed News story here.)
Senator Grassley, head of the Senate Judiciary Committee, wrote to the Federal Health & Human Services giving it a December 23rd deadline to report what steps are being taken to investigate UHS. Senator Grassley said, "The pattern of conduct described by the report paints a picture of greed and raises serious questions about patient safety."[1]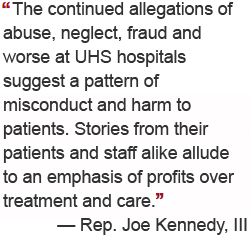 Rep. Joe Kennedy, III, of Massachusetts said, "The continued allegations of abuse, neglect, fraud and worse at UHS hospitals suggest a pattern of misconduct and harm to patients. Stories from their patients and staff alike allude to an emphasis of profits over treatment and care."
Citizens Commission on Human Rights International has been investigating UHS behavioral facilities since 2008, with dozens of whistleblowers—employees and former staff—reporting abuse and potential fraud.  More than 2,800 complaints have been filed with federal and state authorities, including in Florida.
Following the BuzzFeed News article, a dozen former patients contacted Florida media wanting to share their adverse experiences in UHS behavioral hospitals. One of the allegations in the BuzzFeed story was that involuntary commitment laws were used to get and keep patients detained in UHS psych facilities. One former patient told Florida media she was detained in a UHS facility under the state's commitment law, The Baker Act. She was then held longer than the allowed 72 hours and her insurance company was billed thousands of dollars.[2]
CCHR calls for any UHS staff, former staff, patients or their families to also contact CCHR International.
References:
[1] "Lawmakers Sound Alarms On UHS Psychiatric Hospitals," Buzz Feed News, 9 Dec. 2016, https://www.buzzfeed.com/rosalindadams/lawmakers-sound-alarms-on-uhs-psychiatric-hospitals?utm_term=.lj43mDwn0b#.yi4wnKaN95
[2] http://www.actionnewsjax.com/news/local/jacksonville-mental-health-facilities-dodge-questions-about-fraud-allegations/474443651