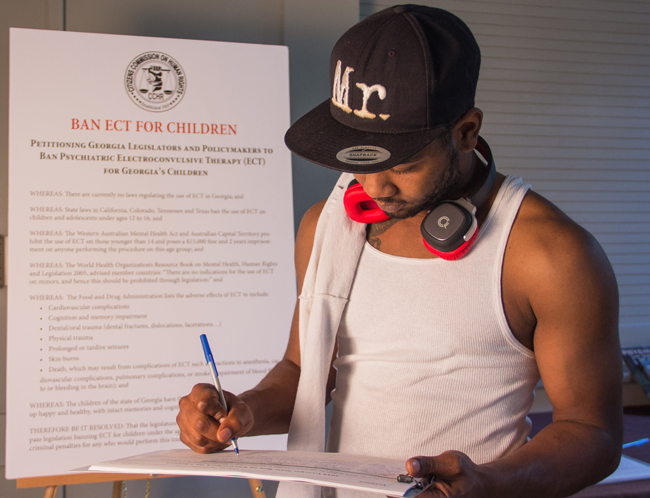 Visitors at the Psychiatry Exhibit sign a petition to Georgia lawmakers to ban the use of ECT on children.  "There are no indications for the use of ECT on minors, and hence this should be prohibited through legislation." — Donzella James, Georgia State Senator
By CCHR, Georgia Chapter
MAY 24, 2016
ATLANTA—Mental health watchdog Citizens Commission on Human Rights (CCHR) of Georgia continued its protest against the use of electroshock (ECT) on children with the opening of its "Psychiatry: An Industry of Death" exhibit in Atlanta, Georgia. The opening of the exhibit follows CCHR's recent protest at the annual convention of the American Psychiatric Association (APA) in Atlanta, denouncing their request to the FDA to reclassify ECT devices as low risk and allow its use on children.[1]  CCHR was joined at the protest by members of the NAACP, the Nation of Islam and Black Lives Matter.  At the exhibit, visitors signed a petition to Georgia lawmakers to ban the use of ECT on children.
Georgia State Senator Donzella James officiating the ribbon cutting of CCHR's exhibit, told attendees, "Don't take my word for it. I'm here today to help open up this [exhibit] so that you can come and see for yourself, and know what psychiatry is doing." The exhibit documents a side of psychiatry's past that is rarely seen, with historical and contemporary footage, including interviews with over 150 experts and survivors. It covers the psychiatric treatments of the past and traces its history through to the drugs and electroshock still being used today.
Senator James also recently called for legislation to ban the use of ECT on children. She said Georgia's provisions to protect children and others from ECT were grossly insufficient and cited a World Health Organization recommendation to governments that: "There are no indications for the use of ECT on minors, and hence this should be prohibited through legislation."[2] At the exhibit, Georgians can show their support for Senator James' call for legislation by signing a new petition for the ban of ECT on children.
The opening of the exhibit also coincided with recent indictment of Atlanta, Georgia psychiatrist Narendra Nagareddy, nicknamed "Dr. Death" by the media after thirty-six of his patients died while he was prescribing them controlled substances.[3] Deb MacKay, regional coordinator for CCHR, said, "Nagareddy is just a footnote in a long history of medical abuse." MacKay pointed out that one of the exhibit vignettes titled, "Psychiatric Criminality," notes, "Psychiatrists and psychologists have an inordinately high number of criminal convictions as compared to other sectors of the health care profession, and these are evident when touring the Psychiatry Exhibit."[4]
The  exhibit is free and runs through Sunday, May 29th, 11 am to 7 pm daily at Piedmont Park Greystone, 400 Park Dr NE. It has toured more than 441 major cities in the U.S. and around the world and has educated over 800,000 people on the history and contemporary practices of psychiatry which are still rampant with abuse.
About Citizens Commission on Human Rights: CCHR is a non-profit, non-political, non-religious mental health watchdog. Its mission is to eradicate abuses committed under the guise of mental health and enact patient and consumer protections. CCHR has helped to enact more than 150 laws protecting individuals from abusive or coercive mental health practices.  It has more than 250 chapters worldwide, and its international headquarters are based in Los Angeles, California.
References:
[1] Letter to Robert M. Califf, M.D., Commissioner, U.S. Food and Drug Administration, from the American Psychiatric Association, March 10, 2016, p. 2, psychiatry.org/psychiatrists/advocacy/federal-affairs/patient-safety, click on: "March 10: APA Comments to the FDA Concerning the Proposed Order and Draft Guidance related to ECT Devices."
[2] Benedetto Saraceno, MD, "WHO RESOURCE BOOK ON MENTAL HEALTH, HUMAN RIGHTS AND LEGISLATION WHO 2005," p. 64, who.int/mental_health/policy/legislation/Resource%20Book_Eng2_WEB_07%20(2).pdf.
[3] Katie Mettler, "Georgia's alleged 'Dr. Death', prescriber of addictive pain medicines, indicted on three counts of murder after 36 of his patients die," The Washington Post, May 19, 2016, washingtonpost.com/news/morning-mix/wp/2016/05/19/georgias-dr-death-prescriber-of-addictive-pain-medicines-indicted-on-three-counts-of-murder-after-36-of-his-patients-die/; "Alleged 'Dr. Death' indicted on felony murder counts," CBS News, May 19, 2016, cbsnews.com/news/alleged-dr-death-indicted-on-felony-murder-counts/; "Psychiatrist dubbed 'Dr. Death' accused of murder in pain pill overdoses," Fox News, May 20, 2016, foxnews.com/us/2016/05/20/psychiatrist-dubbed-dr-death-accused-murder-in-fatal-overdoses.html.
[4] Paul Jung, Peter Lurie and Sidney M. Wolfe, "U.S. Physicians Disciplined for Criminal Activity," Health Matrix: The Journal of Law-Medicine, Vol. 16, No. 335, Summer 2006, citizen.org/Page.aspx?pid=696; Christine E. Dehlendorf and Sidney M. Wolfe, "Physicians Disciplined for Sex-Related Offenses," Journal of the American Medical Association (JAMA), June 17, 1998, Vol. 279, No. 23, pp. 1883-1888, jama.jamanetwork.com/article.aspx?articleid=187647.