"Rob Richards is yet another statistic to add to the long list of his brothers in arms who survived the horrors of war only to die from the 'treatment' prescribed at home."
By Kelly Patricia O'Meara
December 2, 2014
Psychiatric drugs have, again, been implicated in yet another serviceman's death. The death of Marine sniper, Rob Richards, in August of this year, has been ruled accidental as a result of drug toxicity attributed to one of the twelve known drugs Richards had been prescribed.
According to the autopsy results, Richards died as a result of Oxymorphone toxicity—the active drug in the pain medication, Opana. Along with this pain medication, the antidepressant Bupropion (brand name Wellbutrin) was also found in his system at the time of his death. Bupropion and Lithium were also found at his home. Richards' wife, Raechel, said her husband was also on the antipsychotic Abilify, the hyperactivity drug Adderall, and the beta-blocker Propranolol, in addition to Opana, though she said there could have been other medications that she cannot remember.
Despite years of data revealing a growing epidemic of military suicides by those service personnel who have been labeled with subjective psychiatric disorders and prescribed psychiatric drugs, the prescribing of "cocktails" of psychiatric drugs has become the standard of mental health "treatment" within the military and among veterans.
Watch "Epidemic Suicide" from CCHR's The Hidden Enemy documentary:

In fact, the following data clearly exhibits the military's growing dependence on psychiatric drugs as "treatment" for alleged mental illnesses.
Between 2005 and 2011, military prescriptions for psychoactive drugs increased almost 700 percent.
One in six American service members were taking at least one psychiatric medication in 2010, and more than 110,000 Army active duty personnel were given antidepressants, narcotics, sedatives, antipsychotics and anti-anxiety drugs in 2011.
From 2008-2011, military suicides were nearly double the number of suicides for the general U.S. population, with the military averaging 20.49 suicides per 100,000, compared to a general rate of 12.07 suicides per 100,000.
Since 2010, more U.S. soldiers have died by suicide than from traffic accidents, heart disease, cancer and homicide.
Veterans are killing themselves at a rate of 22 a day.
In 2012, there were 349 suicides among active duty military personnel—more than were killed in combat in Iraq and Afghanistan.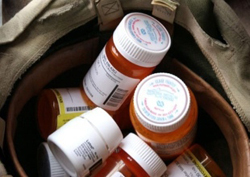 With these ever-increasing numbers comes a long list of warnings about the adverse effects associated with the psychiatric drugs that repeatedly show up in these military deaths. The Food and Drug Administration (FDA) has issued a "black box" warning—the agency's most serious warning—for all antidepressants causing suicidality and other known side effects associated with antidepressants include hostility, anxiety and unusual behavior.
The U.S. though, is not the only country to issue warnings on psychiatric drugs. There are 22 international drug regulatory warnings on psychiatric drugs, citing effects of mania, hostility, violence and even homicidal ideation.
None of these data, however, address the possible adverse effects associated with the "cocktail" of drugs too many soldiers are being prescribed. None of the drug "cocktails" have ever been tested in combination by the pharmaceutical companies—a kind of pharmacological treatment by guesswork.
Singularly, each of the psychiatric drugs found at Richards home are found in the FDA's MedWatch drug adverse event database. Of the top ten reported adverse reactions for the antidepressant Bupropion are insomnia, depression, anxiety and convulsions.  The stimulant, Adderall, reveals insomnia, aggression and abnormal behavior. Adverse events for Lithium, a mood stabilizer, include tremor, confusion and drug interaction and Abilify, an antipsychotic, reveal that of the top ten adverse events are Tardive Dyskinesia (involuntary repetitive body movements) insomnia and tremors.
Given the known adverse reactions associated with each of the drugs in the "cocktail" prescribed to Richards, it is difficult to know how, or if, each of the drugs may have contributed to Richards death. The pain medication, Opana, has been singled out as the culprit, but given the hundreds of known cases of veterans who have died while taking "cocktails" of psychiatric drugs, one cannot help but consider the toxic effect of all the drugs prescribed.
While the Veterans Administration, the Department of Defense and even lawmakers are aware of the increased psychiatric drugging of the nation's active duty soldiers and veterans, no effort has been made to investigate the connection between the record number of suicides, sudden deaths and the increased drugging.
Rob Richards is yet another statistic to add to the long list of his brothers in arms who survived the horrors of war only to die from the "treatment" prescribed at home.
–
Kelly Patricia O'Meara is an award-winning former investigative reporter for the Washington Times' Insight Magazine, penning dozens of articles exposing the fraud of psychiatric diagnosis and the dangers of the psychiatric drugs—including her ground-breaking 1999 cover story, "Guns & Doses," exposing the link between psychiatric drugs and acts of senseless violence. She is also the author of the highly acclaimed book, Psyched Out: How Psychiatry Sells Mental Illness and Pushes Pills that Kill. Prior to working as an investigative journalist, O'Meara spent sixteen years on Capitol Hill as a congressional staffer to four Members of Congress. She holds a B.S. in Political Science from the University of Maryland.